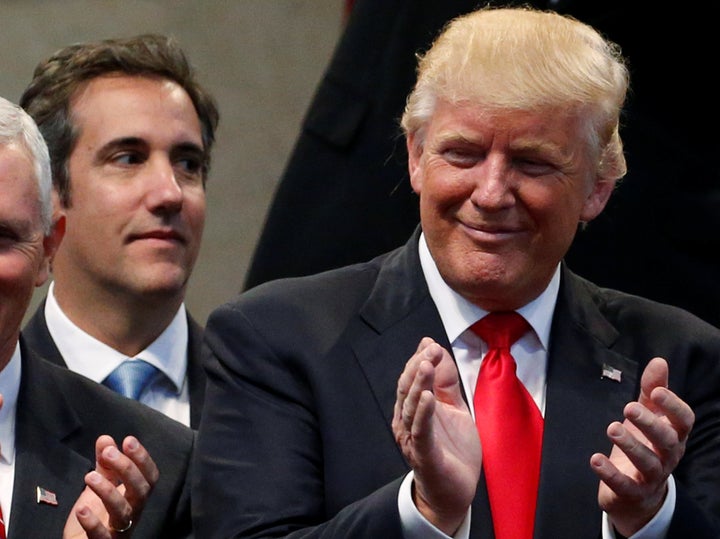 Throughout the 2016 presidential campaign, Donald Trump and his supporters cried that Hillary Clinton was wildly corrupt, enriching herself and her friends through government service and willing to break the law in doing so. It's ironic, given that two members of Trump's inner circle, Michael Cohen and Paul Manafort, were found guilty of actual crimes last week.
What's even more ironic is that the gravity of the situation seems to be lost on Trump's supporters, who could be heard last Tuesday night at a campaign rally in West Virginia shouting "lock her up" as though Clinton is still the biggest threat to the country.
Since Trump has taken office, his administration has been plagued with scandal and so far five of his associates have been found guilty of crimes: former National Security Adviser Michael Flynn, campaign advisers George Papadopoulos and Rick Gates, Trump's former personal lawyer Cohen, and Manafort, who was Trump's campaign chairman. And there's no sign that this is even close to the end, as special counsel Robert Mueller's probe has seemingly gained new life with these guilty pleas and verdicts.
Perhaps the biggest bombshell out of last week's news is that Cohen implicated Trump in the hush money scheme to silence women who claimed to have had an affair with then-candidate Trump. Cohen admitted in federal court that, "in coordination and at the direction of a candidate for federal office," he withheld information that would have harmed then-candidate Trump if it had been revealed during the 2016 presidential election.
They need to hold our party and those elected to the same standards they expect of their opposition.
What's more, there seems to be an almost eerie silence among GOP lawmakers around the Cohen plea and his implication of Trump. The only GOP figurehead to really speak out on the corruption surrounding this implication is Senate candidate Mitt Romney, who has often criticized Trump.
While Trump's story regarding the payments to the women continues to change, the White House is sticking to the story that Trump never lied about the payments, with White House press secretary Sarah Huckabee Sanders last week saying "that's a ridiculous accusation." She added, "The president in this matter has done nothing wrong, and there are no charges against him." The key word missing from that statement is yet.
What we do know is that Trump initially told reporters in April that he was unaware of the payments, yet in an exclusive interview with Fox & Friends last week he said he had "no knowledge of the payment at the time, but was made aware after the fact." Clearly, Trump has no problem bending the truth so what else could he be hiding? If it were Clinton in office, Republican lawmakers wouldn't be passively waiting for someone else to dig it up.
Despite the fact that a thorough investigation into Russia's influence in the 2016 election is necessary in order to protect and preserve our democratic process, Republicans aren't defending Mueller or even the probe as it delves into the shady actions and dealings of those within Trump's circle. As Trump continues to attack Mueller and Attorney General Jeff Sessions ― making their job prospects unclear ― some in the GOP have even backtracked on previous statements in defense of the two men. Why? Well for starters, the 2018 midterms are approaching and because the president personally wants the investigation to end before election season.
Imagine, though, if Clinton had won the 2016 election and threatened to fire a special counsel in the middle of an investigation into her dealings. Surely, Republicans would be preparing articles of impeachment.
One thing is for sure, if Clinton had won the 2016 election and it was reported that her daughter, Chelsea Clinton, had met with a Russian lawyer who was said to have damning opposition research on her mother's opponent during the 2016 election, Republicans would be up in arms. The whole debacle only reminds us that Trump's family members play a very significant role within his administration. (I've written before about the hypocrisy of Ivanka Trump's role within her father's administration.) Remember the G-20 summit meetings Ivanka Trump sat in on for her father? Just imagine if Chelsea Clinton had been asked to hold the seat for her mother. I'm sure conservatives would be furious.
What has come to light with Cohen's plea last week is a concrete accusation that Trump personally ordered his personal lawyer to break the law. And the financial crimes Manafort was convicted of should raise serious questions about the president's relationships both inside and outside the country.
Trump supporters and all conservatives need to realize that, while they may have won the 2016 election, they need to hold our party and those elected to the same standards they expect of their opposition. If what they accused the Clinton family and staff of was so unacceptable, the same should be unacceptable coming from their own.
The ideals of transparency and accountability should apply no matter which political party controls the White House — a tall order it seems.
Ashley Pratte is a political commentator and communications strategist who previously served as director of media relations and public affairs at the American Legislative Exchange Council and as director of media relations and a consultant for Better For America. She serves on the board of Republican Women for Progress.
Calling all HuffPost superfans!
Sign up for membership to become a founding member and help shape HuffPost's next chapter