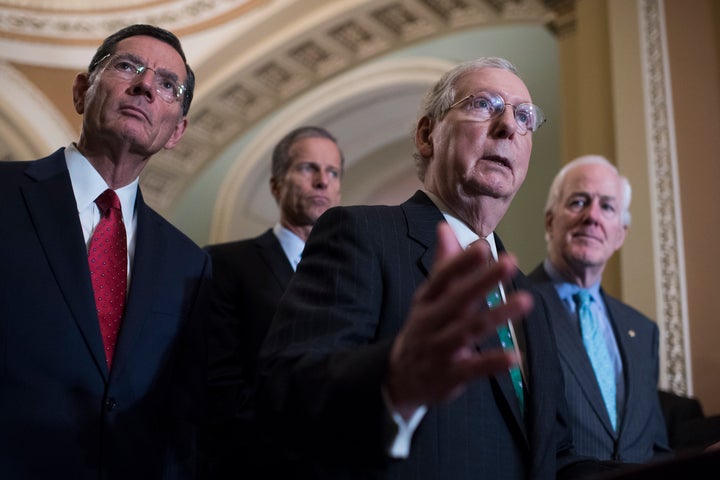 The Republicans' last-ditch campaign message before the midterms has gone exactly where you might have expected: trying to instill sheer terror of what Democratic control of one branch of government might bring. The president's auxiliary super PAC raises the ominous specter in a closing ad: "violence," "socialism" and "undefended open borders."
Far more real are the catastrophic prospects of another two years of total GOP control. If Republicans squeak by in both chambers and have another two-year runway to do whatever they want, to grab whatever they can and to rig the 2020 election, we don't have to imagine what will happen.
They have already told us.
Medicare, Medicaid and Social Security will be gutted.
Just this week, Senate Majority Leader Mitch McConnell (R-Ky.) reopened the quest for the holy grail of Republican government: cutting Medicare, Medicaid and Social Security to pay for tax cuts for their donors. He called the rising deficits caused by the Republican tax cuts "disturbing" and instead placed the blame on "entitlements."
In doing so, he echoed House Speaker Paul Ryan, who said on "entitlement reform" — the sanitized name for privatizing Medicare, raising the retirement age and gutting Medicaid — that he thinks "the election will have to determine that." Indeed, House Republicans have been consistent in making their desires plain in their budgets. As The Washington Post reported after the passage of the tax bill, "House GOP plan would cut Medicare, Medicaid to balance budget."
The ACA will be repealed (and yes, that includes protections for pre-existing conditions).
In one of the most bizarre political spectacles in memory, Republican members of Congress are desperately trying to convince voters that they cherish protections for people with pre-existing conditions, and they pretend to be indignant that anybody would suggest they ever voted against those protections.
The "full repeal of Obamacare," "root and branch," was of course the core animating principle of the entire Republican Party for the better part of the decade. They voted for its total repeal, including its protections for pre-existing conditions, regularly as a point of pride.
But what is most notable about this obvious lie is not the refusal to acknowledge the GOP's past record, but rather what it says about the party's future intentions. If Republicans will lie about their past votes to end health care protections, then one can count on them to do so again if they maintain control of Congress.
Indeed, not only does their already agreed-upon budget for 2019 renew the call for repealing the Affordable Care Act, many top-tier Republican candidates and the Trump administration are at this very moment party to a lawsuit directly aimed at nullifying protections for people with pre-existing conditions.
Rule of law will continue to be corrupted.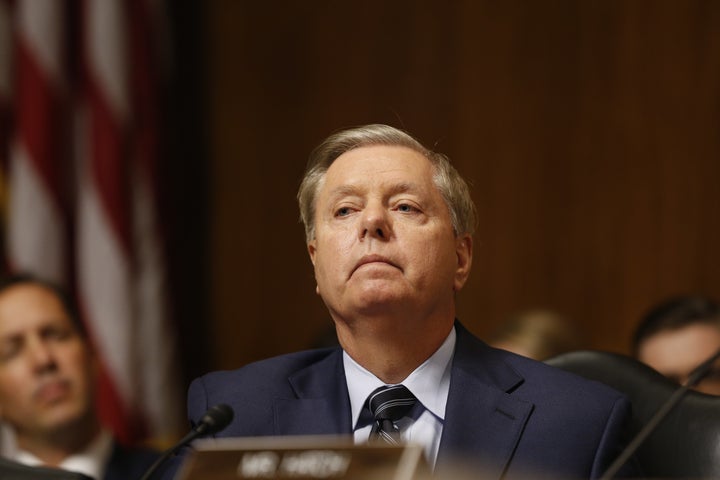 For Donald Trump, corruption and attacks on the rule of law have been like breathing, and surviving the midterms unchecked will be the longest, deepest, most relieved breath he's ever taken. The corruption will balloon, and any accountability will shrivel.
Even as Republicans in the Senate Judiciary Committee were ramming through Brett Kavanaugh's nomination to the Supreme Court (a fifth Republican justice, who just happens to believe the president is immune to subpoenas or even investigation), those same senators were plotting with Trump on another attack on the rule of law.
Judiciary Chairman Chuck Grassley and his likely successor, Sen. Lindsey Graham, have apparently acquiesced to the possibility of removing Attorney General Jeff Sessions shortly after the election, a move they both once opposed. This, of course, would allow Trump to appoint a temporary or permanent replacement who could stifle, defund or destroy the special counsel investigation into Trump's role in the Russian attack on our democracy.
How swiftly and ruthlessly would Trump's version of the "Saturday Night Massacre" unfold? If Republicans keep control of both chambers of Congress, where oversight has consistently been more like a cover-up, count on Trump and his new, pliable attorney general to waste no time in trying to shut it down. Any other investigations of Trump's sprawling corruption will likely meet the same fate.
Immigrant children will be traumatized as a "deterrent."
Despite bogus protestations to the contrary, the Trump administration did indeed have a child separation policy, and it was indeed intended to provoke such shock and trauma that no family from any "shithole country" would dare set foot in America again.
Here too, there is no need to speculate on what the Trump administration, and Stephen Miller in particular, would do if left unchecked. They want us to know, they are challenging us to know: "Trump administration weighs new family-separation effort at border," reads the headline on a Washington Post story, which says that "senior White House adviser Stephen Miller is advocating for tougher measures because he believes the springtime separations worked as an effective deterrent to illegal crossings."
The 2020 election will likely be rigged.
Trump has been advertising it since the days after he was elected: He will support every possible means of suppressing the minority vote in the name of fictitious widespread "voter fraud."
He impaneled an entire commission led by Kris Kobach, the modern-day GOP pioneer of voter suppression, to "study" voter fraud before realizing that looking at "facts" was beside the point and disbanding it. He's been actively campaigning for Kobach to this day. It's coming, and the newly minted Republican majority on the Supreme Court will do nothing to stop it. If Republicans do keep their majorities in Congress, it's a safe bet they will do everything they can to help it along.
Progressives have spent the last year turning out, running for office and winning special elections on a positive message. Candidates have become causes by embracing an aspirational vision of a government that looks out for all of us.
That's how it should be. But if anybody needs another motivation, there is also plenty to fear — not just more of the same, but much more and much worse. Now is the chance to take a stand.
 
Jesse Lee is vice president of communications for the Center for American Progress Action Fund. He previously served as special assistant to President Barack Obama and White House director of rapid response.
Calling all HuffPost superfans!
Sign up for membership to become a founding member and help shape HuffPost's next chapter