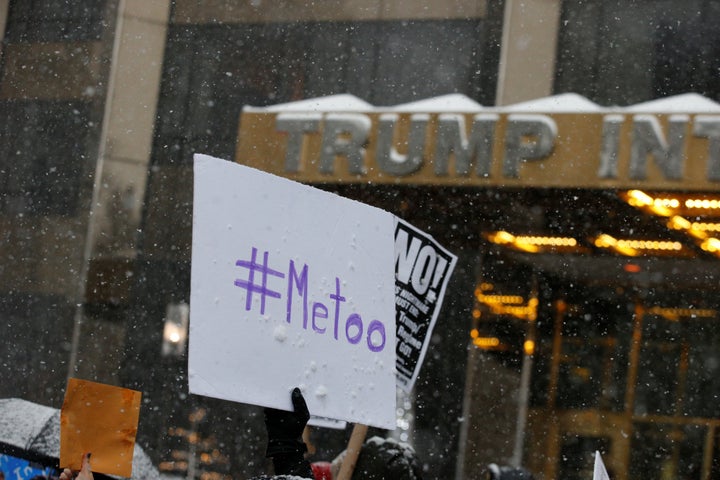 Now that the phrase #MeToo comes trippingly off the tongue, it could be easy to forget what those words actually signify. The hashtag is about not being alone. Time and again, after an allegation of sexual harassment has been made against a powerful person or institution, others have stood up to say they have had similar experiences. Publicity and numbers serve to protect individuals from retaliation.
But even as the #MeToo moment becomes a movement, employers are trying to stop individuals from obtaining the accountability and justice that so many are demanding.
As a condition of applying for or accepting a job, many employers require employees to sign documents cutting off their rights to file lawsuits in court. These documents don't merit being called "contracts" because they are neither negotiated nor negotiable. Rather, the forms state that the only route for any redress when problems arise is a closed arbitration through a private dispute resolution company picked by the employer. These documents specifically ban class-action lawsuits, turning all claimants into single-file applicants rather than allowing them to join with other similarly aggrieved individuals.
Over 60 million employed Americans are required to waive the right to pursue legal action in courts, according to the Economic Policy Institute. Employees ― whether they work at small retail gas stations operated by Murphy Oil, USA, or at a Wisconsin software data company called Epic Systems, or whether they are one of 40,000 employees at Ernst & Young ― are blocked from going to court and from being part of collective actions. Even if employees allege injuries such as sexual harassment or age discrimination, the only remedies available are through private, solo arbitrations.
Some federal judges have recoiled from enforcing these provisions against workers, who have been protected since the 1930s by the National Labor Relations Act and the Fair Labor Standards Act. Congress enacted these labor laws 80 years ago that specifically protected the right to collective action, so that employees could join together, with or without a union, to improve their working conditions.
Looking back, it is clear that Congress knew then what #MeToo is teaching us again now: Workers can't be expected to stand alone and challenge their employers by themselves.
"Because it is hard, expensive and scary to go it alone, and because the procedures for doing so are complex, most people who have been injured don't do anything."
Employers argue that they are providing a process that is as effective as, or better than, public courts. That arbitration is simpler. That employees don't lose rights, they just get vindication in another venue. But zoom into some of the details. In private arbitration, the company picks the providers who supply the arbitrators. Those arbitrators rule, in closed offices, on whether the company violated the law. And many companies insist that the outcomes remain confidential ― preventing individuals with similar claims from knowing about others.
It may sound simple, but hardly ever provides a remedy. Most people never file claims for arbitration because, as #MeToo has reminded us, most people do not go it alone to challenge powerful opponents ― especially not their current employers. Even starting requires finding and figuring out how to use the rules on the website of organizations like the American Arbitration Association ― or locating a lawyer willing to help on claims that may be of great value to the individual but that are under $10,000. That's why states provides "small claims courts" to make individual pursuit of cases easier, and why class actions in regular courts bring together a lot of claimants who share the expenses of lawyers skilled at amassing the evidence needed. Because it is hard, expensive and scary to go it alone, and because the procedures for doing so are complex, most people who have been injured don't do anything. They "lump it" by absorbing the losses and, as we know from #MeToo, by suffering in silence.
The problem has urgency now because the Supreme Court is currently considering arguments on whether to keep these barriers to public courts and to class-action suits in place. The reason to use Murphy Oil, Epic Systems and Ersnt & Young as examples is that they are all before the U.S. Supreme Court, under the aptly named header of "Epic Systems."
The trio of cases are joined together because the three employers required employees to sign onto arbitration. The employees are arguing that the 1930s labor laws protect their right to collective action. The employees used form clauses in job applications or, as in Epic Systems, in a mass email sent after employees had already taken their jobs. The court heard oral arguments last fall, and the companies argue that employees "agreed" to use binding arbitration. What choice did employees have?
"However good arbitration between equally powerful companies may be, what we know now is that pushing people into single-file arbitration against companies erases their rights."
That question is not one for employees alone. All consumers who use an array of goods and services are faced with the same mandates. In my research, I found that during a five-year period when a major wireless company had between 85 million and 120 million customers, fewer than 30 customers per year brought claims to arbitration about issues such as overcharges or failure of services. The Consumer Financial Protection Bureau looked into millions of credit loans and found the same: Almost no one files individual claims against creditors.
In short, whether you are an employee or a consumer, you can be locked out of court by formulaic statements about the waiver of rights to which the argument is that you "agreed" when you applied for a job or got a cell phone or loan. And however good arbitration between equally powerful companies may be, what we know now is that pushing people into single-file arbitration against companies erases their rights.
The massive #MeToo moment demonstrates women and men in the workplace still face illegal practices, and that they need each other to make structural changes as well as to obtain individual remedies. The NLRA is a key part of that change. So, too, is a new legislative proposal introduced in both the House and the Senate to "end forced arbitration of sexual harassment" claims brought by workers.
In 1935, the NLRA told workers that they could say #MeToo. The Supreme Court should confirm that in the Epic Systems case and ensure that the option provided by the law continues to open the door to public courts. The collective consciousness-raising and storytelling of #MeToo is one way to form a group. But it should not be the only way.
Judith Resnik is the Arthur Liman Professor of Law and the founding director of the Arthur Liman Center for Public Interest Law at Yale Law School.
Related
Popular in the Community