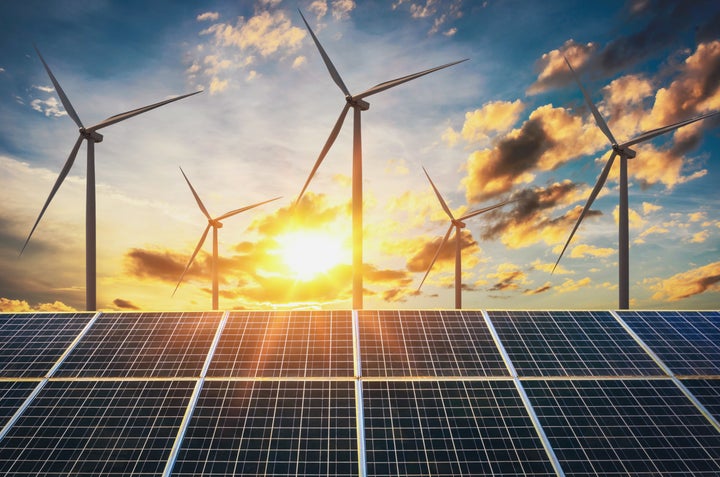 One year ago, when President Donald Trump announced that the United States would withdraw from the Paris climate agreement, we joined Nicaragua and Syria as the only countries on Earth to reject that landmark global climate convention. Many around the world believed that America had turned its back on solving the climate challenge, and our announcement raised fears that other countries would follow.
Instead, Nicaragua and Syria have since joined the agreement. A host of bilateral initiatives blossomed between countries including China and France. Not a single other country withdrew. And perhaps most importantly, the decision catapulted a new generation of U.S. institutions into the vanguard of America's climate movement. Led by cities, states and businesses, these new "subnational" actors are making real progress to limit greenhouse gas emissions.
As the president and CEO of World Wildlife Fund, I am increasingly asked by people I know and trust within the environmental and business communities whether these subnational actors can make a difference at the scale we need. After all, air pollution doesn't stop at state borders, and for every business willing to set a climate target, others may refuse to do so without regulatory pressure.
"With the federal government absent on climate policy for the near future, cities, states and businesses are essential for us to maintain progress."
There's truth in this critique. There's no substitute for federal regulation in creating consistent policies across all 50 states and market responses ― not to mention providing a foundation for collaboration with other governments. But with the federal government absent on climate policy for the near future, cities, states and businesses are essential for us to maintain progress. We've seen evidence that such efforts can begin to shift markets and, we hope, influence the political calculus around nationwide climate action.
One reason science-based targets matter is that companies set goals not just within their own operations, responding to established guidelines, they also set goals for the source of raw materials, or supply chains, for their operations. Supply chains are often responsible for far more emissions than a company's direct operations. Walmart, for example, committed to prevent a gigaton (1 billion tons) of greenhouse gas emissions from its supply chain and catalyzed corresponding commitments from over 400 companies that provide the goods they sell. Since making this commitment, Walmart suppliers have achieved more than 20 million metric tons of avoided emissions.
To implement their goals, companies are turning to collaborative platforms where they can learn from each other, connect with the best new ideas and partner on implementation. For example, the Renewable Energy Buyers Alliance includes companies such as Google and Mars Inc., and nongovernmental organizations such as World Wildlife Fund and the World Resources Institute. It represents 74 companies with 67 million megawatt hours of energy demand and over $7 trillion in market capitalization working together to clean up the American electricity grid.
And companies are just one piece of the subnational puzzle. Since Trump's Paris announcement, hundreds of U.S. mayors, governors and university presidents joined over 1,700 companies to establish We Are Still In, a coalition of subnational actors committed to helping the U.S. achieve its Paris climate goals.
"The U.S. federal government needs to eventually re-engage to fully close the emissions gap."
Thanks in part to the efforts of subnational actors, U.S. emissions continued to trend downward in 2017, dropping by 25 million tons. And we can expect even bigger results in the years ahead. A report issued last year by the United Nations Environment Program estimates that subnational actors could contribute "a potentially significant contribution" of a few gigatons in emission reductions by 2030.
Still, it's clear the U.S. federal government needs to eventually re-engage to fully close the emissions gap.
It's not hard to imagine a moment in the future when Congress or a new administration seeks to implement a new national climate policy that prices carbon emissions and creates a market for solutions. Instead of starting from scratch on legislation, they will inherit a country filled with programs, policies and results from more than a dozen states, hundreds of cities and thousands of businesses. The subnational climate movement will have created the political and practical conditions necessary for broad, bipartisan federal action.
We know this can work because we've seen it before. History holds countless examples of hard-won progress in city councils, state legislatures and corporate boardrooms that ultimately informed new national policy. Millions of activists fighting for equal rights paved the road to national marriage equality, but cities, states and companies provided much-needed help along the way. In 1984, Berkeley, California, passed the nation's first domestic partnership law. In 1992, Levi Strauss & Co. became the first Fortune 500 company to provide domestic partner benefits to employees. And in 2003, Massachusetts produced a groundbreaking court decision legalizing same-sex marriage.
We need to keep building momentum in the climate fight to achieve similar success. And you can help. Take a look at We Are Still In's list of signatories. If you don't see your city or state signed up, reach out to your elected officials and ask them to join this movement or submit a climate action contribution. Universities, tribes, faith groups, businesses and other institutions can do the same. The more commitments this movement receives, the stronger it will be.
In a complex world, we make the best of imperfect circumstances ― both political and economic. This means finding other ways to make short-term progress and lay the foundation for the solutions we seek. The most resounding outcome to Trump's announcement last year is that the world responded by turning in the opposite direction to solve climate change and build the economies of the future. Let's hope it won't be too long before our own federal government does the same.
Popular in the Community