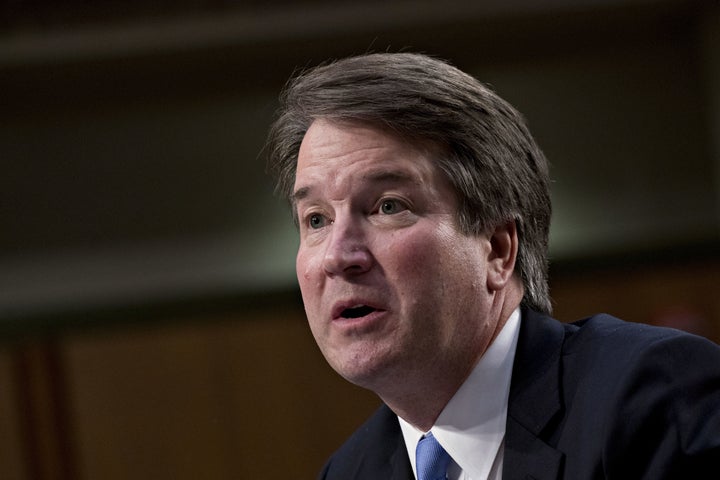 This nation is suffering a significant breakdown of civility, bipartisanship and ethical behavior. For the Trump administration and the Republican leaders who enable it, truth is no longer a cherished value. To them, lying seems to be part of the strategy, a cynical weapon to be used against their opponents.
This week, we are witnessing the full depth of that cynicism, as the White House and its supporters smear a woman who makes credible, significant accusations of sexual assault against Supreme Court nominee Brett Kavanaugh. At the same time, another fact has become clear: Kavanaugh himself has a casual relationship with the truth ― and in that, he fits right in with the way President Donald Trump and his party behave.
"Lying under oath cannot and must not be rewarded with a seat on the nation's highest court."
At the White House event announcing Kavanaugh's nomination, the appellate judge offered a remark that seemed odd. Praising Trump, he said, "No president has ever consulted more widely, or talked with more people from more backgrounds, to seek input about a Supreme Court nomination."
I personally found this hard to believe. How would Kavanaugh know that? Why would he be so sure and definitive about it? I did what we all do these days with the overwhelming list of lies coming out of this White House — I figured that Republicans were all "in on it," that this comment would stand as just another obviously false spin in the process of getting another illegitimate seat on the Supreme Court for a conservative judge. But it turns out this was only a glimpse into the nominee's disturbing willingness to avoid the truth.
In fact, there's clear evidence showing that Kavanaugh lied under oath during the 2006 confirmation hearing for his spot on the U.S. Court of Appeals for the D.C. Circuit. I should know: I was one of the senators on the Judiciary Committee who questioned him.
I asked Kavanaugh about his involvement as White House staff secretary in the highly controversial 2001 nomination of Charles Pickering Sr. to the 5th Circuit. Many of us were concerned about a 1994 hate crimes case in which Pickering decided that a 25-year-old, who had participated with two others in a cross burning, was deserving of a reduced sentence.
During the Senate's consideration of Pickering's nomination, we had also learned that the federal trial judge solicited and collected letters of support from lawyers who had appeared in his courtroom, some of whom had cases still pending before him. This was a clear breach of judicial ethics, so I asked Kavanaugh about it:
Sen. Russ Feingold: My first question is this. Did you know that Judge Pickering planned to solicit letters of support in this manner before he did so? And if not, when did you become aware that Judge Pickering had solicited these letters of support?

Brett Kavanaugh: The answer to the first question, Senator, is no. This was not one of the judicial nominees that I was primarily handling.
But newly released emails show that Kavanaugh appeared to be the primary person handling Pickering's nomination, at least by 2003, and was heavily involved in pushing for his confirmation as early as March 2002. There are emails showing that Kavanaugh coordinated meetings with and about Pickering; that he drafted remarks, letters to people on the Hill and at least one op-ed for then-White House Counsel Alberto Gonzales about Pickering; that he advised Gonzales on Pickering strategy; and much more.
One Department of Justice official even asked for Kavanaugh's "blessings and instructions" before calling the nominee.
Others may have been involved, but Kavanaugh played a decisive leadership role in managing Pickering's nomination and then lied to me about it.
In another example, Kavanaugh had worked to advance multiple controversial judicial nominations from President George W. Bush during a time when a Republican Senate staffer named Manuel Miranda accessed and downloaded thousands of computer files belonging to Democratic senators. Because Kavanaugh could have been in receipt of the stolen documents, he was grilled by senators of both parties on the matter at his first confirmation hearing in 2004 and he denied any involvement.
But emails released this year show that Kavanaugh received material from numerous emails, draft letters and memos laying out the legal arguments Democrats were going to make regarding Bush's judicial nominees, including talking points written by a staffer to Sen. Patrick Leahy (D-Vt.). One email even had the subject line "Spying" on it. Kavanaugh not only received that message, which mentioned a "mole," but forwarded it to Gonzales. Leahy asked Kavanaugh about this regrettable episode in the 2004 confirmation hearing, and Kavanaugh's responses were both unsatisfying and evasive.
Taking all his testimony together, we see a clear pattern emerge: Brett Kavanaugh has never appeared under oath before the U.S. Senate without lying.
As a onetime member of the Senate Judiciary Committee, I considered the truthfulness of judicial nominees as a non-negotiable quality. Lying under oath cannot and must not be rewarded with a seat on the nation's highest court, and lies cannot remain unchallenged.
So as an illegitimate administration goes to work attacking the credibility of a brave woman recounting her assault, let's recognize the enormously cynical hypocrisy: The nominee they're desperate to protect is a calculated liar who uses dishonesty to advance his own career. And any denial of these accusations by Kavanaugh before the committee must be viewed in the context of his multiple earlier lies under oath to that same committee.
This nomination can and must be withdrawn. Nominees to the U.S. Supreme Court must be held to a higher standard, and it is the job of determined senators to do just that.

Russ Feingold served as a United States senator from Wisconsin from 1993 to 2011 and is the founder of @LegitAction.
Support HuffPost
The Stakes Have Never Been Higher
Popular in the Community