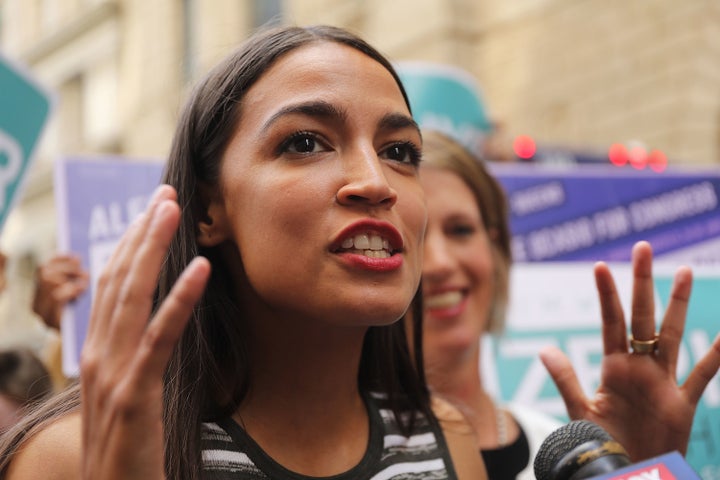 Welcome to the Age of Alexandria Ocasio-Cortez, as CNN titled a piece this week ― a moment defined by a scrappy contender taking on the establishment, bringing an underdog story to our news feeds. The emergence of this likely new representative from New York's 14th Congressional District has inspired celebration from some and consternation from others about the unabashed leftism she represents. People on both sides of the aisle can't get enough.
But we're missing the real story about her, as it relates to this country, if we don't talk about her sheer unlikelihood not just as a victorious candidate but as a Bronx-born Latina with a shot at anything. This is no average bootstraps tale; it's one of a true outlier in a country that has determined Hispanic women must struggle harder than anyone and be valued less than everyone else.
Ocasio-Cortez is a great Bronx story, and who doesn't love a great Bronx story? If ever there was a place that has been the beating geographical heart of the American dream, this is it, this place where Ocasio-Cortez was born and lives, part of the district that she will likely represent in Congress as the youngest woman ever elected to serve on Capitol Hill. Name an Italian, a Jew or an Irishman who claimed cultural or economic power in this country in the 20th century, and chances are that story was seeded in New York City's the Bronx. A century ago, its Grand Concourse evoked the Champs-Elysées, the borough's then-new buildings offered then-new central heating and private bathrooms, and its schools pushed its upwardly mobile children of immigrants to excellence. But, as Grace Paley wrote in an essay about the Bronx, where she grew up — a Jewish success story in an era when the borough wrote many — "Normal American racism never did let everyone into the melting pot at the same time."
This classic Bronx tale of American achievement is a different story now. Ocasio-Cortez lives in an apartment her parents secured long ago, in the Parkchester development, which for years was housing for whites only. Now Parkchester houses one of the highest concentrations of Puerto Ricans in New York City; the neighborhood is 43 percent Hispanic and 28 percent black. In 2010 a congressional district encompassing the South Bronx was the poorest in the entire country. When New York state ranked its 62 counties for health and wellness this year, Bronx County came in dead last. Over half the borough is in extreme poverty; 40 percent of its kids live below the line.
Anyone who has been reading up on Ocasio-Cortez since her primary victory last month knows that her parents' answer to the reality of the Bronx was to get her the hell out of it. With help from relatives who scraped together cash, they were able to put a down payment on a $150,000 house 35 miles north in Westchester County and send her to a nearly all-white school. In her campaign video, she says, "I was born in a place where your ZIP code determines your destiny." That's as true for the Yorktown Heights kids in her senior class as it is for the cousins she would visit back in the Bronx on weekends. Getting out is what made her anomalous.
She was born with the same intelligence, regardless of ZIP code. But one offered its kids suburban security and good schools, even if some parents, like hers, cleaned toilets in that ZIP code to pay the mortgage. For most residents of the Bronx, which has NYC's highest rates of overcrowding and cost-burdened renters, a new lease on a Parkchester one-bedroom like Ocasio-Cortez's is a pipe dream: The minimum annual income to rent is $52,000.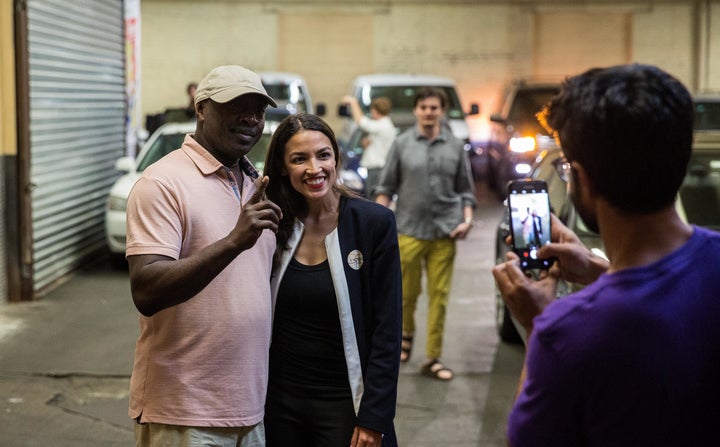 In a recent New Yorker profile (written by editor-in-chief David Remnick — perhaps the ultimate badge of arrival in today's elite), Octavio-Cortez speaks often of her father, of his determination to get her into Westchester schools, of the time he took her to Washington on a road trip with his friends, of how his death while she was at Boston University pushed her to double down on her studies. But it's worth noting as well that after her father died and her household became led by a single mother, the family lost the house and the ZIP code that had anchored her anomaly.
There is no American population with greater odds against achievement and leadership than Hispanic women. The latest census found that one-quarter live below the poverty line and more than one-half are approaching it. The U.S. Department of Education says poverty is the main reason only 19 percent of Latinas 25 to 29 years old ― compared with half of white women and two-thirds of Asian-American women ― have a B.A.; the vast majority of Latinas said they simply couldn't afford college and needed to work to support their families instead of earn a degree. That Ocasio-Cortez was working as a waitress, serving margaritas and tacos, when she began her primary run is not surprising. That she had a degree from B.U. before she took that job is what makes her statistically improbable.
According to another Department of Education report, more than 1 in 5 Latinas has not graduated from high school, compared with less than 1 in 12 from all other ethnic groups. The same report found that education level is the best predictor of Latina placement in the labor market and ability to earn a living wage. This is no surprise ― employment opportunities usually track neatly along such lines ― but to be both Hispanic and female guarantees a particular systemic injustice in our country. Not just because such workers earn 56 cents on the white male dollar: Latin males earn more than their female counterparts even when Latinas are more educated.
And political engagement? Less than half the eligible U.S. Latin population voted in 2016. It's hard to imagine a group that has been more brutally affected by that election — eligible or registered or not. Ocasio-Cortez is the daughter of a Puerto Rican–born mother. Picture the family members who stayed on the island, whose American lives have been devastated in the year since a hurricane that has claimed 5,000 lives and destroyed many others under government negligence. Consider the Dreamers who look like Ocasio-Cortez, whose futures here are precarious at best. Imagine the Immigration and Customs Enforcement agents who have separated Hispanic mothers from their children. Think of the Supreme Court, which may snatch away the right to family planning from a population in which pregnancies explain 36 percent of school dropouts.
We've always loved a scrappy outlier, a good bootstraps story. But if we define Ocasio-Cortez's rise as a new version of an old feel-good story, one anchored in the simple value of hard work and perseverance to overcome odds, we're missing the real story she has come to tell us: Most people who look like her ― and many more who don't ― simply have no boots at all.

Lauren Sandler is a journalist and the author of Righteous and One and Only and has a forthcoming book about a year in the life of a young homeless mother.

Popular in the Community