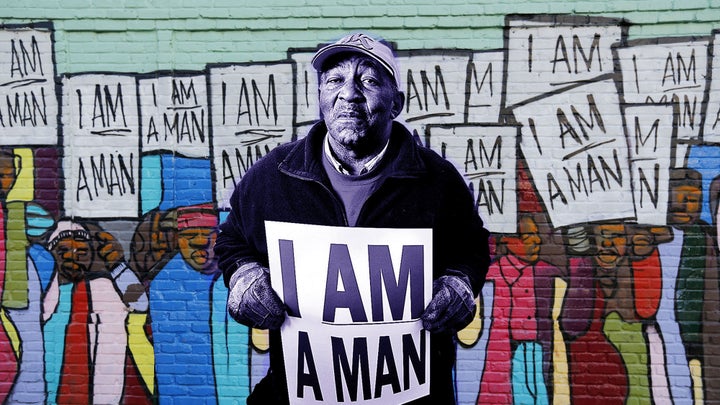 On April 3, 1968, the night before his death, Dr. Martin Luther King Jr. delivered his final speech at Mason Temple in Memphis, Tennessee. In what would become known as the "Mountaintop" speech, King told black Memphis that it had to fight for economic freedom, "see it through" and stay focused on that promised land.
"We've got to give ourselves to this struggle until the end," he said. "Nothing would be more tragic than to stop at this point in Memphis."
Twenty-four hours later, at 7:05 p.m. on April 4, King was pronounced dead after being hit by an assassin's bullet at the Lorraine Motel.
Many people say that when King was killed, Memphis was killed with him. In the aftermath of his assassination, the sanitation workers strike he had come to participate in was quickly settled but the sanitation workers were not awarded a pension, and they continued to work in unsafe conditions. The national attention on Memphis dwindled, and for many, the city returned to business as usual. While there was a peak in union and civil rights activity at the time of King's death, economic and educational inequity coupled with residential segregation continued to thrive.
"Facing overwhelming economic inequality, King's call to 'see it through' was dampened by a need for black Memphians to simply survive."
Fifty years to the day since the murder, progress for black people remains stagnant. Today in Memphis, we still live in the shadow of decades of economic decline and continued systemic racial oppression. A poverty report for the city released in February shows that poverty remains similar, if not the same, for black people in Memphis as it was in the 1970s. Black Memphians earn half of what white Memphians earn. The poverty rate for blacks is 2.5 times higher than that for whites. Some 48.3 percent of black children live in poverty compared with 11.4 percent of white children.
Memphis in the '70s was an industrial town. Black people worked manufacturing jobs at the Coca-Cola and Wonder Bread factories and the Firestone tire plant. But the economic decline of the 1980s caused many of those plants to close or reduce production, leading to extreme unemployment in black communities. As mass incarceration and the war on drugs decimated black neighborhoods, homeownership fell due to extreme redlining. To this day, major banking institutions are still settling with the city in regard to their discriminatory mortgage practices.
When the United States Supreme Court ordered Memphis City Schools to use busing to force integration, white flight hit Memphis hard, leaving behind an underfunded school district with a majority black population. In 2010, a New York Times article posited that black wealth in Memphis gained in the '60s and '70s had been essentially wiped out, leaving generations of black people living in poverty and without progressive job and education options.
With overwhelming economic conditions such as these, King's call to "see it through" was dampened by a need for black Memphians to simply survive. The reality of life for many black Memphians remains challenging under the weight of massive inequity. But as we reach the 50th anniversary of King's assassination, the words from his last speech, his call to "give ourselves to the struggle," are being revitalized as a robust grassroots movement of activism has emerged over the past five years.
"We will no longer just be the city where King died. We are the city where his words live in our collective actions for change."
On Dec. 20, 2017, the statues of Confederate Gen. Nathan Bedford Forrest and Confederate President Jefferson Davis were removed from two public parks in Memphis. In the dark of a cold, rainy night, I stood across the street from Nathan Bedford Forrest and waited for his removal. I stood next to Keedran Franklin, leader of the C-3 Land Cooperative.
The C-3 Land Cooperative is solving the issue of food deserts in Memphis, by purchasing vacant property and engaging neighborhoods in growing their own food. The group's first major haul of 600 pounds of sweet potatoes fed 300 people throughout Memphis. Currently, the group is helping to grow tomatoes, onions, okra, more sweet potatoes and cantaloupe, and it's even providing firewood. It has launched a feasibility study to develop a mobile grocery store and plans to expand into beekeeping.
I also stood with the Rev. Earle Fisher, senior pastor of Abyssinian Missionary Baptist Church. Fisher has launched the Memphis-Shelby County Voter Collaborative, which seeks to increase voter turnout in black communities, reclaiming political power for the disenfranchised. With us, stood Shahidah Jones. She is a member of the Official Black Live Matter Memphis Chapter. Through the Community Bail Fund, Shay has organized the release of black men and women being held only for their inability to pay a bond. Both C-3 Land Cooperative and the BLM Community Bail Fund received donations from political commentator Angela Rye during her visit to Memphis in February.
We were joined that night by Memphians of all ages, races, religions, genders, sexualities, economic backgrounds and neighborhoods, committed to fighting symbols of oppression and the actual systemic oppression that has been allowed to thrive. While removing Confederate statues barely moved the needle on inequity, the movement for their removal, #takeemdown901, represented that in Memphis there is a living commitment to "see it through" to the end.
Entrenched in the Mountaintop speech is King's final entreaty to the black people of Memphis: "Let us stand with a greater determination. And let us move on in these powerful days, these days of challenge to make America what it ought to be."
There is a greater determination in Memphis on this 50th anniversary of our loss of King. We will no longer just be the city where King died. We are the city where his words live in our more robust, collective actions for change.
Tami Sawyer is the director of diversity & cultural competence at Teach For America - Memphis, a social justice advocate and a candidate for Shelby County Commission.
Support HuffPost
The Stakes Have Never Been Higher
Related
Popular in the Community