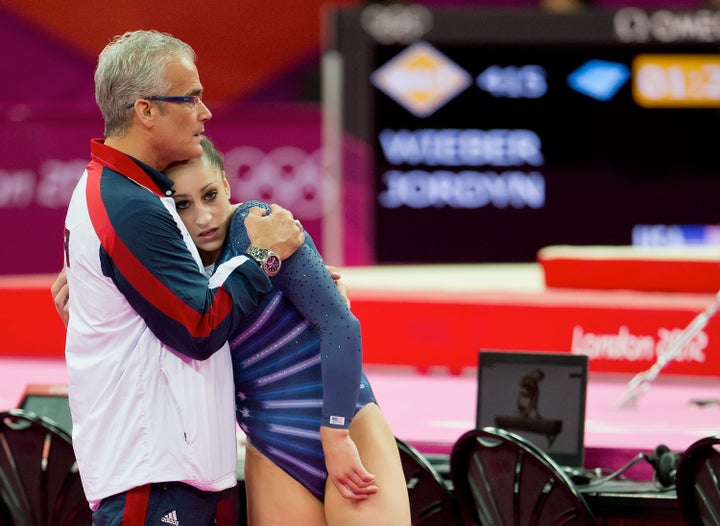 I watched with the rest of the world this month as more than 150 women and girls gave stomach-turning accounts of mental and physical abuse at the hands of former USA Gymnastics doctor Larry Nassar.
I also listened as multiple former gymnasts accused Nassar's longtime colleague John Geddert, head coach at Twistars USA in Lansing, Michigan, of mental and emotional abuse. Geddert required his gymnasts to see Nassar for treatment, some victims said, with one describing Nassar as "the Bonnie to Geddert's Clyde."
Then I helped my 9-year-old daughter, Luisa, pack her monogrammed Twistars travel bag and put on her matching Twistars warmups. I drove her to the airport, hugged her goodbye and entrusted her safety to several Twistars coaches as she and her team flew to Orlando, Florida, for a meet.
Luisa was supposed to be a skater, like her two older siblings. But she sought an escape from hours spent shivering in the bleachers at The Summit Sports & Ice Complex, and she found one on the other side of the facility: Twistars. As a toddler, she'd watch the "big girls" (the oldest of whom were only 17 or 18) flip, twist and soar. "I want to do that," she'd say, and by age 4 she was out there with them, bouncing around in the little kids' area and making googly eyes at the big girls, some of whom were gymnastics celebrities.
Geddert was the head coach of the United States' 2012 Olympic women's gymnastics team and the personal coach of 2011 world champion Jordyn Wieber. The U.S. women's team was heavily favored to win gold in London, and Wieber was a favorite for the all-around title, which was won by Gabby Douglas. Wieber inspired the awe of everyone in the gym.
Both those women have since revealed that Nassar sexually abused them.
My wife and I had been warned about Geddert's intensity from friends who had seen it firsthand. He was controlling, demanding, domineering, severe. He moved deliberately about the gym with impeccably slicked-back hair and an avian, all-seeing gaze. He pushed kids to and past their limits. If and when they broke, he had plenty of hopefuls lined up to take their place. He once told parents that he avoided coaching the younger kids because he tended to run them off.
Twistars is a huge gym, with scores of kids enrolled at any given moment. Hundreds of kids would come and go over the years, most of whom would never be personally coached by Geddert. So we'd figured it would be years before our bouncy little grade-schooler would have to work with him directly.
We thought we were going in with our eyes wide open. But we never saw Larry Nassar coming.
Lansing is a hub city with nearly half a million residents within its ring of suburbs and exurbs, but it has a small-town feel. Nassar epitomized the "pillar of the community" cliche; he was involved in lots of local organizations and had a wide network of supporters and admirers. Even with sexual assault charges pending, he ran for the school board and got 21 percent of the vote. That means 2,730 of our neighbors voted to put the most prolific child predator in known history on the school board. When the Indy Star first reported that Rachael Denhollander had accused Nassar of abuse, the community closed ranks around him with breathtaking speed. As we saw last week, the full extent of Nassar's depredation was revolting. His reputation and the "army of supporters" who enabled him and defended him made it possible for Nassar to abuse so many girls for so long.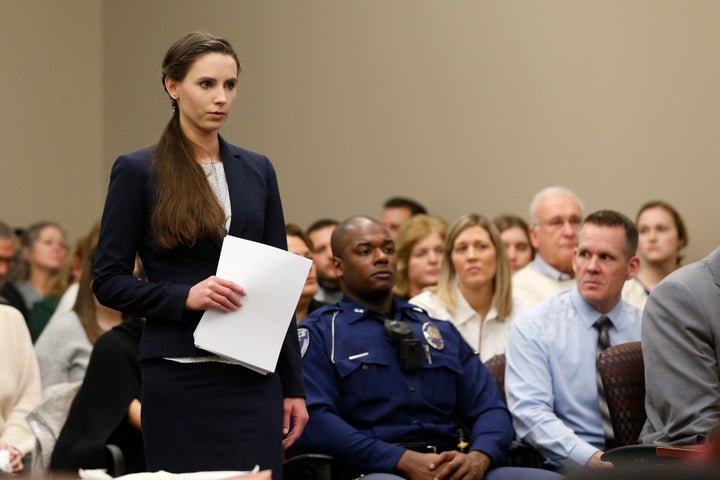 We asked ourselves, over and over: Was our child abused? Could our child possibly have been abused? Did abuse occur at Twistars? Could anyone at the facility have known Nassar was abusing athletes? Did anyone to whom I'm entrusting my child's safety give a pass to the most prolific child predator our society has ever seen?
For months, the answers kept coming back: no, no, no, no and no.
"Your child's safety is, and has always been, the number one priority with our staff and management," Geddert wrote in an email to parents eight days after the Indy Star published its first piece naming Nassar. The email stated that policies and training were in place to prevent abuse. After Nassar's child pornography indictment and subsequent lawsuit, Twistars sent us another email saying employees were "shocked and disappointed." They denied all allegations that Twistars had done anything wrong, "simply because we didn't."
"When you trust your child to what you think is the best coaching and medical care money can buy, the violation of that trust is as shocking as it is horrifying."
Twistars trumpets its role in coaching stars. The lobby displays framed pictures of, and news articles about, Jordyn Wieber. There's a banner proclaiming the gym her "home." The walls are covered with Olympic memorabilia, and a banner for every time Twistars was named the No. 1 gym in the country. The message seems to be clear: This is a world-class training facility, so the only thing stopping you from being Wieber is you. But in decades of coaching, even Geddert has produced only one Wieber.
On another wall, you'll see the more realistic goal for most gymnasts: group pictures of Twistars athletes who have gone on to compete in college, wearing smiles and sweatshirts from the universities they'll attend. That's the wall Luisa hopes to be on someday.

Luisa trains 18 hours a week, not counting six hours of extra conditioning. Still, she usually wants to go to open gym on Sundays so that she can work at her own pace on whatever skills she wants (or just goof around on the trampoline). We don't make her work this hard. In fact, we can't stop her from working this hard. She loves it. It's who she is.
When Luisa needed to learn to jump from the low bar to the high bar, a scary skill that marks a progression to a more advanced kind of bars routine, she simply did it over and over until she got it.
Young athletes draw on all sorts of motivations: dreams of Olympic glory or millions of dollars, love of the sport, desire to win, the need for team camaraderie, the search for an identity, fear of letting down the adults in their lives. The same is true for parents: There are myriad reasons parents push their kids toward, or let their kids pull them into, the world of gymnastics. For me and my wife, it's the joy on Luisa's face when she does her best, and her almost insatiable drive to make her best better.
Gymnastics requires an enormous amount of dedication and trust from parents. Training and travel are expensive, and transporting kids to and from practice is time-consuming and complicated. Logistical and financial matters aside, gymnastics injuries can be severe, and the level of trust parents and kids must have in coaches is extreme. At Twistars, as at most gyms, parents sign a terrifying disclaimer listing all the horrible things that could happen to their kids: broken bones, paralysis, death. Those worst-case scenarios tend to flit through the mind when you watch your child hit the springboard or fall off the beam.
When the head coach of one of the most dominant Olympic teams in history tells you his staff is properly trained, you believe it. And when you trust your child to what you think is the best coaching and medical care money can buy, the violation of that trust is as shocking as it is horrifying.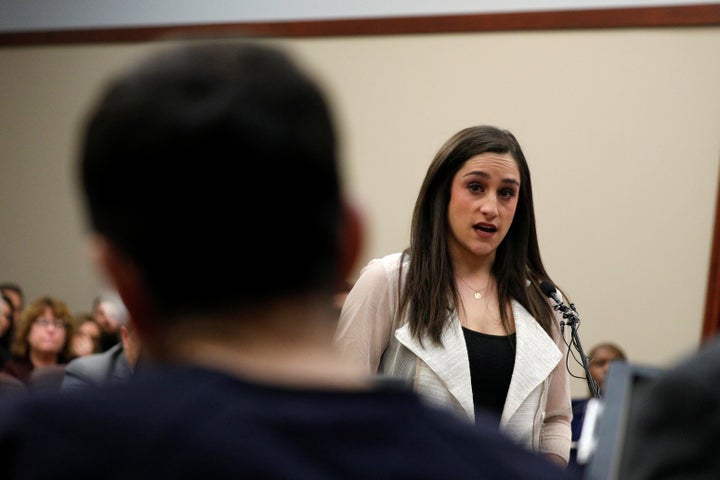 Over the months in which the allegations against Nassar progressed from one, to a handful, to several, Geddert maintained plausible deniability. But as so many more women came forward, some alleging abuse happened at Twistars, a few of those critical "no"s ― the "no"s that had let me and my wife sleep at night ― started turning into "maybe"s.
For Luisa and her teammates, a year and a half of late nights and early mornings and long weekends and intrastate drives elapsed between the Indy Star publishing its story and Nassar's sentencing, at which so many women came forward to tell their stories ― including Wieber, for the first time publicly including herself among the victims. It wasn't until then that the scope of what had happened at the gym became clear. One gymnast said a Twistars coach fractured her hip, and another's testimony described repeated psychological and emotional abuse.
Luisa placed sixth in beam in Orlando, and her Level 4 team won first place ― just like five of the six Twistars girls squads that competed there. By the time she arrived home, Geddert had been suspended by USA Gymnastics for violations of the Safe Sport Policy. My daughter was safe in her own bed when Geddert sent parents an email announcing he was stepping away from the gym and from the sport.
We don't know what happens next. There's no other gym within reasonable driving distance that can help my daughter achieve her dreams. For us, it's Twistars or nothing.
Geddert's wife, Kathryn, is now the sole owner of the gym. The athletes, coaches and parents remaining in the Twistars community ― some of whom are Nassar victims themselves ― will either begin a new era of positivity and respect, or the gym will fail. Likewise, I'd like to think that either USA Gymnastics and the culture of the sport as a whole will be reinvented, or the sport will go away.
But as the rest of the world wonders how on Earth I could possibly keep sending my child to Twistars, I watch her compete, and wonder how on Earth I could possibly stop.
Ty Schalter is a professional NFL analyst, youth soccer coach and very proud father of three. His work is regularly featured at FiveThirtyEight, The Athletic and the Touchdown Wire network of sites.
CORRECTION: An earlier version of this column stated that Aly Raisman trained at Twistars USA in the run-up to the 2012 London Games. She did not.
Related
Popular in the Community