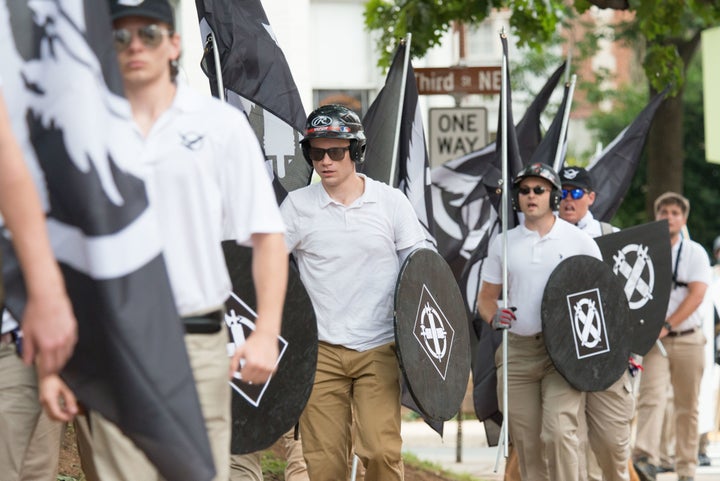 The speculation isn't totally unreasonable: Since last year, several of the most visible white supremacist ideologues, who often call themselves the "alt-right," have fallen on hard times. Richard Spencer, perhaps the most recognizable face of the alt-right, has put his controversial college tour on hold after a lackluster event at Michigan State University in March, which saw few supporters showing up. Spencer said the protesters that have confronted him at such events, sometimes using violent tactics, were "winning."
Andrew Anglin, who runs The Daily Stormer, a neo-Nazi site associated with the alt-right, is facing at least three lawsuits due to his trolling activities. Other alt-righters are facing lawsuits stemming from the Unite the Right events in Charlottesville, Virginia, in August 2017. That event, where a white supremacist allegedly killed an anti-racist demonstrator, resulted in tremendous negative publicity and scrutiny of white supremacists as well as much infighting among them.
But let's be clear: We are not witnessing the end of the alt-right. The Anti-Defamation League's Center on Extremism tracks extremist groups, movements and individuals, and we see a number of reasons to expect the alt-right will continue to play an important role within the broader white supremacist movement for some time to come.
Extremist surges typically last at least five years and, following years of retrenchment, America's white supremacist movement is in the midst of a resurgence thanks to a growing number of young people attracted to the alt-right's racist ideology and subculture. The explosive growth of the alt-right since 2015, abetted by the current political climate, has brought tens of thousands of new recruits to the white supremacist movement, most of whom are young and relatively well educated. These rookie racists have enlivened the alt-right's recruitment tactics, including unprecedented flyer campaigns on college campuses.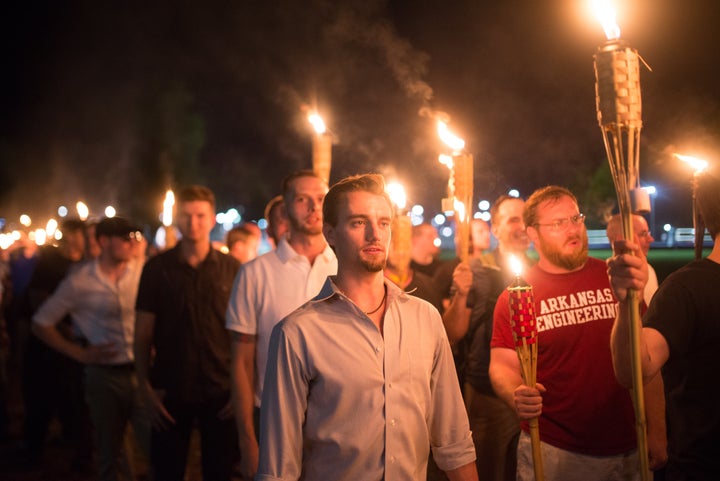 The alt-right grew tremendously from 2015 to 2017, representing the largest single influx into the white supremacist movement since racist skinheads emerged in the United States in the 1980s. Its adherents are currently the most aggressive and energetic segment of the white supremacist movement, driving its growth and activity.
A number of recently formed alt-right groups continue to be active, including Identity Evropa and Patriot Front, which have engaged in flash demonstrations to avoid counterprotesters, as well as the Daily Stormer Book Clubs, made up of localized crews of young white supremacists who support Anglin.
Even white supremacist groups that are not alt-right are affected by its activity. Some oppose the alt-right because they view its tactics as ineffective. For example, Atomwaffen, a neo-Nazi group whose members claim to prepare for a race war to combat what they consider the cultural and racial displacement of the white race, has been linked to violent crimes, including a number of recent murders. Other, older white supremacist groups have adopted alt-right symbols or language in an attempt to ride the wave of alt-right popularity. For example, the League of the South, which formed in 1994 to promote the notion of an independent South that would be dominated by "Anglo-Celtic" values, held its 2017 national conference in Alabama and featured a whole session dubbed "For the Southern People: Southern Nationalism in the Age of the Alt-Right."
"In 2017, white supremacists were responsible for more murders than any other type of extremist."
The size and activity of the alt-right can be seen on social media, where prominent alt-right figures have tens of thousands of followers, and rank-and-file adherents gather in large numbers. And while the response from some social media platforms has forced some prominent alt-right adherents to migrate to other platforms, these new platforms, like Gab, allow networking with likeminded sympathizers in even more concentrated echo chambers.
And this continued activity is likely to lead to more violence. In 2017, white supremacists were responsible for more murders than any other type of extremist — and their deadly toll included several killings linked to the alt-right as it expanded its operations from the internet to the physical world.
Though some of the movement's mouthpieces have fallen on hard times, the forces and racist people behind the movement have not collectively vanished. They still feel that they have a battle to wage in America.
These new members are not going to abandon their hateful beliefs simply because their leaders are fighting with each other or getting booted from Twitter. It is premature to declare victory over the alt-right, but continued pressure on the hateful movement ― including university, civic and political leaders continuing to use their bully pulpit to speak out against hate ― is key to defeating it in the long run.

Oren Segal is the director of the Anti-Defamation League's Center on Extremism.
Popular in the Community