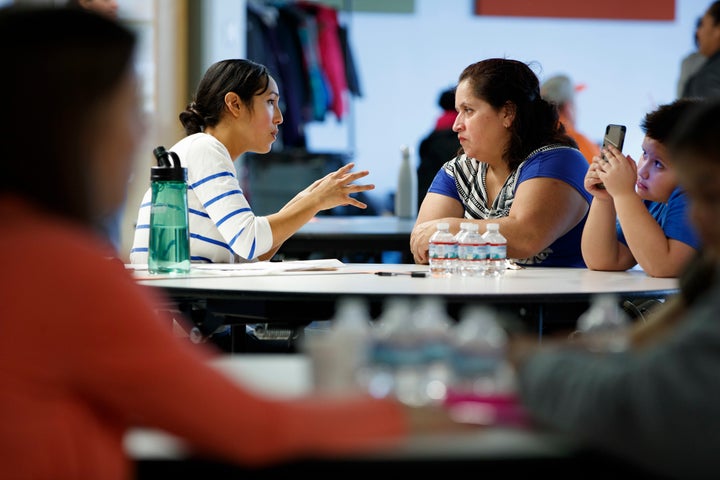 In 1980, at the height of the Salvadoran civil war, Archbishop Óscar Romero was shot to death in San Salvador, murdered in the middle of giving mass. Known for his bold homilies defending the rights of the most marginalized and for calling to an end to the government's armed repression, Romero was beatified and canonized in 2015. A large photograph of him hangs in the offices of El Rescate, a Los Angeles-based community organization that provides legal clinics to Central Americans.
On a recent Saturday morning, I sat in the waiting room surrounded by El Rescate clients who hoped to meet with volunteer immigration attorneys to discuss their legal options to avoid deportation. The waiting room was packed, and many were yet to be seen. The office felt like my birth home, El Salvador, in many ways: the sound of polite señoras, the colorful decor, the clean smell of the room. Since U.S. President Donald Trump announced plans to end Temporary Protected Status (TPS) for 200,000 Salvadorans, there's been something else in the waiting room that makes it feel too much like home: fear.
I grew up in El Salvador, and am no stranger to the violence that has given my tiny birth nation the title of most dangerous country in the world outside of a war zone. Violence took my grandfather decades ago and my own father five years ago. It has taken friends and extended family, made family members ill from worry and scattered others throughout the world.  
At El Rescate, it is impossible to sit among the crowd without feeling the weight of clients' fears. The civil war officially ended on New Year's Eve in 1991, and here at El Rescate, it feels as if the war has never stopped. I recognize the legacy of violence in people's eyes, hushed tones, wringing hands and far away gazes. The brutality of the war has been etched forever in the hearts and bodies of most Salvadorans, there and in the United States. In El Salvador, it continues on a daily basis in the form of extortions, disappearances, kidnappings, even more dangerous gang violence and femicide.
Salvadorans were offered TPS under the George W. Bush administration in 2001, following a series of devastating earthquakes. But the damage from natural disasters pales in comparison to the damage that human violence has inflicted. The end of TPS for this already-traumatized community is more than a legal move or a policy change. It is an irreversible, humiliating and inhuman act of cruelty, and it will have health, moral and spiritual consequences that will last generations.
The end of TPS for this already-traumatized community is more than a legal move or a policy change. It is an irreversible, humiliating and inhuman act of cruelty.
Lately, it is not uncommon for friends and colleagues, especially those serving in school districts, to ask me what they can do about the gathering calamity that is the end of TPS and DACA. It is a humbling question, as the answers can seem naive, cliche or impossible for the average citizen to execute. This may be true, but doing nothing at all is not an option.
To be sure, stories of gang crime by a very small minority of Salvadorans in the U.S. are expectedly frightening. The average American citizen, and any other, would be terrified, especially if you live in areas affected by gang crime.
As hard as it may be, I ask you not to generalize that these stories are a reflection of all Salvadorans. The vast majority of Salvadorans affected by the TPS decision are parents of U.S.-born children, who hold jobs, pay their taxes and participate in the lives of their communities. In spite of their tremendous history of loss and violence, the majority of Salvadorans keep showing up to work, sending money home and caring for their families, no matter how painful their own histories of grief.
At the very least, try to get to know a Salvadoran or someone who knows one closely. Listen deeply to their stories. You might be surprised by their resilience, community spirit and generosity, and loyalty to their roots. Learn the economic data for how TPS would impact not only Salvadorans, but also the communities they work and live in within the United States.
Take those stories to your representatives: Call them or write to them, and ask them to keep TPS in place and reverse the end of DACA. Tell them about the harm that traumatic separation does to families and will do to future generations.
If you live in an area that depends on immigrant labor for its survival, whether it's a small resort town or a large California city, contact a school principal and ask how children of affected families are faring and what practical support they need. Find out which organizations provide legal advice and other support to the affected immigrant community in your area. Ask how you can contribute. If you happen to be an immigration attorney, offer your services pro bono or on a sliding scale.
Lastly, bring the conversation to your dinner table. Unless you are Native American, we all came to this place from somewhere else. Discuss where you come from, no matter how many generations back. Find out what stories of loss, traumatic separation and survival are present in your lineage. Discover how your identity has been shaped by those stories. You might find you have more in common with DACA and TPS recipients than you know.
Dr. Sermeño is a bilingual psychologist, program consultant and expert witness on the psychological impact of childhood trauma. She has a master's in divinity and a Ph.D. in counseling psychology.
Calling all HuffPost superfans!
Sign up for membership to become a founding member and help shape HuffPost's next chapter