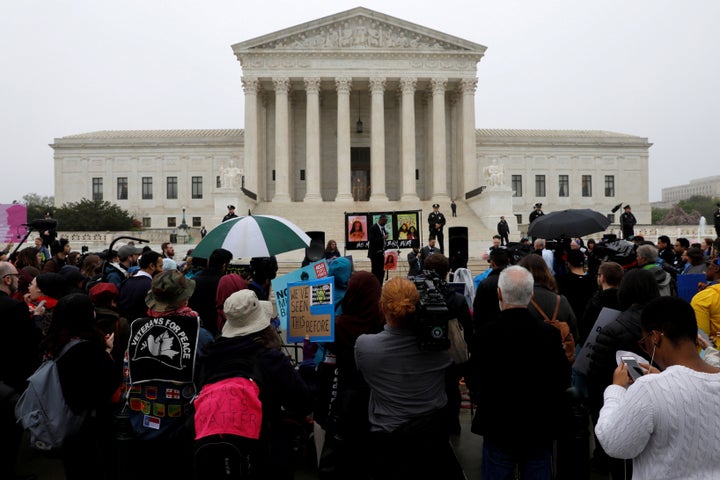 As I sat in the Supreme Court's gallery last week, I recalled the morning after the first version of President Donald Trump's Muslim ban was introduced as one of the worst moments of my life as an Iranian-American attorney and activist. Waking up, feeling distressed and with my level of panic heightening as I continued to hear about community members ― including green card holders ― being detained at airports all over the country on their way back home. Their lives disrupted, taken away from them.
I received dozens of calls, messages and texts from worried family members and friends who had trips scheduled abroad and didn't know what to do, who had a loved one on their way back to the U.S., who felt they were not welcome anymore. At a rally the following day, I asked: "Is being Iranian-American, Syrian-American, Libyan-American a crime in Trump's America?"
Now, more than a year after that January morning, here we were finally inside the Supreme Court to have that question answered.
"The administration has presented nothing to suggest a connection between a person's nationality and the likelihood of his or her being a threat."
Trump's third version of the ban, issued in late September as a presidential proclamation, indefinitely limits entry into the United States from five of the majority-Muslim countries included in the original ban ― Iran, Libya, Somalia, Syria and Yemen.
The ban takes away the ability of U.S. citizens and green card holders to live with, or even be visited by, husbands and wives, parents, children, grandparents, grandchildren, cousins and other family members. It denies final visits to ailing relatives, deprives American audiences and scholars of the ability to hear from and collaborate with individuals from the banned countries, and bars talented young people from U.S. universities and companies.
For these reasons and more, the ban must be struck down.
First, it goes beyond the president's authority. As Justice Sonia Sotomayor asked during the oral arguments: Where does the president get the authority to do more than Congress has already decided is adequate? As Neal Katyal, counsel for Hawaii, pointed out, Trump is trying to implement a flat ban and a perpetual ban against entire populations ― something Congress decided back in 1965′s Immigration and Nationality Act cannot happen. Trump is effectively trying to countermand Congress.
Just before Christmas, the U.S. Court of Appeals for the 9th Circuit decided that the presidential proclamation exceeds the president's power to control the flow of immigration, finding that it goes against the Immigration and Nationality Act.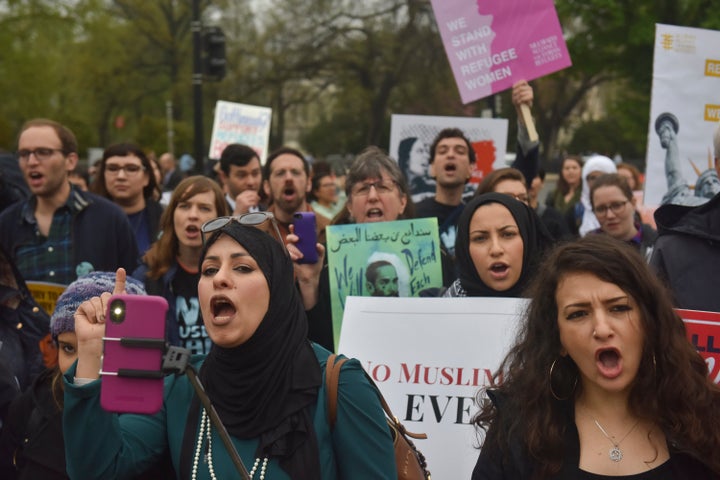 The ban is also clearly unconstitutional because it is targeting a group of people based on their religion. The establishment clause of the First Amendment prohibits the government from favoring or disfavoring one religion among others, and that's precisely what Trump's Muslim ban does.
The ban does nothing to make us safer. Trump is only wasting resources by targeting and banning entire populations with no evidence. The administration has presented nothing to suggest a connection between a person's nationality and the likelihood of his or her being a threat. As courts have held, the president has failed to meet the Immigration and Nationality Act's requirement of "finding" based on reason or evidence that travel from the targeted countries would harm the United States.
Case in point that was mentioned in the arguments: a 10-year old girl from Yemen with cerebral palsy who was denied a waiver. And as Justice Stephen Breyer pointed out, there are scores of other cases of individuals with life-threatening diseases, scholars, potential university students and members of the business community who have also been denied waivers.
When the arguments were over, I walked into a spirited rally in front of the Supreme Court attended by community members who were directly affected as well as many others.
It took me back to that weekend of the first Muslim ban when I went to the Atlanta airport for a protest expecting to see a couple of hundred people. Instead, I was greeted by thousands upon thousands of Georgians, including my own neighbors, who had come out to express their outrage at the ban. A day that began with dread and panic was suddenly one of the most exhilarating and affirming moments for me since the election. Our communities came together and said a resounding "no" to Islamophobia and racism.
The Supreme Court must reject the ban in all its forms or it will affirm that xenophobia, bigotry and intolerance take precedence over our constitutional and human rights.
Azadeh Shahshahani is legal and advocacy director at Project South and a past president of the National Lawyers Guild. Follow her on Twitter at @ashahshahani.
Popular in the Community