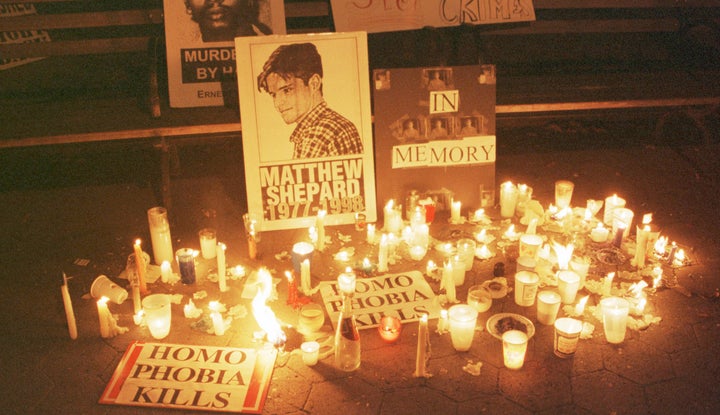 I vividly remember the day one of the men who murdered my son decided their defense would include the "gay panic defense" ― to say that he was so shocked and threatened by being hit on by another man, that he lost control. I was gobsmacked that such a ridiculous premise was even a possibility.
For years perpetrators have been abusing the system by using the "gay panic defense" as an excuse for hurting another human being for simply being who they are, in the same way men have used the "she asked for it" excuse for violence against women.
The shocking reality is this: The so-called "gay panic defense" is only explicitly banned in three states – California, Illinois and, as of this month, Rhode Island. In the 20 years since Matt's death, just these three states have made the move. And, of course, Wyoming, where he was killed, is not one of them. As a further slap in the face, Wyoming, along with four other states, still doesn't have a hate crime law of any kind in place.
But recently, two members of Congress ― Sen. Ed Markey and Rep. Joe Kennedy, both of Massachusetts ― have offered a countermeasure to those attempting to use the "gay panic" excuse. Their legislation, the Gay and Trans Panic Defense Prohibition Act, that would ban the use of the defense in federal court as a legal justification for anti-LGBTQ violence.
As reported by NewNowNext.com:
Kennedy told the Washington Blade that claiming anti-LGBTQ animus caused a violent outburst "is not a defense, it is a hate crime."

"Legal loopholes written into our laws that seek to justify violent attacks against our gay, lesbian, bisexual and transgender neighbors should never have existed in the first place," he added.

Markey said a person's sexual orientation or gender identity "cannot ever excuse violence, and our courtrooms should not be used as chambers of hate."

"Gay and trans panic legal defenses reflect an irrational fear and bigotry toward the LGBTQ community and corrode the legitimacy of federal prosecutions," he continued. "These defenses must be prohibited to ensure that all Americans are treated with dignity and humanity in our justice system."
Right now in Massachusetts, a local teen is claiming "gay panic" motivated him to allegedly hold a man hostage for days, beating him while shouting anti-gay slurs. In Texas recently, a light sentence given a man prosecuted for stabbing a neighbor to death raised concerns that the "gay panic" defense had come into play.
Thankfully, when one of my son's killers, Aaron McKinney, tried using this excuse two decades ago, the judge rejected it. It didn't work then and it shouldn't work now.
Most legal professionals actually advise against it. The American Bar Association, which in 2013 unanimously approved a resolution calling for an end to the use anti-LGBT panic defense in court, sent a letter to Markey expressing its support of the proposed legislation: "These defenses have no place in either our society or justice system and should be legislated out of existence."
Much like the 2009 Shepard-Byrd Hate Crimes Prevention Act passed partially in response to my son's death, federal law targeting "gay panic" defenses won't do as much as it could because most of these crimes end up being state offenses. But it's an excellent first step that would open the door to more states passing it on a local level.
Let's call "gay-panic" what it is: a hate crime. And let's take this bigoted excuse for violence off the table entirely.

Judy Shepard is the co-founder of the Matthew Shepard Foundation.
Popular in the Community