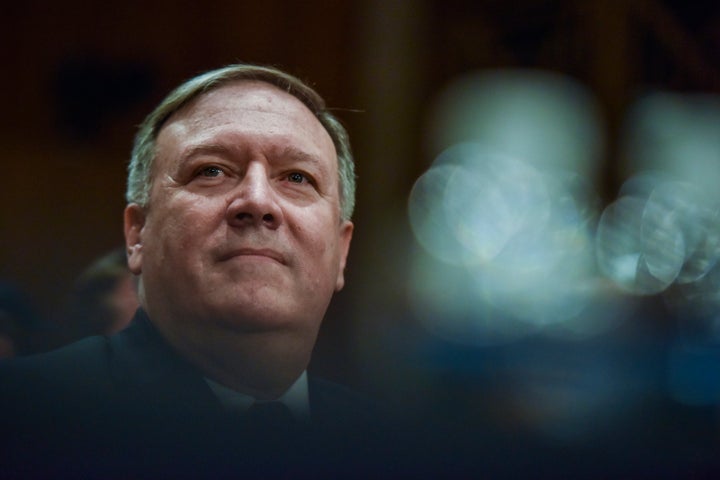 The nomination of Mike Pompeo to be U.S. secretary of state has prompted powerful opposition from human rights groups because of his past support for CIA interrogation methods that amount to torture, his support for mass surveillance practices and his highly problematic views on the rights of Muslims, women, and LGBTQ people. His nomination hearing on April 12 did little to assuage concerns about his record, as Pompeo did not so much deny his past positions as avoid endorsing them.
On Monday, the Senate Foreign Relations Committee voted along party lines to give Pompeo's nomination a favorable recommendation and send it to the full Senate for a vote. But that result was in doubt until the last minutes, when Sen. Rand Paul (R-Ky.) reversed himself and announced his support for Pompeo. And even some of the other Republicans voting for him had voiced misgivings about his record on matters raised at his hearing.
There is a less visible issue, however, that was not discussed at that hearing but which should be weighed as the full Senate considers him: the impact of having a former CIA director lead the State Department. In particular, the impact on the State Department's credibility for promoting human rights and supporting independent organizations abroad.
"Under President Trump, the U.S. reputation on promoting human rights has been greatly compromised."
For decades, the State Department has administered funding programs to support organizations promoting democracy, women's rights and media freedom, as well as health service providers, schools, and groups defusing land mines, fighting trafficking or advancing sports and cultural exchanges.
And for much of that time, abusive governments have made unsupported claims about the State Department programming serving as fronts for U.S. national interests or, more specifically, the CIA. In the most notable recent example, Cambodia's Hun Sen, who has been in power for over 30 years, has accused political opposition leaders of colluding with the U.S. government and CIA to carry out a coup ― citing State Department technical assistance for political parties.
Yes, this programming has had flaws, and the U.S. government overall has been inconsistent and often unprincipled on human rights issues, muting itself when important security or trade initiatives are at stake. And yes, it is true that in the early years of the Cold War, the CIA used civil society and cultural programming for cover operations. But contemporary accusations about nefarious State Department programming are not credible.
The department today focuses on assisting front-line defenders of human rights and supporting the rule of law, good governance and transparency, mainly by dispersing hundreds of millions of dollars of humanitarian and development assistance and grants to independent groups, lawyer's associations, and independent media.
Unfortunately, the Trump administration lacks the credibility to defend these programs. Under President Donald Trump, the U.S. reputation for promoting human rights has been greatly compromised, as he has openly supported autocratic rulers like the Philippines' Rodrigo Duterte, complimented China's Xi Jinping and Russia's Vladimir Putin on their fabricated "elections," and made statements that denigrate core human rights standards and the rule of law.
The stakes are high. In Venezuela, the late President Hugo Chavez repeatedly alleged the CIA was behind plots against his government ― a claim being echoed by his successor, Nicolás Maduro. State-run media have cited U.S. funding for nongovernmental groups as evidence. In 2010, youth groups affiliated with Chavez's ruling party filed criminal complaints accusing groups critical of the government of "treason," citing their State Department funding. And the state-run media accused Rocío San Miguel, the director of one of the groups and a prominent Chavez critic, of being a "CIA agent" who was "inciting insurrection" and seeking to foment a coup.
Government officials in Egypt and Sudan have made similar claims, alleging that the CIA is using State Department-funded groups to advance the spy agency's agendas.
In Cambodia, officials and state-run media have been making increasingly outlandish claims about U.S. embassy support for a "conspiracy." PowerPoint presentations show supposed links between CIA operations and State Department-funded programs in the country, including baseless mentions of their support for an "unregistered intelligence mechanism" and unfounded claims that a U.S. embassy staff member allegedly dating an opposition leader was a CIA officer.
There is no evidence the Cambodian opposition has ever engaged in any subversive activity. It has only sought to compete fairly in Cambodia's elections. In reality, the U.S. government has provided support to Hun Sen's government for decades, providing millions of dollars in development and other assistance — administered by the State Department — even as he has intensified his crackdown on nongovernmental organizations, media and the political opponents.
It's hard to believe there are many on the international stage who believe Hun Sen when he makes his incredible claims. Or believe Maduro or other strongmen. But these CIA allegations serve powerful domestic purposes, undermining the legitimacy of dissidents and fostering a sympathetic narrative about government under siege from shadowy foreign forces.
If the U.S. Senate confirms Pompeo to head the State Department, it will be even easier for strongmen to assert such claims and abuse laws regulating civil society and political parties to target groups that receive State Department funding.
Senators who care about whether the U.S. government can support independent voices internationally — and maintain a foreign policy that is genuinely committed to promoting human rights abroad — should reject Pompeo's nomination. The U.S. government's credibility on these counts is already in dire straits. Having a former CIA director as secretary of state will only make things worse.
John Sifton is an advocacy director at Human Rights Watch.
Popular in the Community