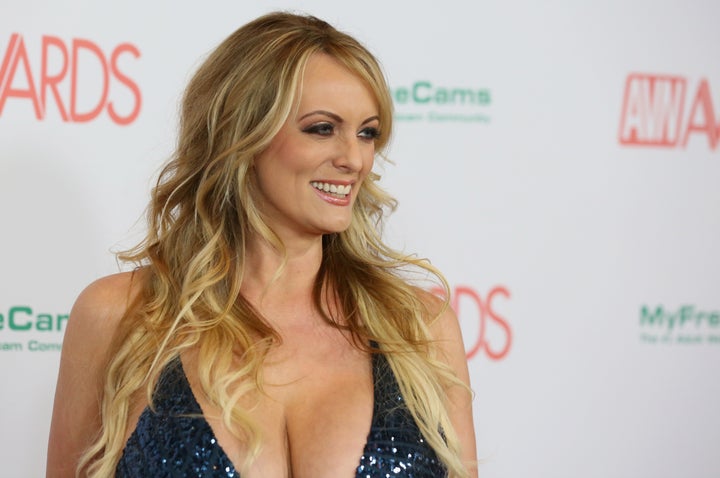 According to an intriguing report from NPR last week, evangelical leaders are quite worried that the nonstop news of Trump's alleged sexual relationship with the adult film star ― she was paid $130,000 by Trump lawyer Michael Cohen, which she says was in exchange for her silence in the days before the 2016 election― will depress turnout among evangelical voters for the midterm elections this fall.
NPR quotes one unnamed leader of a faith-based ministry as saying, "We're very concerned ... that 2018 could be very detrimental to some of the other issues that we hold dear." The leaders are reportedly so filled with anxiety about the possibility that white evangelicals will stay home in November that they are planning a summit at the White House with Trump in June to talk about ways to rally the base, even amid the scandal.
One source told NPR there's a fear some leaders might not even show up at the meeting, stating that it's a "liability," though Family Research Council leader Tony Perkins played up the idea that about 1,000 evangelical leaders would come to Washington. You better believe those at the White House meeting will give Trump a slew of ideas on how he can attack LGBTQ civil rights and abortion rights in even more extreme ways, all in an effort to get evangelicals motivated.
"Evangelical leaders are likely taking a page from Ann Coulter. Certainly, they know which buttons to push to get Trump scared."
But the fear that evangelicals are depressed as a voting bloc for Trump is quite laughable considering what they have stomached so far. They turned out massively to vote for a man who is twice divorced, was accused of sexual misconduct by over a dozen women whose stories were corroborated, and was infamously caught on tape admitting to grabbing women by their vaginas.
Add to that Trump's coddling of racists and white supremacists, the tearing apart of families of immigrants, the vicious condemnation of "shithole countries," and many other not-so-Christian actions and statements. Yet evangelical support has hardly budged. Over 78 percent of white evangelicals who turned out voted for Trump in 2016, according to exit polls. Sure, there was some slippage in the polls among evangelicals over the past year, as was true with much of Trump's base. But a Pew Research poll taken after the Daniels story erupted this year shows support among evangelicals for Trump back up to 78 percent.
The supposed "concern" here about voter enthusiasm is more likely a ploy ― a message telegraphed via the media to the White House ― to get Trump to do more of what evangelical leaders want him to do, and that would include taking a much harder line on LGBTQ rights. They have wanted a sweeping religious liberty executive order signed since early last year, for example, which would provide exemptions on recognizing marriage equality, permit federally funded adoption and family services organizations to discriminate against same-sex couples, and allow much other discrimination in the name of "religious liberty."
Trump is so afraid of losing his base ― and so easily played ― that they know he'll fall for it. In recent weeks, the angry, hardcore anti-immigration crowd among Trump's base was able to get him to declare the Deferred Action for Childhood Arrivals program to be "dead," send troops to the border with Mexico and double down on demands to build his wall. All of this came about after Ann Coulter and other hard-right pundits and activists railed against Trump for getting no funding for his wall and no extreme immigration policies in the recent spending bill, which he reluctantly signed. In a New York Times interview, Coulter warned Trump of "Former Trumpers" who should keep him "awake at night."
Evangelical leaders are likely taking a page from Coulter. Certainly, they know which buttons to push to get Trump scared. New York Times columnist Ross Douthat, a social conservative who's nonetheless been critical of Trump, picked up on the NPR report and ran with a column this week headlined "Why Not Mike Pence?"
Referring to the FBI's investigations of both the Trump campaign and Cohen ― whose hotel and office were raided this week by FBI agents who reportedly seized files related to the payment to Daniels ― Douthat argued in the column that evangelicals should welcome the possibility that "our first openly Hefnerian president gets impeached for illegalities related to an adult entertainer and her charms."
That God would offer religious conservatives in danger of selling their souls a chance not just to step back from the brink but to literally replace Donald Trump with a fellow religious conservative — well, that seems like just the kind of opportunity that a beneficent deity would grant to erring members of his flock.
The mere thought of that is surely enough to drive Trump nuts. It's true that raising the specter of "President Pence" could backfire and cause Trump to turn on Pence, just as he's turned on so many others before who stole his spotlight ― like "President Bannon" ― though it's not possible to actually fire the vice president.
Or, as with the anti-immigration faction of his base, by merely suggesting they stay home because of the Daniels affair ― and floating the idea of Pence becoming the true evangelical president via Trump's impeachment, as unlikely as that may now seem ― evangelicals could make Trump promise even more of a crackdown on LGBTQ rights and abortion rights.
White evangelical leaders' ravenous quest for power and Trump's paranoia, desperation and willingness to lash out at the most vulnerable is a toxic combination. We should be prepared for any possibility.
Popular in the Community