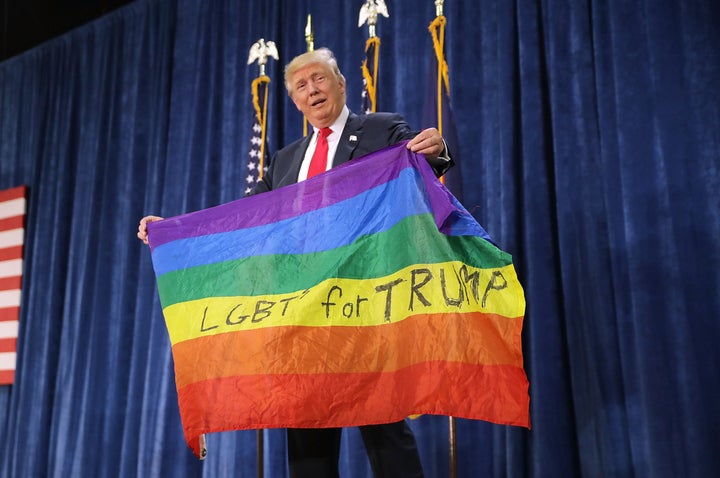 With Judge Brett Kavanaugh's Supreme Court confirmation hearings coming up, it's important to underscore that some anti-LGBTQ leaders appear to be going for the brass ring, far beyond just dismantling marriage equality. They're signaling they want to see the Supreme Court allow states to once again ban sodomy.
The reality of that may sound crazy and horrifying, but just a year and a half ago, many things sounded crazy and horrifying. The U.S. is separating children from their parents at the border (and dragging its feet on reuniting them, even under court order) and the president of the United States publicly sided with a longtime adversary over American intelligence, which he continues to attack. And it appears Roe v. Wade will be overturned.
Banning gay sex, as I noted in the lead-up to Neil Gorsuch's confirmation hearings, is something he likely believes is constitutional. Unlike Justice Anthony Kennedy, the leader on gay rights on the court, Gorsuch is, as the respected NPR Supreme Court reporter Nina Totenberg and her colleague Lauren Russell described him, a "self-proclaimed disciple of [the late Justice] Antonin Scalia's crusade" of originalism: taking the Constitution literally as those who wrote it in its time presumably intended.
Kavanaugh, who sits on the Court of Appeals for the District of Columbia Circuit, is an originalist too, and he's someone the Christian right is counting on to halt in its tracks a Supreme Court that, as Bryan Fisher of the American Family Association wrote after Kavanaugh's nomination two weeks ago, "just in the last two decades alone ... has dramatically reversed its own precedents on the criminalization of homosexuality [and] the legality of same-sex marriage." Fisher wrote another column this week solely focused on sodomy, claiming that "it has become obsessively important to gay activists to pretend that God actually approves of their behavior."
"None of us should believe that even the legality of gay sex, like abortion, can't be thrown back to the states."
And Tony Perkins, the head of the anti-LGBTQ Family Research Council and recently named a United States commissioner on international religious freedom ― and arguably among the most powerful evangelical leaders in the country, with direct access to the White House ― wrote a column last week in which he lamented that 2003 ruling overturning bans on sodomy.
"Don't Ask, Don't Tell [was] the first major crack in the foundation of marriage and human sexuality," Perkins claimed, referring to Bill Clinton's deeply flawed 1993 compromise with Congress that allowed gays and lesbians to serve in the military as long as they remained closeted ― which opened many up to witch hunts, abuse and expulsion.
Then, the next biggest shoe would drop — Lawrence v. Texas, the Supreme Court ruling that struck down Texas's ban on sodomy. The late Justice Antonin Scalia warned where their mistake would lead: "State laws against bigamy, same-sex marriage, adult incest, prostitution, masturbation, adultery, fornication, bestiality, and obscenity are ... called into question by today's decision."
Perkins called Scalia "prophetic," railing against the Supreme Court for giving "the far-Left the only hammer they'd need to destroy thousands of years of human history" and lamenting the Obergefell marriage equality ruling.
For Perkins and others on the religious right, these rulings are connected and inseparable: Overturning gay sex bans allowed for gay marriage and, eventually, for states legislating that a baker or a florist may not discriminate against LGBTQ people. The only resolution to what they see as a full-on assault of sexual morality and the family is to go back to a time before the Lawrence ruling ― when queer people and anyone else could be arrested for engaging in sodomy upon the police barging into homes and finding people in the act.
Let's not forget that's indeed what happened in the case that brought Lawrence to the Supreme Court: Two men were arrested in Houston in 1998 after the police entered the apartment of John Geddes Lawrence in response to a false 911 report of an armed man being present. They found no gun but did find Lawrence having sex with another man and carted both of them away. The other man, Tyrone Garner, was black ― a case similar to so many we've seen in which someone called 911 to report a nonexistent crime being committed by a black person, who then experienced the brutal repercussions of police harassment.
It's no coincidence that Perkins wrote this column focusing on Lawrence at this point in time, as he and other evangelical leaders realize that religious conservatives need to be engaged in the battle to get Kavanaugh on the Supreme Court.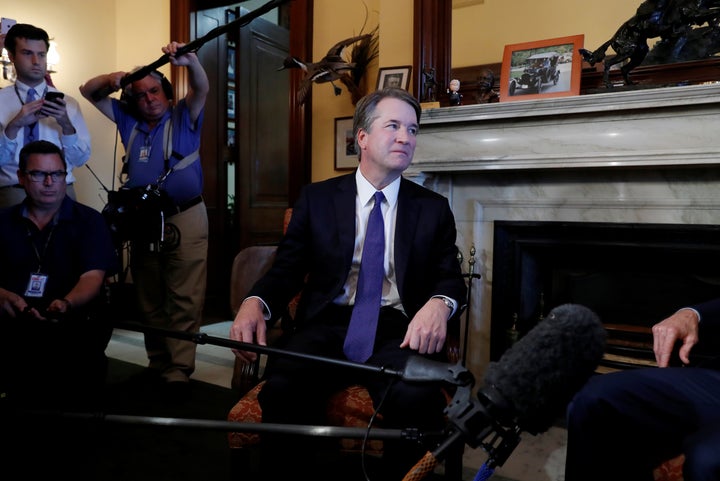 Kavanaugh wasn't their first choice. The devoutly religious Judge Amy Coney Barrett, reportedly among the three finalists on Trump's list, was their favorite. Unlike Gorsuch, who had a history that betrayed his "religious liberty" crusade, Kavanaugh has little to go on regarding LGBTQ rights (even as his record on expansive executive power indicates he could wreak havoc on LGBTQ rights). But because Kavanaugh, like Gorsuch and Scalia, is an originalist, they have much to be confident about.
Originalism was an obscure theory in the 1980s but has since become mainstreamed into the conservative movement. Linda Greenhouse, a veteran New York Times Supreme Court reporter, reminded us last year that Kennedy was nominated by President Ronald Reagan after the Senate voted down Judge Robert Bork, an originalist:
Judge Bork's insistence that the Constitution must be interpreted in light of the original understanding of its authors, a view Judge Gorsuch is said to share, was a fringe notion in 1987. [During his confirmation hearings] Justice Anthony M. Kennedy reassured the Senate by rejecting originalism; the Constitution's framers had "made a covenant with the future," he declared in his confirmation hearing.
As Totenberg and Russell noted, it was Kennedy's sound rejection of originalism that paved the way for his taking the lead on throwing out sodomy bans:
Disagreements [among conservative justices] were never more apparent than in a series of decisions about gay rights written by the usually conservative Justice Anthony Kennedy ... In a decision striking down a Texas law that criminalized private, consensual "homosexual conduct," Kennedy asserted that the Founding Fathers did not specify all liberties because they expected that list to change [emphasis added].
He wrote that the founders "knew times can blind us to certain truths, and later generations can see that laws once thought necessary and proper in fact serve only to oppress. It is the promise of the Constitution that there is a realm of personal liberty which the government may not enter."
That thinking is a direct affront to originalist ideology, which is shared by Justices Samuel Alito, Clarence Thomas and Gorsuch. And while not considered an originalist, Chief Justice John Roberts sided with the originalists on the most important gay rights case of the past few years. Roberts wrote a full-throttled dissent in the 5-4 Obergefell marriage equality ruling, reading it from the bench for emphasis and claiming the decision undermined democracy.
With sodomy on the minds of religious conservatives, who rightly see gay sex bans as integral to stopping any and all advancement of LGBTQ equality, the current situation is perilous.
Trump promised them during the campaign that he would put justices on the Supreme Court "in the mold of the late Antonin Scalia" who support their agenda, and he is doing just that. None of us should believe that even the legality of gay sex, like abortion, can't be thrown back to the states ― many of which, in the political grip of hard-line religious conservatives, would ban it in a heartbeat.
Michelangelo Signorile is an editor-at-large for HuffPost. Follow him on Twitter at @msignorile.
Support HuffPost
The Stakes Have Never Been Higher
Popular in the Community