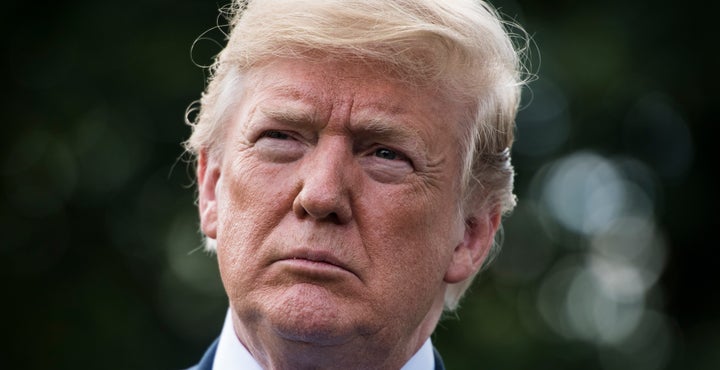 It feels like we're running as fast as we can to get to November, trying to wrest some control from a man who is steering the country ― and the world ― off a cliff.
As the White House asserts a legal argument that treats the president as a monarch, do we really have faith that this Supreme Court will push back if and when this argument reaches them? I sure don't. And if Justice Anthony Kennedy steps down ― rumors are escalating ― and Trump appoints a new justice, all bets are off.
It's more important than ever that Democrats win at least one chamber of Congress in November and put the brakes on Trump's agenda, which each day causes more chaos and harm.
Judging by the massive protest and organizing efforts, many Americans understand that our futures, and our very lives, depend on this. But there's enough denial and complacency ― and hate and resentment ― among enough of the public that winning is not a done deal.
That's a frightening reality. I'm not sure many of us have even contemplated losing.
More frightening is that Trump and his GOP enablers are just as determined to retain all levers of power in November. And they will do whatever it takes to make sure that happens.
Mueller's Russia probe seems expansive and shows no sign of winding down. A House controlled by Democrats wouldn't just be a threat to Trump's agenda and the GOP's willful subservience to him; it would mean the opening of deep investigations into corruption in the White House and even of Republicans on Capitol Hill, like House intelligence committee Chairman Devin Nunes (R-Calif.), who've acted with brazen disregard for justice on behalf of Trump.
We've viewed Mueller with hopeful eyes, but we are now seeing a vigorous effort to destroy the probe, and none of us can be sure this effort won't be successful.
Regarding that, Republicans and conservatives may believe they've passed the point of no return. They know that most business on Capitol Hill would come to a standstill as we focused on these serious matters ― some of which now deeply implicate them ― and that we'd probably see impeachment hearings.
That's clear by how they're vilifying any Republican who breaks with them, sending a message to all in the party. Retiring Rep. Trey Gowdy (R-S.C.), who's spent years pushing every kind of Benghazi conspiracy theory about Hillary Clinton, recently dismissed Trump's "Spygate" conspiracy and defended the FBI. For that, Gowdy, the chairman of the House oversight committee and a major player on the House intelligence committee, has come under nasty attack from some House colleagues while the GOP leadership has stayed silent. Trump's outlandish lawyer Rudy Giuliani jabbed Gowdy for "drinking the Kool-Aid," and Fox News' maniacal Judge Jeanine Pirro railed that her "hero" Gowdy had gone "to the dark side."
Trump's actions in recent weeks show that he not only realizes the dire situation he's in but is trying to do whatever he can to save himself before November.
One sign of this is that he's suddenly being levelheaded at turns ― which might be even scarier than his raging impulsiveness. There's a new, more pragmatic Trump swallowing his pride and backing GOP candidates who voted against his agenda or who have pointed to his offensive and destructive actions and Twitter rantings.
Suddenly, Trump likes the idea of Mitt Romney ― a man who called him a fraud, among many other things, and who recently said Trump is not a role model for his grandchildren ― in the Senate. And Trump, who has pilloried Senate Majority Leader Mitch McConnell (R-Ky.) on Twitter and was leading an insurgent campaign to oust GOP senators who he believed were not supporting him fervently enough, has backed every incumbent senator this fall, helping to keep out extreme candidates he previously heralded but who might be easier for Democrats to beat.
In the GOP primary race for Staten Island's House seat, Trump, in a surprise tweet last week, came out backing incumbent Daniel Donovan (R-N.Y.), who voted against Obamacare repeal and against the GOP tax bill. Trump chose Donovan over the district's former representative, Michael Grimm, a convicted felon with a cult following in New York City's GOP-leaning borough and a man who has modeled himself and his campaign on Trump. 
It's more important than ever that Democrats win at least one chamber of Congress in November and put the brakes on Trump's agenda.
It's pretty shocking when you think about all the grudges Trump has held, refusing to hire people who spoke out against him during the campaign (and thwarting those who slipped in from getting better jobs in the administration) while venting against GOP senators like Arizona's Jeff Flake for criticizing him and John McCain for voting against Obamacare repeal. 
Steve Bannon backed Grimm last fall, showcasing him as part of his insurgency against the establishment ― just as he backed Roy Moore's failed Senate bid in Alabama ― but now even Bannon sees the stakes are too high.
"People are starting to realize that the anti-establishment thing is kind of a luxury we can't afford right now," Bannon told The New York Times last week ― a stunning admission, and a sign that Bannon, like Trump, may be very scared of what could happen if Democrats get ahold of committees and begin investigations. (Bannon certainly hasn't given up on demolishing the establishment in Europe, having recently been instrumental in helping to bring an anti-immigrant, anti-European Union government to Italy.)
The pragmatic Trump also came out against anti-GOP establishment coal baron Don Blankenship (who was convicted of a misdemeanor offense and served a year in prison) in his bid for the GOP nomination for Senate in West Virginia last month, tweeting that Blankenship "can't win" and invoking the Moore debacle. (Interestingly, Trump called Blankenship after he lost his bid and reportedly offered his congratulations on waging the campaign ― perhaps still believing him to be a kindred spirit, even if he had to back his opponent.)
Meanwhile, the more reckless Trump continues to roll back progress in numerous areas and take the country in directions internationally that will be hard for Democrats with control of one congressional chamber to steer back from. And while he and his legal team have gone into overdrive trying to attack the credibility of the Mueller investigation, Trump is pardoning corrupt politicians and pundits, sending the message to witnesses in the Russia probe ― and to his former lawyer Michael Cohen ― that he will pardon them in return for protecting him. He's also sending the message to the rest of us that he will crush any investigations and erase any convictions of his cronies.
None of us knows where Mueller is going, when the investigation will end, what he will find or what impact it will have. We've viewed Mueller with hopeful eyes, but we are now seeing a vigorous effort to destroy the probe, and none of us can be sure this effort won't be successful.
That leaves us with November, and with turning out the vote of those who believe in what's right while fighting voter apathy and voter suppression ― not to mention Russian bots ― as we push back against those who might be energized in Trump's base, high on a toxic brew of hate and paranoia.
At this time two years ago, I couldn't wait for November, just to get it over with and end the craziness. I was fairly confident that something sinister wouldn't prevail. After that election, even with all the energy among progressives now, no one can say that again.
But increasingly, the midterm elections ― and the momentum we bring to them ― look like our best chance to forestall the destruction of our democracy.
CORRECTION: A previous version of this article misstated that Blankenship was convicted of a felony; he was convicted of a single misdemeanor.
Calling all HuffPost superfans!
Sign up for membership to become a founding member and help shape HuffPost's next chapter