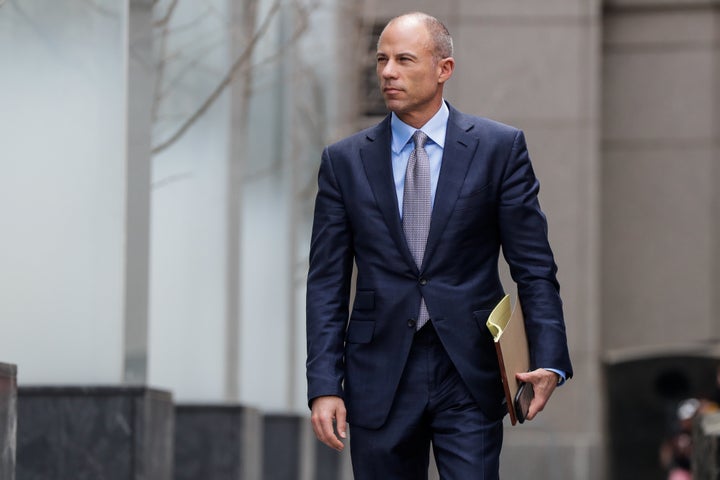 Looks shouldn't matter. But they do ― especially to President Donald Trump.
Trump has decided on choices for major posts to his administration based on whether potential nominees had what one supporter called "the look." It took over a year for Trump to hire John Bolton, his new national security adviser, because he reportedly didn't like Bolton's bushy mustache.
Trump was reportedly long unhappy with former press secretary Sean Spicer's performance before the cameras. Spicer left when Trump brought in the far flashier Anthony Scaramucci as communications director. Scaramucci didn't last more than 10 days, but in that time he committed, in a particularly cringeworthy moment, to keeping the new hair and makeup person for press secretary Sarah Huckabee Sanders.
Now reports are surfacing that Trump is thinking of "benching" his new lead attorney, Rudy Giuliani, from TV appearances. Giuliani has been disastrous, admitting that Trump repaid his lawyer Michael Cohen the hush money to adult film star Stormy Daniels and then getting in deeper as he's tried to clean up his mess, after Trump said he needs to "get his facts straight."
According to an Associated Press report, Trump has been irritated at Giuliani's remarks, including his insinuation that Trump may have paid out money to more women:
Trump also expressed annoyance that Giuliani's theatrics have breathed new life into the Daniels story. It's a concern shared by Trump allies who think Giuliani is only generating more legal and political trouble for the White House.
But you can't help but think the supremely superficial Trump also doesn't like Giuliani's ghoulish, unhinged presence. The former New York City mayor has been mocked mercilessly, on Twitter and elsewhere, not only for his incoherence but for what Jimmy Kimmel described in a monologue as a "major case of crazy eyes" ― that is, his eyes widening considerably when he emphasizes points.
Meanwhile, Daniels' attorney, Michael Avenatti, is ubiquitous on TV. He's smart, smooth, attractive and camera-ready ― and enormously effective. And he's everything Trump would want ― but doesn't have ― representing him on television.
A source who worked with Trump on the campaign told Axios in February 2017 that Trump "judges men's appearances as much as he judges women's appearances," and that this includes his lawyers:
If you're going to be a public person for him, whether it's a lawyer or representing him in meetings, then you need to have a certain look. That look ― at least for any male ― you have to be sharply dressed. Preferably, I would say, solid colors... You should have a good physical demeanor, good stature, hair well groomed.
Some might think Avenatti is overexposing himself, seemingly being on every show, even calling in to MSNBC from the CNN green room at one point. But to Trump, there's no such thing as overexposure. And Avenatti's constant appearances on other networks ensure that he at least turns up in clips now and then on Fox News, which Trump watches religiously. In Trump's superficial world, it probably matters less if Avenatti is criticized or attacked than if he looks and sounds great and is getting a lot of attention.
"He likes people who present themselves very well, and he's very impressed when somebody has a background of being good on television because he thinks it's a very important medium for public policy," Chris Ruddy, chief executive of Newsmax Media and a close friend of Trump, told The Washington Post in December 2016, during the transition. "Don't forget, he's a showbiz guy. He was at the pinnacle of showbiz, and he thinks about showbiz. He sees this as a business that relates to the public."
"In Trump's superficial world, it probably matters less if Avenatti is criticized or attacked than if he looks and sounds great and is getting a lot of attention."
One critic, Bob Killian, a Chicago branding expert, told the Post that Trump's personnel choices were "cast for the TV show of his administration... all perfectly coifed people who look like they belong on a set."
Then-transition team spokesman Jason Miller countered: "People who are being selected for these key positions need to be able to hold their own, need to be doers and not wallflowers, and need to convey a clear sense of purpose and commitment."
That doesn't sound at all like the Giuliani we've seen in the past week ― and apparently Trump agrees. But a "clear sense of purpose and commitment" certainly describes Avenatti.
Again, looks shouldn't matter ― but they do to Trump. And certainly demeanor and coherence matter. On both counts, Trump's new lawyer is failing big-time, while his opposition is beaming brightly across TV screens. And that's got to be killing him.
Popular in the Community