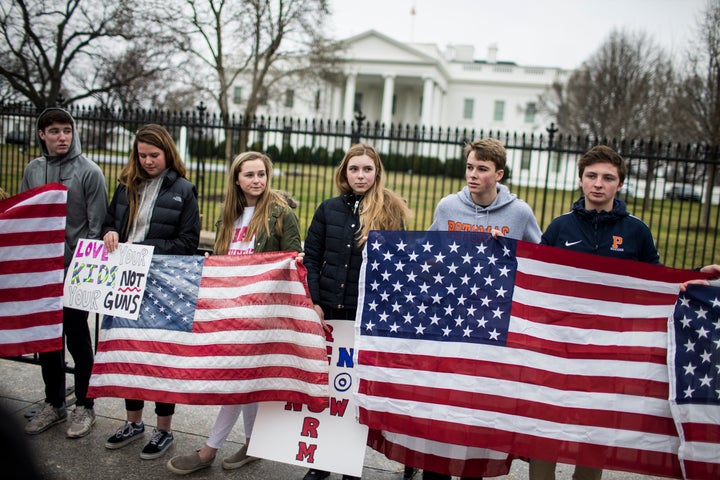 The National Rifle Association is on the defensive, and not just about yet another horrific school shooting. 
Yet, even with gun ownership declining and NRA membership dues appearing to go the same way ― in 2014 the NRA's own tax filing showed a drop of $47 million in membership dues, from $175 million to $128 million, or about 27 percent ― the NRA still had millions more dollars on hand for Trump's campaign than it did for Mitt Romney's presidential run in 2012.
The NRA, through a channel that doesn't require it to disclose donors, spent a record amount in 2016: $55 million, including $30 million backing Trump, triple the amount it spent on Romney. Where the money came from adds more to the intrigue of the FBI's reported investigation of a possible link to Russia, and to the NRA's defensiveness about it.
And now we have last week's devastating school shooting in Parkland, Florida, which claimed 17 lives and appears at this point to be galvanizing young people in a way we may not have seen before ― in a midterm election year that may be spurring those young people to act now.  
We must embrace their anger instead of falling into yet another cycle of defeatism, telling ourselves ― and thus telling these young people ― that beating the NRA can't be done.
On Sunday, some of the survivors of the attack at Marjory Stoneman Douglas High School ―  students Jaclyn Corin, Emma Gonzalez, David Hogg, Cameron Kasky and Alex Wind ― passionately announced a march on Washington, with sister marches across the country, to demand action from politicians. The "March For Our Lives" is planned for March 24. But already dozens of high school protesters this past weekend engaged in mass "die-ins" in front of the White House and across Florida.
These young people have grown up in a world of mass shootings happening with brutal frequency. They're saying it's just not acceptable to them, not anymore. They're demanding action from politicians, and they're expecting change from every one of us.
At a time when the resistance has organized and done the seemingly impossible, we all must embrace their anger and enthusiasm instead of falling into yet another cycle of defeatism, telling ourselves ― and thus telling these young people ― that beating the NRA can't be done. That cycle of defeatism feeds political fears, causes Democrats to cower and has us backing away when we should be hitting the NRA while it is vulnerable, even if it is lashing out every which way, trying to appear almighty and untouchable.
ProPublica's Alec MacGillis, who's covered the gun issue for years, said it perfectly in a Twitter thread on Sunday:
MacGillis expanded his thread into a piece on ProPublica. He noted of course that the NRA is very powerful and that nothing is going to happen overnight, but a shift is visible and we need to take advantage of it. The 2013 vote on background checks after the mass shooting at Sandy Hook Elementary School in Newtown, Connecticut, in 2012 was just five votes short ― plus the majority leader ― of the 60 votes needed to break a filibuster in the Senate, and would have had a chance in the House.
And, most importantly, two of the four Democratic senators who voted against it received no support from the NRA in their re-election campaigns, and lost. The NRA has become an arm of the GOP, and this should show Democrats that attempting to keep from angering the NRA isn't going to help them. They'd be much wiser to loudly tap into the energized and growing movement for gun safety. McGillis notes: 
There are other signs that the political winds are shifting on the issue. In Virginia, the NRA's home state, Ralph Northam was elected governor by a wide margin despite his F rating from the NRA and outspoken calls for tougher laws, following in the footsteps of Terry McAuliffe and Tim Kaine, who both also won statewide election despite their staunch anti-NRA stance.
Progressives must push Democrats to ride the wave of the movement demanding stricter gun laws, and we must specifically demand Democrats back an assault weapons ban, similar to the one we had in place in years past ― a ban on military-style weapons that would stop the sale of guns like the one used by the shooter in Parkland, the AR-15, which can cause such carnage in such a short period of time.
We don't just want positions and statements. We need Democrats speaking out loudly and often about it, and we need Democratic politicians running TV ads in the 2018 midterms calling specifically for a ban on assault weapons.
Promoting gun safety is not just the right thing to do. Trying to ignore the issue ― and ignore the NRA ― rather than marshaling the forces demanding tougher gun laws is the road to ruin, Beltway conventional wisdom notwithstanding.
After the Orlando massacre at the Pulse LGBTQ nightclub in 2016, Joe Sudbay, who has worked as a political advocate and adviser in Washington for many years on gun control and many other progressive issues, rightly warned progressives as well at that time:
One of the biggest myths that has yet to be broken is that the NRA is invincible. It's not true. Never has been. But, it's etched in stone in D.C., particularly among the chattering class made of pundits and consultants ... Over the past two decades, I watched politicians who took on the NRA and the gun issue  —  and won. And, I watched politicians who thought they could ignore the NRA  —  and lost. The latter is always what gets held up as truth. And, once something becomes conventional wisdom, it's very hard to change
And it's not only the epidemic of mass shootings and dangerous weapons in our schools that are at stake, as if that's not enough.
The NRA is now so ensconced within the GOP, raising millions of dollars for candidates hostile to so many progressive causes, that it is a danger to the values Americans cherish. From LGBTQ rights and climate change to immigration and women's equality, the NRA is a tool of far-right extremists hell-bent on a radical agenda.
At the very least, the NRA, from what we know so far, has connected with prominent Russians close to Vladimir Putin, an adversary of this country and of human rights, for years. The New York Times dropped a bombshell in December, reporting that NRA member and conservative activist Paul Erickson was trying to set up a meeting between Trump and Putin:
Indeed, evidence does appear to show deep ties between Mr. Erickson, the N.R.A. and the Russian gun rights community that were formed in the years when many American conservatives, put off by the Obama administration's policies, were increasingly looking to Mr. Putin as an example of a strong leader opposing immigration, terrorism and gay rights.
That is bad enough. But if it's true that Russians used the NRA to funnel money to Trump, it takes things to a whole other level ― as it is illegal to use foreign money for American elections. The NRA is vulnerable, and it's time to strike while the iron is hot.
The NRA simply must be beaten. And the only way that's going to happen is if we stop telling ourselves, and the next generation, that it can't be done.
Calling all HuffPost superfans!
Sign up for membership to become a founding member and help shape HuffPost's next chapter