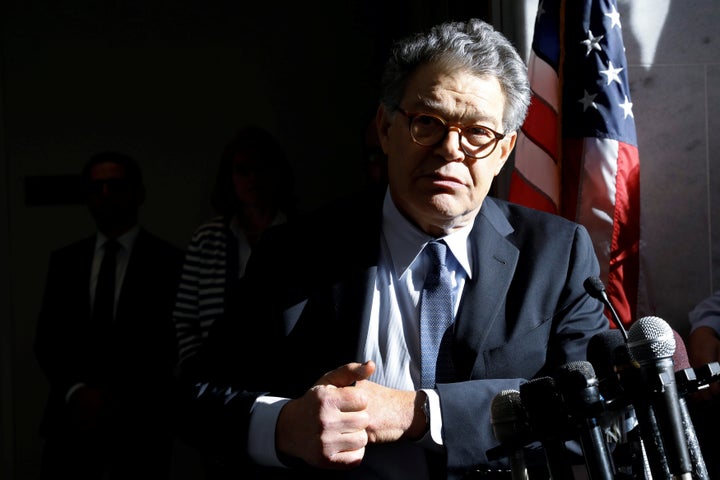 There have been many kinds of men unmasked during the ascent of the "Me Too" movement. These variations in villainy have presented something of a dilemma. How do we talk about what Harvey Weinstein and Al Franken did in the same conversation? How about Russell Simmons and Roy Moore? Should we pile James Franco in with Tavis Smiley, and Kevin Spacey alongside Matt Lauer and Charlie Rose?
Americans, especially us men, are rapidly becoming familiar with the fact that all acts of sexual harassment and abuse aren't the same. Sexual miscreants don't all commit the same types of offenses. Some have long had a reputation as scoundrels, and public accusations simply confirm it. Others? They were supposedly Good Guys. They're like Rep. Patrick Meehan (R-Pa.). We might be able to learn the most from them.
The New York Times reported Saturday that Meehan, a married 62-year-old Pennsylvania Republican, reportedly professed unrequited romantic interest in a woman working as an aide in his office ― then bought her silence with a settlement paid with taxpayer funds. That's appalling enough, without noting that the aide's colleagues told the Times that when she didn't reciprocate her boss's overtures, he retaliated. Meehan "grew hostile" toward her, they said, making her office life so insufferable that she eventually left her position. The Times, which withheld the aide's name, reported that after going through the congressional complaint process, the former Meehan aide signed a non-disclosure agreement and received a settlement.
In a statement responding to the report, Meehan's office denied the allegations and suggested they were baseless. But the story got Meehan booted immediately from the House Ethics Committee. Coincidentally, that's the same body that handles sexual harassment claims in Congress. They've been busy lately, and will be again when they handle Meehan's case ― a move he requested, perhaps in a desire to appear transparent.
The congressman denied the allegations in two interviews on Tuesday ― first, in a lengthy chat with The Philadelphia Inquirer. There were the traditional defiant notes, most significantly that he plans to continue running for re-election in Pennsylvania's 7th District this November. But while he admitted personal feelings for the woman, Meehan also asserted that he never sexually harassed his subordinate, seemingly adhering to a convenient definition of the term that only includes groping and catcalling. It got worse when he spoke to The New York Times and essentially blamed the aide. "This was a person who specifically invited communication with me so that she would be able to have the ability to be there for me," he said, adding, "I didn't do anything wrong."
His version of events paints him as a lovelorn older gent who sought to restrain his affections and stay professional. Meehan claimed that he merely told his aide "that [he] was a happily married man and [he] was not interested in a relationship, particularly not any sexual relationship, but [they] were soul mates." He later sent her a flowery and utterly discomfiting letter ― here, you read it ― in which he referred to her love life and his proud "no" vote on Obamacare repeal. Meehan's excuse for the retaliatory behavior that came later was stress over the Obamacare fight, which doesn't wash since the letter he wrote to her was dated May 4. The House never took another vote on repeal after that.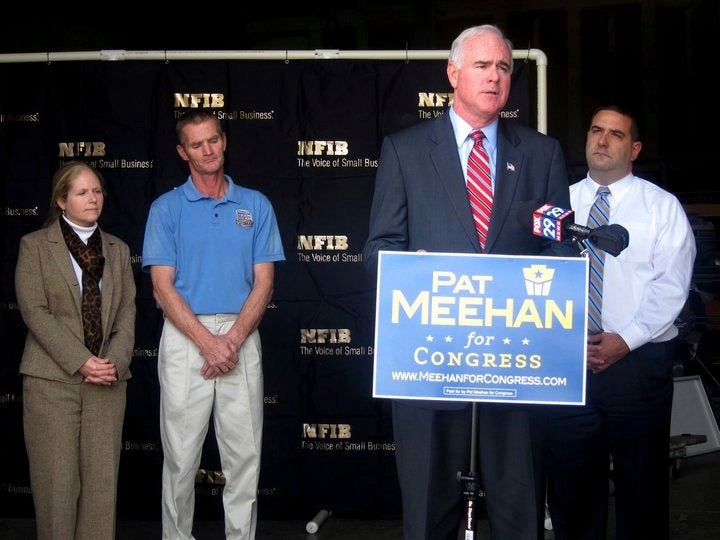 Meehan's defense, as we're likely to discover during his Ethics Committee review, will be his record. Rep. Meehan, you see, is a professional Good Guy. During my days living in Philadelphia before Meehan ran for Congress in 2010, I knew him as the former Delaware County prosecutor who had established a Special Victims Unit for domestic violence victims. I remember thinking of him as a rare Republican who was actually interested in governance. The Times noted his congressional record, including his membership on a bipartisan congressional task force to end sexual violence and sponsorship of legislation in 2016 that would require owners and employees of massage establishments to report allegations of sexual assault to law enforcement. It's one reason why I don't expect much discipline from the House Ethics Committee. It will not be astonishing in the least to hear Meehan's fellow Republicans proclaim, out loud, what a Good Guy he is.
The Good Guy is an archetype that shields many a misogynist. It allows for excuses for inappropriate behavior, and enables even those with the best of intentions to continue willfully benefitting from inherently sexist institutions. Sometimes, the Good Guy actually does good things, or at least says the right things, making him harder to spot. He's a predator, or at least a prick, and feminism is his camouflage. Whether Meehan actually hates women ― he'd probably say that he loved one too much ― is not as relevant as how his behavior affected his aide and how the process she had to endure was built to give him the edge.
Sexual misbehavior and the onerous complaint process that employees must endure to obtain justice are both major problems for Congress right now. The Times published a substantive report in November that concluded that "sexual harassment has long been an occupational hazard for those operating in Washington politics, and victims on Capitol Hill are forced to go through far more burdensome avenues to seek redress than their counterparts in the private sector." In that same month, about 1,500 former Capitol Hill aides signed an open letter to House and Senate leaders. The letter demands that Congress implement mandatory harassment training and revamp the Office of Compliance, the legislative branch's opaque in-house adjudicator that handled the Meehan aide's case.
If there is justice in the world, the allegations against Meehan will do more than provoke stern rebukes from the likes of Speaker Paul Ryan (R-Wis.), a man who mouths pseudo-feminist platitudes while carrying water for a sexist president. There is one sign that something may soon change. A bipartisan bill was introduced last week that would address various elements of the sexual harassment crisis on Capitol Hill. It would prohibit members of Congress ― such as Meehan and his colleague, Rep. Blake Farenthold (R-Texas) ― from using the money we pay them to quiet the staffers and colleagues whom they harass. Reforms in the amendment to the Congressional Accountability Act of 1995 include providing an advocate for accusers who come forward, as well as protections that ensure that they can continue their work with less fear of retribution.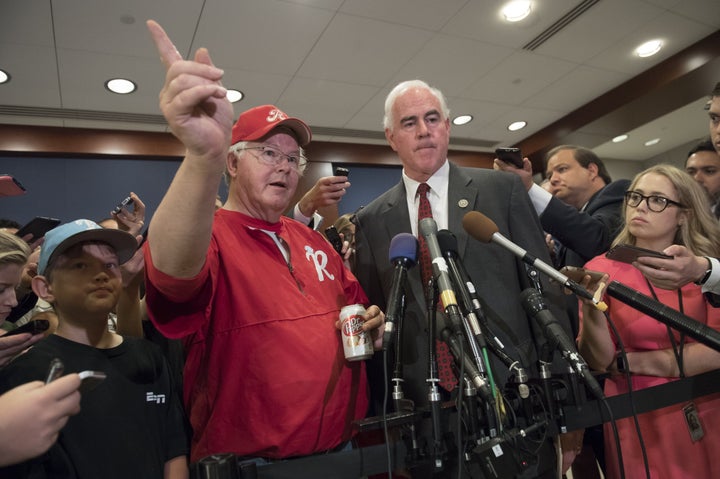 However, transparency advocates are alarmed by the bill's language cutting out the independent Office of Congressional Ethics from the adjudication process, fearing that the change may make it even more difficult than it is now for the public to learn about allegations and proceedings. Victims claim that should the bill become law, it may prove harder for an accuser to sue a member of Congress. Whatever solution emerges, I doubt Meehan will be a part of it. Either he will resign, as well he should, or he will continue to wage his quixotic quest for re-election in a district that no longer will be gerrymandered to protect him. (Thank you, Pennsylvania Supreme Court.)
In the meantime, what of his former aide? The handling of her complaint, per the Times, was "demoralizing." It diminished both her finances and her personal life, negatively affecting relationships with family, colleagues, and even the new beau whom Meehan envied. She struggled to find a new job, and eventually went abroad to start over. In many other stories about the aftermath of sexual misbehavior in the workplace, we see women suffering most, if not all, of the consequences. They find themselves there thanks not just to men who abuse and harass them, but also the systems that are set up to protect those men. However you judge his behavior toward his aide, it's clear that Meehan was happy to take advantage of a faulty process that left him protected and left her traumatized.
This isn't just about conservative hypocrites or famous Good Guys. There are many men, surely, who were among the millions demonstrating last weekend at the Women's Marches who perform well as allies and may even be involved in work that furthers the goals of feminism—yet who continue to indulge in the unearned rewards of institutional sexism. We all can do better, myself included. We can't be like Pat Meehan, content merely to put on a Good Guy act. As he has just proven, that isn't nearly enough. It's time to stop being Good Guys, and start doing the work of being better men.
Jamil Smith is a journalist and radio host. He covered the 2016 election for MTV News and, in addition to his HuffPost column, is a contributing opinion writer for the Los Angeles Times.
This piece is part of HuffPost's brand-new Opinion section. For more information on how to pitch us an idea, go here.
Popular in the Community