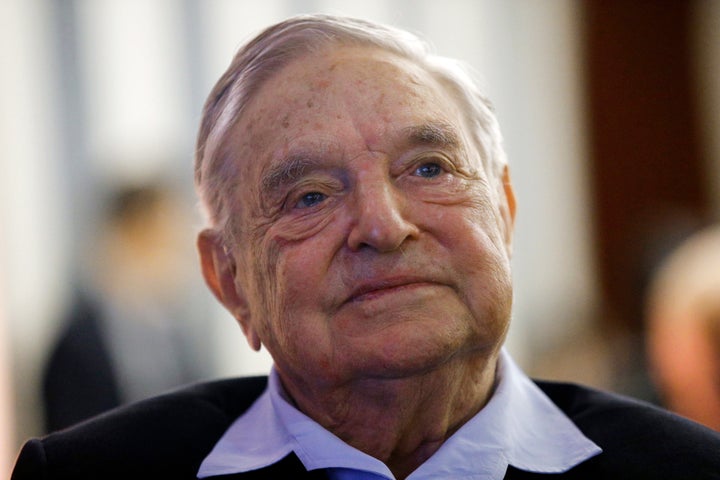 In his latest pyrrhic victory, Hungary's authoritarian leader Viktor Orbán has forced Central European University, the marquee English-language institution of higher education in the heart of Europe, to abandon much of its operations in Budapest and depart for nearby Vienna. The departure comes after a years-long campaign to penalize, de-certify and ultimately drive out CEU, which was founded three decades ago to provide a global education for those shaking off the yoke of communism in Eastern Europe.
CEU's billionaire founder, George Soros, believed that the region, with the university as its engine, could become a powerhouse for democracy and truly vibrant societies. In the subsequent years, CEU became a global hub, attracting about 1,400 students from more than 100 countries. When I worked there, from 2010 until 2012, it was a place of incredible promise. Students held human rights workshops, faculty led classes on extremism and nationalism, speakers from around the world came to the '90s-era auditorium to lecture on bioethics and Ottoman history. Roma students were given opportunities to access higher education they have long been denied.
But such diversity of thought and character were no match for the era of illiberal democracy in Hungary, and the university's departure is the latest and perhaps most profound sign that Hungary's democracy truly is failing.
"The university's departure is the latest and perhaps most profound sign that Hungary's democracy truly is failing."
In 2010, well before Brexit and well before the election of President Donald Trump, Hungary began a near-decade-long slide toward single-party control and the silencing of dissent. That year, Orbán's Fidesz party swept to power on the heels of a painful economic downturn. With a two-thirds majority in parliament, Orbán was able to redraw the country's election districts, locking up Fidesz's power. By 2011, a new media law gave Orbán allies the power to impose fines for "imbalanced news coverage," a move Human Rights Watch called "incompatible with Hungary's human rights obligations." In subsequent years, opposition media outlets would close their doors.
Hungary has been a member of the European Union since 2004, and there was outcry from EU leaders following a flurry of laws that sapped the independence of the country's central bank and its judiciary. By 2012, Orbán and his allies had rewritten the country's entire post-1989 constitution, a move critics said would erode free speech and civil rights even further.
Orbán's animosity toward Soros' work has been clear for some time. For years, Orbán decried the influence of foreign-funded nongovernmental organizations, and in 2017 his government passed a bill requiring organizations receiving $26,000 annually from overseas sources to declare themselves "foreign-supported," or risk closure. It was widely seen as a rebuke to any group connected to Soros' decades-long campaign of supporting pro-democracy organizations and movements across the region and the globe. During the summer of 2017, I counted well over 40 government-funded billboards between Budapest's airport and the city center, all depicting a grinning Soros and the caption, "Don't let George Soros have the last laugh."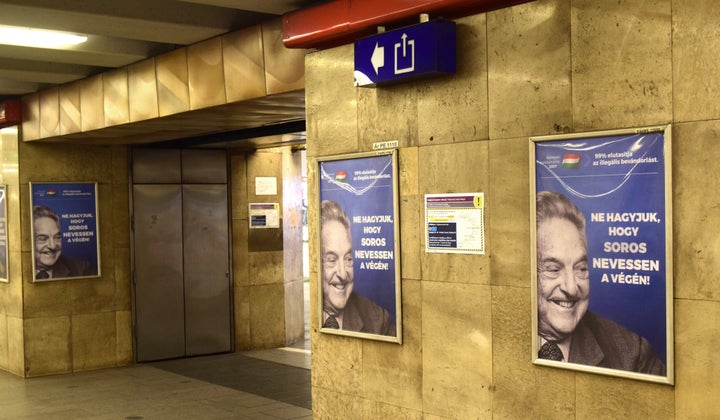 Last year, Orbán's party moved to amend the country's higher education law, specifically targeting foreign universities. While the Soros-founded CEU operates as a partly Hungarian institution, its programs are accredited in the United States. The newly amended law's complex provisions ― for instance, requiring a bilateral international agreement, incompatible with the fact that U.S. universities are mostly regulated at the state level ― appeared to solely target CEU.
While cautioning publicly that the new regulations might force CEU to close its doors, the university's current president, former Canadian Liberal Party leader Michael Ignatieff, and his predecessor, American diplomat John Shattuck, led the good fight. CEU students, faculty, staff and supporters flooded the streets of the Hungarian capital, insisting on academic freedom and criticizing the government's campaign to single out and shutter the institution. Emblazoned on buttons and shop windows was the campaign's rallying cry, #aCEUvalvagyok. "I stand with CEU."
And despite the law's onerous terms, CEU made an earnest effort to comply with the law. The university started operations at its sister school Bard College, and inked an agreement with New York state education officials that they believed could serve as the kind of bilateral agreement that the new law required. But this fall, Orbán's government refused to hold up its end of the bargain, failing to sign the mandated bilateral agreement. It was the ultimate proof that Orbán and his enablers had been acting in bad faith all along.
"In 2010, well before Brexit and well before the election of President Trump, Hungary began a near-decade long slide toward single-party control and the silencing of dissent."
That was the last straw for CEU's board and leadership. They announced that starting next academic year, CEU will commence operations for its U.S.-accredited programs at the parallel campus in Vienna. Fortunately, thanks to the largesse of its founder and its immense network of supporters, the university and its students will likely thrive there.
It's Hungarians and Hungary who stand to lose the most from CEU's departure. As one of Hungary's highest-ranked educational institutions, in 2015 alone CEU drew 9 billion forints (over $30 million) in research funds into the country and calculated in-country expenditures of over $35 million. The university just completed a multimillion-euro renovation project in the heart of Budapest's historic downtown. While the university says it will continue some operations in Hungary, it's clear the local economy will take a massive hit when it decamps to Vienna.
But beyond the economic damage, CEU's departure marks an inflection point after years of democratic decay. Opposition press has all but evaporated. Once-independent institutions are now firmly within Orbán's control. His Fidesz party has forged a deep structural advantage against nearly all opponents. Orbán continues to leverage fear of foreigners and migrants to shore up his right-wing base.
It's part of a pattern that seems to be consuming Eastern and Central Europe: In 2017, the democracy-monitoring NGO Freedom House gave Hungary the lowest ranking of the nations it monitors in Central Europe, and lowered its overall democracy scores for 18 of the 29 countries in Eastern Europe and central Asia. And it's all a little too familiar for anyone watching from the United States, where attacks on the press, electoral suppression and xenophobia have led us into a very dark moment.
What's happening in Hungary is, in some ways, unique to a small country whose experience with democracy is less than a generation old. But it's a cautionary tale about how the steady chipping away of norms and principles can cause irreparable harm. The departure of CEU represents not just yet another strike against yet another independent institution, it's a blow to the free inquiry, debate and academic freedom that form the backbone of strong, democratic societies. Hungary shows us those principles are more essential ― and perhaps more fragile ― than we might think.
Stephen Fee is director of media and strategic engagement at the Brennan Center for Justice at New York University School of Law and worked in the communications department at Central European University from 2010 to 2012.
CORRECTION: A previous version of this piece referred to Michael Ignatieff as the former leader of the Canadian Labor Party. He led the country's Liberal Party.
Popular in the Community