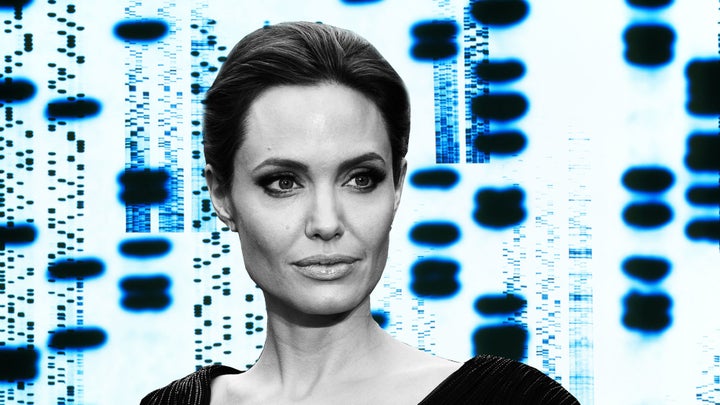 Jolie's essay played a critical role in increasing awareness of both BRCA mutations and genetic testing. Her announcement had such a significant impact, scientists observed what's now referred to as the "Jolie effect" ― genetic testing for BRCA1 and BRCA2 mutations increased by 64 percent in the three-week period after Jolie's essay ran in the Times. Six months later, genetic testing rates remained 37 percent higher than in the four months prior to the op-ed's publication.
We've seen a few scientific breakthroughs in the past five years when it comes to treating cancers caused by BRCA mutations. However, significant challenges remain regarding access to genetic counseling and testing in the U.S.
Many At-Risk Groups Aren't Getting Tested
Despite the increase in genetic testing after the release of Jolie's op-ed, many patients who would benefit most from genetic counseling are still being overlooked.
In February 2017, researchers at Stanford University conducted a study of recently diagnosed breast cancer patients to evaluate their use of and their perspectives on genetic counseling and testing. Although 66 percent of the more than 2,500 survey respondents said they wanted genetic testing, only 29 percent had received it. And among the survey respondents believed to be at high risk for a cancer-causing mutation, only about 53 percent had undergone genetic testing.
This means about 47 percent of high-risk patients who had already been diagnosed with breast cancer didn't undergo genetic testing ― a missed opportunity for the patients and their families to potentially prevent future cancer diagnoses.
"Despite the increase in genetic testing after the release of Jolie's op-ed, many patients who would benefit most from genetic counseling are still being overlooked."
Studies have also shown that rates of BRCA1 and BRCA2 testing are significantly lower among women of color. A May 2015 study published in the Journal of Clinical Oncology found that black, English-speaking Latina and Spanish-speaking Latina women were more likely than their white counterparts to have an "unmet need" for genetic testing discussion (defined in the study as a "failure to discuss genetic testing with a health professional when the individual had a strong desire for testing"). This disparity was greatest between white women and Spanish-speaking Latina women.
Similarly, a July 2017 study looked at black, white and Hispanic women who had been diagnosed with cancer before the age of 50. Compared with white women, black women were 16.6 times less likely to have discussed genetic counseling with a health care provider, and 5.6 times less likely to have undergone genetic testing. Genetic testing and counseling rates among women of color are simply still too low.
And though the focus is understandably on BRCA mutations in women, these mutations can also be carried by men ― and potentially passed on to their children. In April, a study published in The Journal of the American Medical Association found the testing rate for BRCA gene mutations in men was an alarming one-tenth the rate in women ― a gender disparity not found in other types of cancer gene tests.
Testing Guidelines Could Be Missing Many Mutation Carriers
The National Comprehensive Cancer Network and Medicare issue criteria as to which individuals should be referred for genetic testing. But two recent studies suggest the existing criteria may miss a significant number of people with inherited mutations.
In the first study, researchers considered 235 patients who had already been diagnosed with breast cancer. Forty-eight percent met the NCCN's criteria for testing for a potential cancer-causing gene mutation, and 52 percent of the patients did not. Genetic testing results showed that 12.4 percent of the patients who met the NCCN's criteria had a known mutation, as did 11.5 percent of patients who didn't meet established criteria.
"Rates of BRCA1 and BRCA2 testing are significantly lower among women of color."
The second, similar study showed that 3.2 percent of patients who met the Medicare criteria for testing referral had BRCA1 or BRCA2 mutations, compared with 1.9 percent of those who did not meet the criteria.
Given that both studies showed similar mutation rates among patients who met and didn't meet established criteria, the current guidelines appear to be missing a number of BRCA carriers. This is important, because some insurance companies use the NCCN's guidelines to help determine when genetic counseling and testing should be covered by insurance ― and about 59 million Americans are covered by Medicare, and therefore subject to its referral criteria.
We're Experiencing A Shortage Of Genetic Counselors
Genetic counseling is a key part of the genetic testing process. Counselors help patients determine whether genetic testing is even appropriate to begin with. They also help analyze test results and communicate those results to family members. In fact, some insurance companies require that the order for genetic testing come from a genetic counselor or a nurse or physician who has undergone genetics training.
Unfortunately, the demand for genetic counseling currently outstrips the number of available genetic counselors in the U.S. ― and this supply-demand ratio isn't expected to reach equilibrium until at least 2024. This means many patients a) don't receive genetic counseling after they get their test results back, or b) face long wait times when it comes to scheduling an appointment.
What Do We Do Now?
Many of these access issues have arisen because we don't have enough genetic counselors in the U.S. to provide testing. One possible solution is to expand genetic counseling training to other physicians. A study from April looked at patient satisfaction among people diagnosed with ovarian cancer who received pre-testing counseling from an oncologist instead of a certified genetic counselor. Participating oncologists and oncology nurses received training on BRCA testing and genetic counseling techniques before providing patients with pre-test counseling. An incredible 99 percent of patients said they were satisfied with the process.
"The demand for genetic counseling currently outstrips the number of available genetic counselors in the U.S."
Another option: Create partnerships between direct-to-consumer genetic testing companies and area hospitals. DTC genetic tests can help eliminate the wait time associated with seeing a traditional genetic counselor, but a major criticism of DTC testing companies has historically been that they often don't provide the kind of education needed to guide patients through their results. However, Color Genomics, a leading DTC provider of genetic testing kits, announced on May 6 that it is partnering with four large universities — the University of California, San Francisco; the University of Chicago; the University of Washington; and Thomas Jefferson University ― to expand genetic counseling and testing access. Patients will have their genetic testing done by Color and then receive access to a genetic counselor provided either by Color or by a participating university.
Similarly, the BRCA Founder Outreach Study, directed by leading experts in cancer research from institutions such as Dana-Farber Cancer Institute and Memorial Sloan Kettering Cancer Center, is also exploring how DTC testing can be used in conjunction with medical provider guidance.
If successful, either program may serve as a model in ensuring all patients have access to this kind of potentially lifesaving information.
As a fellow BRCA mutation carrier, I understand the level of bravery it must have taken for Angelina Jolie to disclose her story to the world five years ago. Physicians, advocates and policymakers must come together to make sure they continue to capitalize on the attention that Jolie brought to the genetic testing conversation. We can't afford to lose momentum now.
Erika Stallings is an attorney based in New York City. After learning that she carried a BRCA2 gene mutation in 2014, she underwent a preventative double mastectomy and now works to raise awareness of genetic testing, particularly in underserved communities. She serves as co-chair of the Young Leadership Council for the Basser Center for BRCA.
Popular in the Community