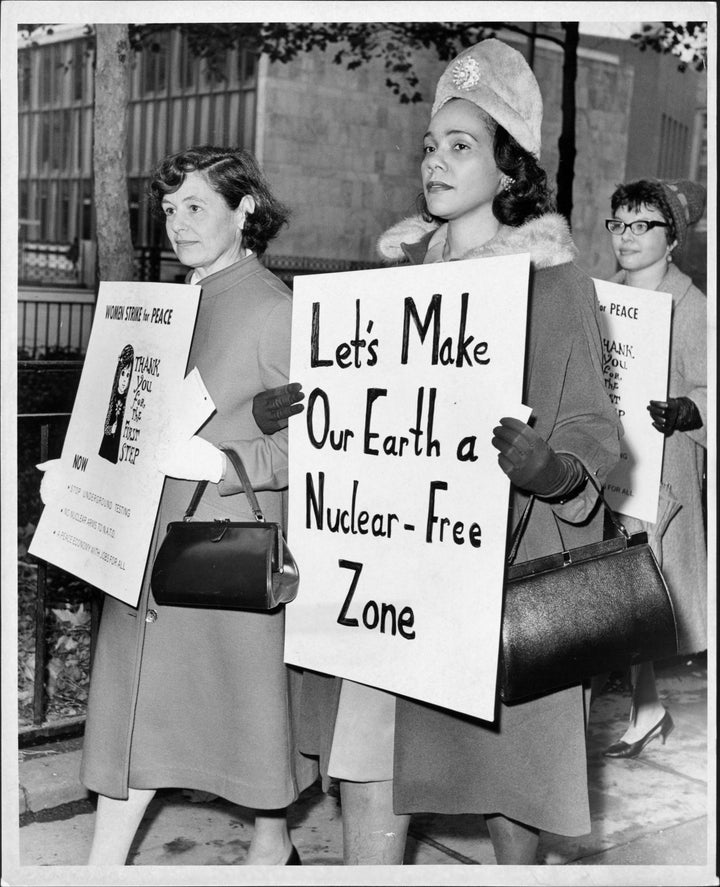 If there's one thing several prospective Democratic presidential candidates can agree on, it's a jobs guarantee. In recent weeks, Sens. Kirsten Gillibrand, Cory Booker and Bernie Sanders have all endorsed various versions of federal proposals to guarantee jobs for all who want them.
Gillibrand connected her call with the one promoted by Coretta Scott King, a leader in the struggle for guaranteed jobs from the 1960s through the 1980s. "Coretta refused to accept the concept that full employment, a job for everyone, was impossible," Gillibrand said. "I agree with Coretta."
But what does it mean to agree with Coretta? Scott King's idea of justice was a comprehensive one, tying a moral vision of dignity for all to an engagement with detailed policy solutions.
Scott King would be heartened by the growing Democratic embrace of the full employment goals she spent decades fighting for. But her vision of economic justice was also broader than that: It encompassed a transformation of a war-making society, a demand for genuine welfare rights and real measures of justice, as well as protected voting rights for black people. In that vision lies the potential to revitalize our national politics ― if we confront it in its fullness, rather than selectively appropriating her example.
"In Coretta's vision lies the potential to revitalize our national politics ― if we confront it in its fullness, rather than selectively appropriating her example."
Coretta Scott was political long before she met Martin Luther King Jr. At Antioch College in the 1940s, she supported Henry Wallace's third-party bid for the presidency and attended the Progressive Party convention.
She insisted 'obey' be taken out of her marriage vows. Six weeks into the Montgomery, Alabama, bus boycott, when the King's house was bombed with her and baby Yolanda inside, her father and father-in-law demanded that she and the baby leave Montgomery. She refused.
Her commitment to peace and global justice shaped her husband's politics. In 1962, she journeyed to Geneva as a Women's Strike for Peace delegate to a disarmament conference. In 1964, when Martin was awarded the Nobel Peace Prize, she saw a new "responsibility" for both of them to the world and began to push him to come out publicly against the Vietnam War.
She spoke out publicly against the war earlier than Martin — and when a reporter questioned him about whether he educated her, Martin corrected him: "She educated me."
Just weeks after her husband's assassination, Scott King spoke to a massive antiwar rally in Central Park: "The interrelatedness of domestic and foreign affairs is no longer questioned. The bombs we drop on the people of Vietnam continue to explode at home with all of their devastating potential."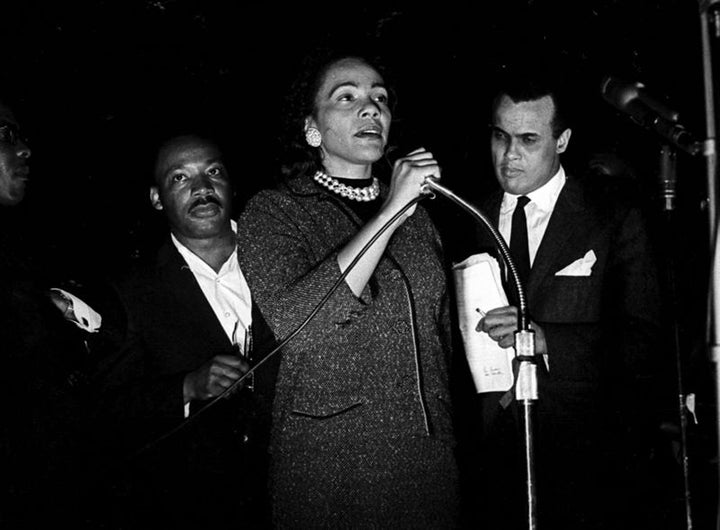 At the end of his life, Martin had been planning the Poor People's Campaign and a mass encampment in Washington. On May 2, Coretta launched the campaign from the very balcony of the Lorraine Motel in Memphis where he had been assassinated on April 4. She declared her own dream, "where not some but all of God's children have food, where not some but all of God's children have decent housing, where not some but all of God's children have a guaranteed annual income in keeping with the principles of liberty and grace."
Campaign caravans headed for D.C. then set off from Seattle, Los Angeles, Chicago, Boston and elsewhere. And, perhaps the best-known, a mule train headed there from Marks, Mississippi.
A week later, Scott King marched through the streets of Washington and joined 7000 welfare recipients and their allies at a rally at Cardozo High School. Her speech that day emphasized that budgets, not rhetoric, were indications of political priorities — that budgets produced the future.
"Our Congress passes laws which subsidize corporations, farms, oil companies, airlines and houses for suburbia, but when they turn their attention to the poor they suddenly become concerned about balancing the budget and cut back on funds for Head Start, Medicare and mental health appropriations."
A few weeks later on Solidarity Day, as 200,000 members of the Poor People's Campaign rallied at Washington's National Mall, Scott King spoke, taking issue with the societal obsession with the violence of poor and black people and reminding the nation of the breadth of its own violence: "In this society, violence against poor and black people is routine. I remind you that starving a child is violence. Suppressing a culture is violence. … Ignoring medical needs is violence. Contempt for poverty is violence. Even the lack of willpower to help humanity is a sick and sinister form of violence."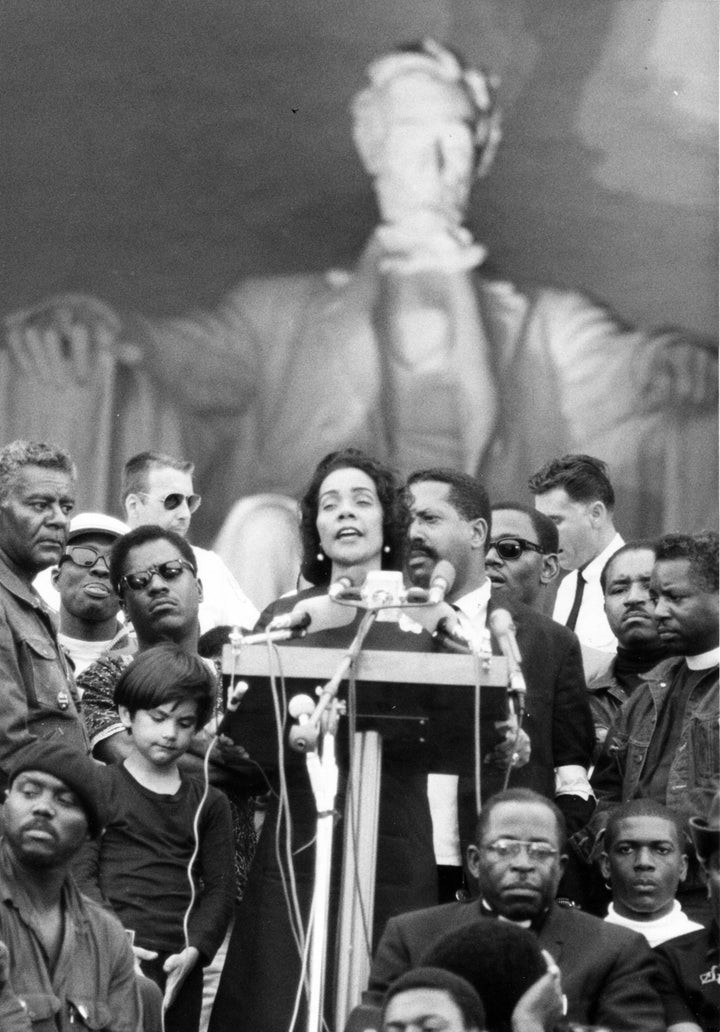 In 1974, she co-founded and led the Full Employment Action Council and the National Committee for Full Employment, which provided activist energy and coordination for the legislative campaign to ensure jobs for everyone who needed one ― at good wages and where people were located. Indeed, on the seventh anniversary of her husband's assassination, Scott King told members of Congress that no issue "is more important to the elimination of human suffering and to the advancement of the nonviolent ideal than the issue of providing jobs for all Americans."
Scott King was clear that this demanded talking about the needs of black people specifically. "For me, as for millions of black Americans, there is a special dimension to our national crisis. … Our future is doubly bleak as we face the unabated racism and deepened deprivation reserved for black Americans."
Scott King's critique of war-making was not reserved for the Vietnam era. She opposed the second Gulf War for similar reasons: "A war with Iraq will increase anti-American sentiment, create more terrorists, and drain as much as 200 billion taxpayer dollars, which should be invested here in America."
She had learned a lesson from opposing decades of war-making: The federal government had plenty of money when it came to the military. The challenge was how to direct those dollars toward peace — toward child care, environmental conservation, public health, excellent schooling and adequate housing for all.
"She had learned a lesson from opposing decades of war-making: The federal government had plenty of money when it came to the military."
Too often both Coretta and Martin are rolled out with the strategic quote — to add the moral stamp to something we already want to do. Scott King insisted, however, "I am not a ceremonial symbol."
Agreeing with Coretta Scott King demands more ― It means guaranteeing jobs, expanding welfare, addressing racism and police brutality, confronting voter suppression and transforming America's war economy. It means nothing less than transforming our politics.
Fifty years after she marched with the Poor People's Campaign through D.C. — as a new Poor People's Campaign has begun in Washington and around the country — its lessons are being invoked. But we need to listen to all of those lessons, not just cherry pick the politically convenient ones.
Jeanne Theoharis is Distinguished Professor of Political Science at Brooklyn College of CUNY. She is the author of A More Beautiful and Terrible History: The Uses and Misuses of Civil Rights History and the award-winning The Rebellious Life of Mrs. Rosa Parks. David Stein is a Lecturer in the Departments of History and African American Studies at UCLA and a Fellow at UCLA's Luskin Center for History and Policy. He is the author of Fearing Inflation, Inflating Fears: The Civil Rights Struggle for Full Employment and the Rise of the Carceral State, 1929-1986.
Popular in the Community