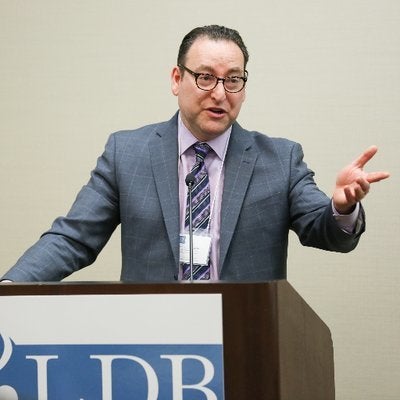 As two Jewish sexual assault survivors, we've watched with horror as the Trump nominee for assistant secretary of the Education Department's Office for Civil Rights, Kenneth L. Marcus, passed through his initial Senate education committee hearing in mid-January. Now, the full Senate will vote on whether to confirm him.
Marcus, an attorney and founder of the Louis D. Brandeis Center for Human Rights Under Law, openly endorses Secretary of Education Betsy DeVos' draconian views on campus sexual assault by supporting a rollback of the Title IX guidance the Obama administration put in place to help survivors of sexual assault continue their educations. Oftentimes, Title IX guidance simply ensures that a survivor won't have to sit next to an assailant during math class, or can receive an extension on a paper.
It also dictates that universities must promptly investigate any claims of misconduct and explain how to hold fair hearings for both the accuser and accused. Student survivors could use the guidance to understand how their schools could support their healing and get them back to the classroom (like by providing counseling, which schools must offer free of charge). Equally as important, the guidance proved that the federal government had survivors' backs.
That's all changed now. DeVos has already replaced the 2011 guidance with interim guidance that greatly tips the scales in favor of accused students. For example, this interim guidance now denies survivors the right to appeal, and has lifted the prohibition on direct cross-examination. This will ensure that survivors are less likely to come forward, given that they may be required to directly face their rapists.
To be clear, we expected no different from a Trump nominee ― as Trump is an alleged perpetrator himself. Of course, Marcus agrees with all of Trump's "civil rights" policy. During his committee hearing, Sen. Patty Murray (D-Wash.) asked Marcus if Trump had made any statements on civil rights with which he disagreed. Marcus answered no.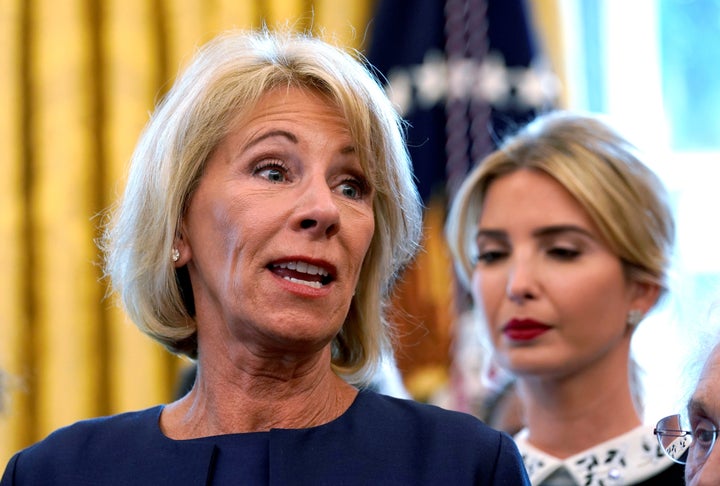 Though Marcus is clearly a terrible choice for students, disturbingly, Hillel International, the largest campus Jewish organization in the country, has stood by and vouched for him. Hillel is one of the biggest and most influential Jewish organizations in America, with over 550 campus affiliates. We were both active with Hillel in college ― it's often the center of campus life for Jewish students, providing spaces where Jewish students can eat Kosher food, attend holiday services and participate in other critical religious and cultural touchstones.
Hillel went as far as to submit a letter for the record to the Senate in support of Marcus, citing him as a "longtime champion for civil rights and for college students," as he has worked with the group to fight anti-Israel sentiment on college campuses. The Louis D. Brandeis Center for Human Rights Under Law, which Marcus founded in 2011, is an advocacy group that fights anti-Israel sentiment and anti-Semitism, particularly on college campuses.
Hillel normally takes a strong public stance against sexual assault. We were proud when Hillel joined the "It's On Us" effort to fight sexual assault through bystander intervention. We also appreciated this resource guide that Hillel put together in the wake of the #MeToo revelations.
But its support of Marcus' nomination completely undermines all of these efforts. How can Hillel protect survivors while supporting a person who is trying to take survivors' rights away?
Hillel and Marcus are particularly worried about BDS ― the Boycott, Divestment, and Sanctions movement ― which aims to cut off international support for Israel. The Israeli-Palestinian conflict is a very sensitive issue for our community, and anti-Israel activism can feel like an attack on Jewish people's right to self-determination and a safe haven.
That being said, as a nonviolent protest movement, BDS is not posing the same threat to student well-being as sexual assault. Fighting BDS simply cannot justify putting all students, including Jewish ones, in harm's way by rolling back on Title IX. You don't get to be a "champion" for students if you don't support their basic right to pursue an education free from gender-based violence.
Fighting BDS cannot justify putting all students, including Jewish ones, in harm's way by rolling back on Title IX.
For Trump, this nomination is clear pandering to his extreme base and supporters in the Jewish community. But from the Jewish institutions we grew up in, we expected better. It's no accident that Sen. Lamar Alexander (R-Tenn.), presiding over the initial hearing, highlighted Hillel's letter of support for Marcus. Marcus is hardly a civil rights hero. So his endorsement by a Jewish institution ― amid an uptick in anti-Semitism ― gives him some undue credibility.
Unfortunately, Hillel's support of the Marcus nomination is just another instance of "support Israel at any cost" politics. It's not just a policy position or ideological decision: It is going to have real, tangible consequences. If, with Hillel's support, Marcus is approved by the full Senate, he and DeVos could officially decide to rescind the Title IX guidance altogether. Student survivors will essentially lose their tools to pursue academic success, as well as the resources to help them understand their rights. Women, nonbinary and trans folks on campus will become even more vulnerable.
One in 5 college women will be sexually assaulted on campus, and the statistics are even more chilling for queer women and trans folks. As the #MeToo movement has shown, nearly every woman, trans person and gender non-conforming person has experienced some type of harassment or abuse. As former campus Hillel leaders ourselves, we know that the last thing a Jewish college student needs is her campus spiritual and social home aligning with a Trump nominee who prioritizes the defense of Israeli government policies over her safety and agency.
Our community needs to stand up for us and many thousands of others. Over 30 civil rights organizations agree that Marcus is unfit for this position, including the National Council for Jewish Women, and Jewish Women International.
To be clear, this isn't just the Jewish community's problem ― there are survivors in every community, and we all must fight the DeVos-Marcus agenda. But it's time for Hillel to side with students and rescind its endorsement of Marcus.
And to the Senate: Protect students' civil rights ― please do not confirm Marcus. DeVos is bad enough, and now more than ever, survivors need you in their corner. Don't turn your back on them.
Catie Stewart is a community organizer and writer living in San Francisco. Follow her at @catrionastew. 
Rebecca Krevat is a social strategist and community organizer living in Brooklyn. Follow her at @RebeccaKrevat.
REAL LIFE. REAL NEWS. REAL VOICES.
Help us tell more of the stories that matter from voices that too often remain unheard.