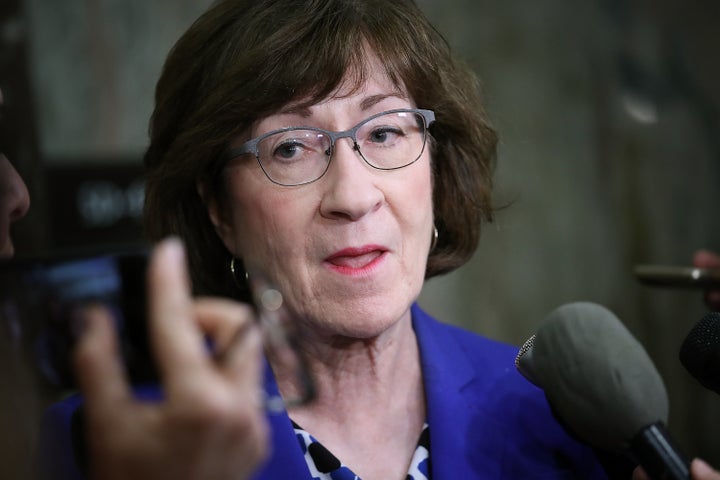 As the nomination of Judge Brett Kavanaugh to the Supreme Court remains very much in limbo, it's worth recalling that mere weeks ago, some members of the Democratic establishment were arguing for progressives to lay down their arms because the fight against Kavanaugh was hopeless. In fact, that sentiment was on frequent display from the moment his nomination was first announced, one headline at USA Today blaring, "Don't sacrifice Democrats' Senate seats in a futile fight against Kavanaugh confirmation."
Despite the fact that there were signs pointing to hope ― Kavanaugh was among the most unpopular judges ever nominated and he had ties to a judge with sexual harassment in his background ― the punditry remained dismissive of the value of a fight. Thankfully, a segment of progressive activists were undeterred.
Rather, the grassroots fought even harder and have even developed new activism techniques like the "Be A Hero" campaign's strategy of raising money for an eventual opponent to Sen. Susan Collins (R-Maine) if she votes for Kavanaugh. That fund, along with the support of other groups like Maine People's Alliance and Mainers for Accountable Leadership, has now raised more than Collin's current cash on hand, piercing the facade, common among pundits, that her re-election was certain.
"The blitz against Kavanaugh on ethics, corporate power and reproductive rights has made him toxic, even in deep Republican states."
The Pledge Against Collins campaign is a tactical innovation worthy of note. With the Senate elected to staggered six-year terms, activists have long struggled with the fact that senators often make pivotal decisions when they are years away from being held accountable at the polls. But this sort of campaign erases that timeline, allowing citizens to instantly make a pledge to hold that elected official responsible for their actions. It's also a tactic that's both effective and consistent with the progressive value of small-donor democracy.
According to analysis from my think tank, Data for Progress, women have disproportionately funded the anti-Collins campaign. Marie Follayttar, Executive Director of Mainers for Accountable Leadership, which partnered with Maine People's Alliance to build the strategy, tells me, "We're showing how small donor democracy can compete with big money. Politicians spend hours dialing for dollars and hearing their donors. Now they have to listen to us."
Ady Barkan, founder of the Be A Hero Campaign, a project backed by the Center for Popular Democracy Action, tells me, "For me, this fight is personal. Collins took $5 million from PACs and the Koch Brothers, in exchange, she voted to cut their taxes and take health care away from people like me. We're doing what millionaires and billionaires do every day behind closed doors except with 50,000 people we're doing it out in the open."
The all-out strategy has been working, and the blitz against Kavanaugh on ethics, corporate power and reproductive rights has made him toxic, even in deep Republican states. Polling fielded before Christine Blasey's sexual assault allegations against Kavanaugh came to light showed only 38 percent support for his confirmation. The Navigator completed other polling before the sexual assault allegations were public and found Kavanaugh's unfavorable rating to be minus-10 (26 percent favorable, 36 percent unfavorable). Polling by YouGov Blue and Demand Justice provided to me suggested that, even in deep red states, Kavanaugh's favorability was weak before the sexual assault allegations. In none of the five states examined ― West Virginia, Indiana, North Dakota, Missouri and Florida ― did a majority of individuals support his confirmation.
Demand Justice polling also found that likely voters overwhelmingly favor a slower process. The survey asked respondents two questions: one queried voters whether the nomination should be slowed after Michael Cohen's convictions and another asked whether it should be slowed until the National Archives could provide all available documents in October. In both cases, likely voters supported a slower process, with net support in double digits for all states analyzed.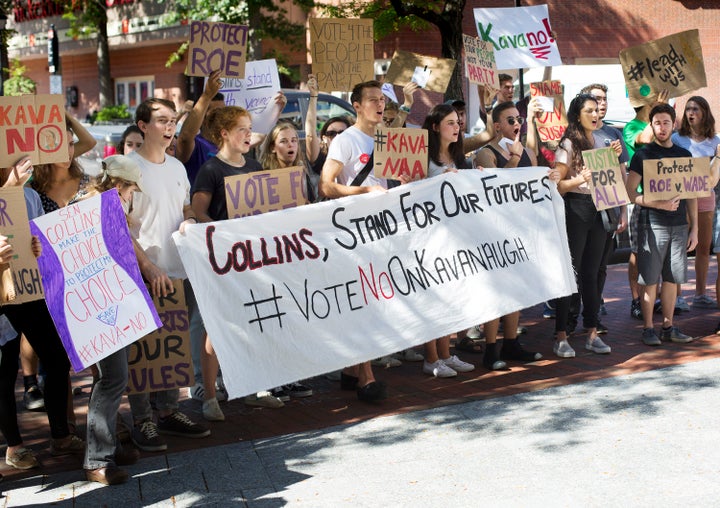 The campaign has also substantially weakened Collins. Recent polling from Public Policy Polling puts Collins' approval underwater (35 percent approve, 48 percent disapprove) and finds that 48 percent of Mainers are opposed to confirming Kavanaugh. Even more importantly, the polling finds that 53 percent of Mainers say that Collins' handling of the Kavanaugh nomination has made them view her less favorably, while only 19 percent view her more favorably. Last year, the same pollster found her at 59 percent approval and 34 percent disapproval. Just this week, Wall Street Journal polling suggests that support for Kavanaugh's nomination has slipped dramatically, with 38 percent of registered voters opposing his nomination, a surge from 29 percent opposed a month ago (only 34 percent support him, with the remaining 28 percent undecided). Among women, 28 percent favor the nomination and 42 percent oppose.
Brian Fallon, executive director of Demand Justice spoke to me about the Be A Hero campaign.
"At the start, Susan Collins was openly bragging that she was not seeing much grassroots opposition to him in Maine," he said. "This effort helped turn the tide. It has been a thermometer that has displayed, in real time, the heat that has been turned up on Collins. For the first time perhaps in her entire Senate career, people sense she would really be vulnerable in two years."
Neither Kavanaugh's nomination nor Collin's re-election, should she vote for him, are now assured. Much of the credit for that lies with the grassroots progressives who fought Kavanaugh when no one thought he could be beaten.

Sean McElwee is a writer and researcher based in New York City and a co-founder of Data for Progress. He tweets at @SeanMcElwee.

Support HuffPost
The Stakes Have Never Been Higher
Popular in the Community