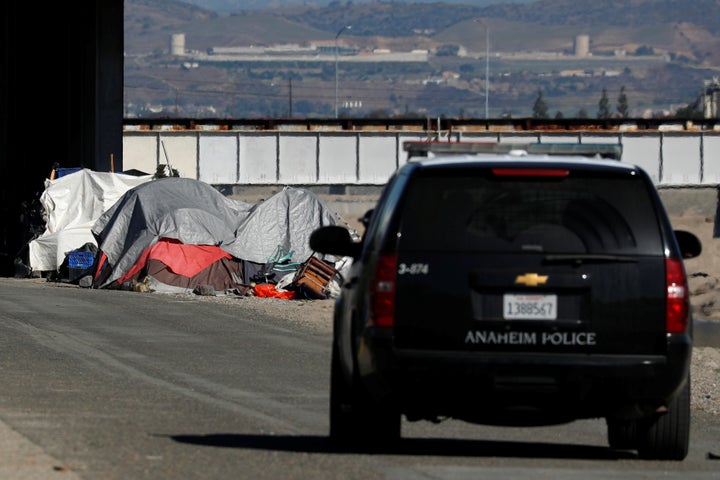 When San Diego resident Gerald Stark's rent increased and he couldn't afford another apartment, the retired union pipefitter moved into his RV. But because he lacked an address, San Diego law made it almost impossible for him to park his RV legally, and it was not long before the city confiscated it, leaving him with no other place to live but the streets. There, he was ticketed for violating another law prohibiting sleeping in public. Faced with thousands of dollars in fines and fees he was unable to pay, Stark lived every day in fear of being arrested — for simply trying to survive.
He is not alone. As rents and housing costs skyrocket in cities across the country — there isn't a single county in the United States where you can afford to rent a two-bedroom market-rate apartment working a full-time, minimum-wage job — many of our neighbors are just one health emergency, car repair or missed paycheck away from losing their homes. Once you lose your home and overstay your welcome with family members or friends, you have only two choices: staying in a shelter, which is often filled to capacity, or surviving on the streets. But what do you do when trying to survive is a crime?
"Fining people who don't even have enough money for rent isn't productive or humane."
Police officers likely do not dream of ticketing people for living in a van when they decide to join law enforcement; they join to protect and serve the community. But law enforcement is often used as a first response to address homelessness, though officers lack the training of social workers or health professionals to direct suffering people to the help they need. Research clearly demonstrates that using law enforcement to address a social problem is expensive and ineffective. Instead of connecting people with services and affordable housing, the current legal system in many communities drags them into the criminal justice system, making it more difficult for them to get a job or housing. And it saps officers' morale to spend their time persecuting the downtrodden rather than preventing real crime.
It is a harmful myth that homeless people cause an increase in crime. Several studies show homeless people are actually more likely to be victims of crime — much more so in places where they have to hide from police because it is illegal to live outside. In fact, law enforcement professionals know that when they can have a cooperative relationship with homeless people, the relationship can prove mutually beneficial — homeless people can serve as helpful eyewitnesses to street crime and often witness things others miss.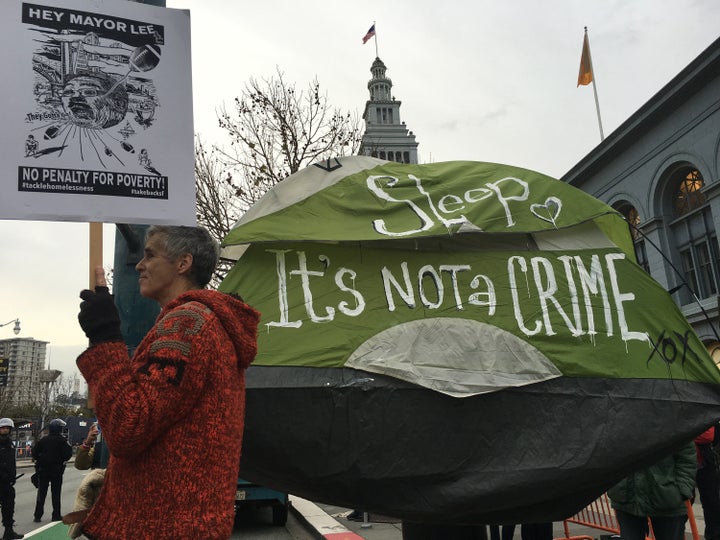 In the absence of sufficient low-cost housing — or even shelter — many people who are homeless often have no choice but to break the law to carry out necessary, life-sustaining activities — sleeping, resting, using the bathroom — in public places. But instead of responding with solutions, many cities such as Denver, Houston and Puyallup, Washington, are now enacting laws prohibiting necessary behavior like sleeping, sitting and eating in public. Such laws are harmful, wasteful and arguably unconstitutional.
Cities spend taxpayer dollars enforcing homeless encampment "sweeps" and "move along" policies for homeless people. On average, it takes a police officer three hours to make an arrest — time that could be spent fighting actual crime. And burdening homeless people with fines and fees makes it even more difficult for them to return to the tax rolls. One homeless man, Russell Bartholow of Sacramento, California, received an astonishing $100,000 in fines for sleeping and camping in public. Fining people who don't even have enough money for rent isn't productive or humane.
Homelessness is a community issue, and it demands a community to solve it. City officials, community members, social service providers and law enforcement officers can work together to implement effective public safety measures, redirect time and resources away from enforcing criminalization laws and invest in more affordable housing using evidence-based model policies.
At the federal level, a universal voucher program, where no person pays more than 30 percent of their income on rent, would go a long way in ensuring that families can afford food, transportation and other necessities. Currently, because of funding cuts spanning almost four decades, only one-in-four of those poor enough to be eligible for federal housing help actually receives it. And those who do are often turned away due to discrimination. We must strengthen federal laws to end all forms of housing discrimination so that housing can't be denied to someone due to their source of income, poor credit or lack of rental history, or their status as a victim of domestic violence.
At the local level, ensuring that tenants in good standing can't be arbitrarily evicted would help prevent people from being forced from their homes. Ensuring a right to counsel for low-income people facing eviction would help level the playing field, reduce homelessness and also save money. And we must work with city and county legislators to repeal all laws that make it a crime to be homeless.
Philadelphia offers an example of how cities can make a difference. Earlier this year, law enforcement officials earlier donated a vacant office in the subway station to create the HUB of Hope, where outreach workers can bring homeless people to do their laundry and stay out of bad weather, and Mayor Jim Kenney made clear that "we are not going to arrest people for being homeless."
In Syracuse, Mayor Stephanie Miner refused to follow an order in 2016 by New York Gov. Andrew Cuomo to arrest homeless people who did not enter shelters. Instead, the city engaged in persistent outreach to people experiencing homelessness to connect them to housing, helping Syracuse become one of the nation's first cities to end veteran homelessness.
With proven solutions, communities can help people like Gerald Stark, Russell Bartholow and millions of others off the streets and onto a better path, leaving everyone safer and healthier.

Sheriff John Tharp was elected as the 45th sheriff of Lucas County, Ohio, in 2013, and is now a speaker for the Law Enforcement Action Partnership (LEAP), a nonprofit group of police, judges, and other criminal justice professionals who use their expertise to advance public safety solutions.
Maria Foscarinis, Esq. is the founder and executive director of the National Law Center on Homelessness & Poverty and a board member of the Economic Hardship Reporting Project.
Support HuffPost
The Stakes Have Never Been Higher
Popular in the Community