Brandi Seals, a black transgender woman, was shot to death in Houston on Dec. 13, becoming the country's 22nd known trans woman of color to be killed in hate violence in 2017. Like many other transgender and gender non-conforming homicide victims, her gender identity and name were not initially acknowledged, even in death.
Less than two weeks later, on Dec. 26, police discovered the brutally bound bodies of Shanta Myers, her two children, and her partner, Brandi Mells, in Troy, New York. Just two days later, Kerrice Lewis, a lesbian, was killed in Washington, D.C., after being shot and locked in the trunk of a car that officers found engulfed in flames. On the same day, in West Palm Beach, Florida, Kaladaa Crowell and her daughter were fatally shot; police arrested the son of Crowell's girlfriend on two murder charges.
Each an individual tragedy, collectively these eight lives lost were the final hate-violence killings in a hate-filled year for the LGBTQ community.

NCAVP is a national coalition of over 50 organizations that work toward systemic and social change on issues related to LGBTQ violence. We recorded 52 homicides of LGBTQ individuals in the U.S. in 2017 — an average of one killing a week.
This is the highest number of single-incident hate-based homicides we've recorded in our two decades of tracking this information; it is an 86 percent increase over the 29 single-incident homicides NCAVP recorded in 2016.
NCAVP collects information about the nature of homicides through media, social media and police reports to make the best determination possible as to whether bias based on sexual orientation, gender identity or gender expression was a factor. (An important distinction is that "single-incident" homicides do not include the 49 people killed during the Pulse nightclub mass shooting in 2016.)
Our report found that the victims of killings related to hate violence were overwhelmingly transgender women and queer, bi or gay cisgender men ― and overwhelmingly people of color. Homicides of transgender and gender non-conforming people have been increasing each year, and in 2017 reached an all-time high of 27.
Reports of homicides of queer, bi or gay cisgender men increased 400 percent in one year, rising from 4 in 2016 to 20 in 2017. Forty-five percent of these deaths were related to hook-up violence ― a crime involving what the victim thinks is a casual sexual encounter ― and most of these were related to hooking up online or through personal ads.
"The current administration has only unleashed and amplified the bigotry and hate that already existed."
We know that these numbers, while disturbing, are not the complete picture. While the accuracy of reporting and coverage of these killings have improved over the years, we know that many incidents of hate violence against LGBTQ people still go undocumented.
These are more than just numbers. They are the lives of people in our communities, our friends, family and neighbors.
Many people have asked if the current regressive political climate legitimized by the language and policies of the Trump administration and others could be contributing to the rise of hate violence. Our answer is yes. Since the end of the presidential campaign, NCAVP has been tracking a sharp increase in hate-based violence.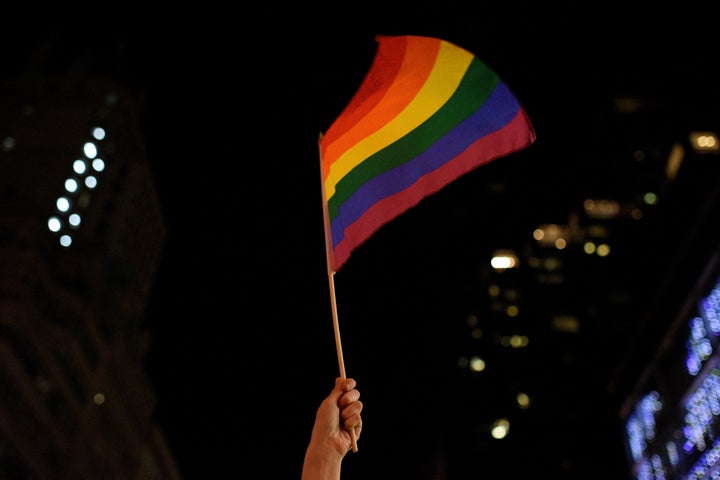 But the current administration has only unleashed and amplified the bigotry and hate that already existed. For each of the homicides listed in this report, hundreds or thousands of incidents of hate-based violence are committed in our workplaces, apartment buildings and housing developments, the places where we shop, exercise and socialize, and even on the trains and buses we ride each day.
It will take a groundswell of action from all of us to stand up against the current climate of hate and stop this crisis. You can start by speaking up against homophobic, biphobic, transphobic or racist language, and respectfully challenging biased speech and actions. Reach out to an NCAVP member organization or another anti-violence group that provides bystander intervention training and learn ways to safely provide support when you witness hate-based harassment and violence.
Stand up against any attempts to criminalize groups of people or codify discrimination into law, such as the dangerous so-called religious exemption laws that would allow businesses and workers to refuse to serve LGBTQ people and others based on "religious beliefs."
Ask your city and state elected officials to strengthen non-discrimination laws and develop programs that address structural inequalities, such as lack of access to employment for the LGBTQ community and services for survivors of hate violence. Volunteer with and donate to organizations working to address and end violence of all kinds.
We must invest in prevention strategies and explore restorative and transformative justice, rather than enhanced criminal penalties. We must stop calling for violent solutions to violent acts.
We don't have all the answers on what will it will take to end this crisis. We know it starts with each of us, but it must also involve a shared outrage and a collective call for change.
Beverly Tillery is the executive director of the New York City Anti-Violence Project.
This piece is part of HuffPost's brand-new Opinion section. For more information on how to pitch us an idea, go here.
Popular in the Community