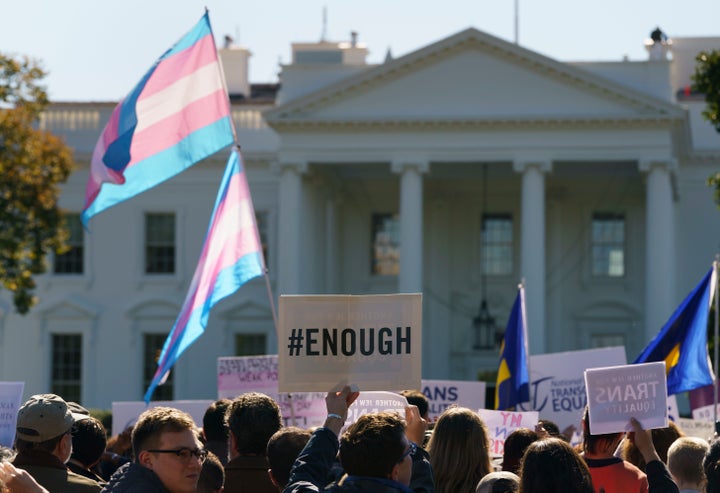 Nov. 20 is recognized as Transgender Day of Remembrance, when we honor the lives of those we lost at the hands of anti-transgender violence. In 2017, advocates tracked at least 29 deaths of transgender people in the U.S. due to violence, the most ever recorded. This fatal violence disproportionately affects trans women of color.
Trans people in the United States are more likely to be homeless, unemployed and lack health insurance, and they often live at the complex intersections of racism, homophobia, transphobia, sexism and classism. As we reflect today on the immense loss and violence the trans community faces, it's critical that we as allies strategize our place in the movement for trans equity and justice.
One of the most prominent spaces where trans communities historically have been made invisible is within mainstream feminism. Transgender women and communities are largely excluded from prominent cultural conversations about gendered oppression, the harms of patriarchy, and how to advance and fight for gender equality, despite being the most vulnerable in a binary-enforcing culture.
And because feminists have long contributed to trans erasure, it is absolutely critical that feminists step up and put themselves on the front lines fighting for trans liberation today and every day.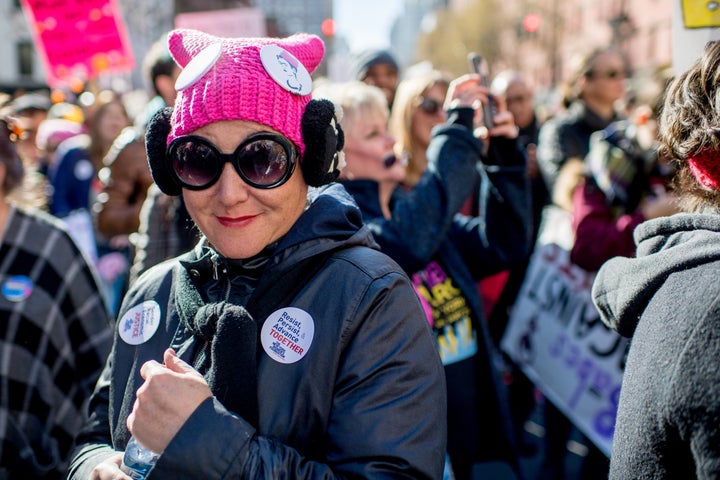 Take, for example, the Women's March ― of which pink "pussy hats" have become synonymous. Where the Women's March included the leadership of many prominent women of color activists, the exclusion of trans women and the utilization of "pussy hats," which equate a place in the movement for gender equity with having a vagina, was alienating to many trans and nonbinary people.
Trans communities have so much to lose under the Trump administration, so this blatant oversight is all the more problematic.
Since Donald Trump took office, this administration has taken numerous steps to roll back LGBTQ rights, from refusing to protect trans students to denying visas to diplomats' same-sex partners to banning trans individuals from serving in the military and dismissing the advisory council for HIV and AIDS. Last month, The New York Times reported that the Trump administration is planning to exclude transgender and nonbinary people from its legal definition of gender, which, if implemented, would have devastating effects on trans communities' access to health care, housing, education and civil rights.
However, the erasure of trans experiences and identities existed long before Trump came to power. When we look at the national conversation on gender equity and feminism, from the Me Too movement to the gender wage gap, trans women and communities continue to be left behind in favor of centering the experiences of cisgender white women.
"A feminism that does not take into consideration the multifaceted, ever-evolving, varied faces of womanhood or gendered oppression is not liberating anyone."
The lack of trans and nonbinary voices within the Me Too movement is especially harmful given the sexual violence these communities experience. More than 1 in 3 trans women and 1 in 2 trans men have been sexually assaulted — and the rates of sexual assault against nonbinary people are even higher. Trans people doing sex work are more prone to be victims of violence, and trans survivors face barriers of discrimination and stigma when seeking support and resources after sexual trauma.
In writing about expanding the conversation on sexual violence, Raquel Willis explains, "I've often felt like I couldn't discuss my experiences with sexual harassment and assault because I've witnessed the difficulty that even cisgender women face when they disclose. My transness, queerness and Blackness render my claims even less believable in a society that views me as inherently deviant."
In talking about oppression, we should be centering the experiences of those who are most at risk. Where Me Too has become an important moment of reckoning for cisgender women and our recognition of cis women's experiences navigating sex, consent and power, the movement in its current state lacks the nuance to explore patriarchy as a complex system that affects all people and continues to uphold binary ideas about sexual violence only happening to a certain kind of person.
A feminism that does not take into consideration the multifaceted, ever-evolving, varied faces of womanhood or gendered oppression is not liberating at all.
When we speak of trans exclusion within feminism, it's critical to acknowledge trans-exclusionary radical feminists (TERFs), a subgroup of people who believe the needs of cisgender women don't align with those of trans women and communities and that the latter don't have a place in the feminist movement today. TERF ideology is rooted in biological essentialism and is not unlike that of many right-wing "family values" groups hellbent on depicting trans individuals as dangerous or deviant.
Where TERFs have long been criticized by intersectional feminists and LGBTQ organizations for their transphobic claim to represent "real women," trans exclusion within feminism often occurs in ways that are more insidious, though no less harmful to the formation of an inclusive, truly progressive feminist movement.
"Trans rights are human rights. ... There is no feminism without trans voices."
Thanks to the fierce advocacy of women of color, the disabled and working-class women, all of whom demanded that mainstream feminism recognize their experiences and political needs, today's feminist discourse is growing attuned to the experiences of a wide variety of identities. Activists and feminist leaders like bell hooks, Shirley Chisholm, Dolores Huerta and Marsha P. Johnson, as well as today's Laverne Cox, Mia Mingus, Roxane Gay and Loretta Ross (and the list goes on), have left indelible marks in the cultural conversation of who and what feminism is for.
Though movements have grown more inclusive and intersectional over time, we have a long way to go before our most prominent feminist movements are truly revolutionary and for all. As Meredith Talusan writes on trans exclusion within feminism on the community platform them, "Even among cisgender women who don't believe that someone needs to be born with a vagina to be a woman, we continue to be seen not as potential leaders with unique knowledge, but either as victims or as tokens to include, as long as our opinions don't stray too far from the majority."
The tokenization of trans people occurs in different ways, from the prominent women's organizations that may shout out trans activists on International Women's Day while having no internal trans leadership or targeted initiatives to support trans women long term, to Hollywood's exploitation of trans narratives and simultaneous slighting of trans actors, screenwriters and producers.
Trans people will continue to exist no matter what the government's definition of gender is, and trans people cannot be erased. Trans rights are human rights. As cisgender feminists, we need to recognize the many ways we have failed our trans siblings and step up to use our privilege in this moment to support our trans communities now more than ever.
We are all harmed by patriarchy, gender-based oppression and narrow conceptions of gender, sexuality, power and worthiness. Our struggles are entwined, and our movement must be also. In practice, this means feminists must not just create space for trans women and communities within our movement, but that we must support, cultivate and honor their leadership.
We must challenge transphobia wherever we see it. We must critically engage with our cisgender privilege. We must amplify transgender voices and movements. Wherever we achieve rights, visibility, ownership or empowerment, we must bring our transgender communities with us.
There is no feminism without trans voices. The saying goes that if you don't have a seat at the table, you're on the menu ― and we can no longer stand idly by while our own community members and sisters in arms are devoured.
Senti Sojwal is a reproductive justice activist in New York City.
HuffPost's "Her Stories" newsletter brings you even more reporting from around the world on the important issues affecting women. Sign up for it here.