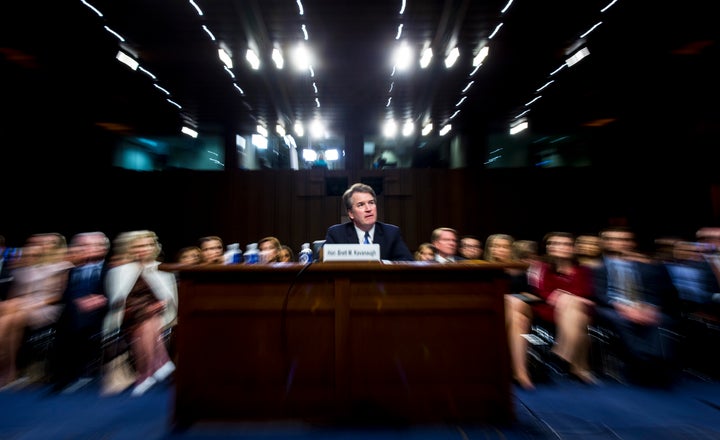 As the battle over Judge Brett Kavanaugh's Supreme Court confirmation reaches its climax, the cascading emergence of seemingly credible charges of attempted rape, indecent exposure and other forms of sexual misconduct by the nominee has ignited a volatile mix of personal biography, judicial philosophy and national politics.
The nation has certainly witnessed dramatic confirmation controversies before, but none has so explosively churned the political and the personal precisely at the nexus of a burgeoning social and cultural movement.
In the last year, the #MeToo movement has brought to the foreground a wide range of issues on which Kavanaugh is likely, given the current composition of the Supreme Court and the nominee's previously expressed views, to cast a decisive vote if confirmed as a justice. Those issues run the gamut from the bedroom to the boardroom ― from reproductive freedom for women to gender equality in education, in the workplace, in the corporate hierarchy and in public service.
The nominee's written opinions as a judge on the U.S. Court of Appeals for the D.C. Circuit (including opinions restricting the autonomy of women with intellectual disabilities and women caught up in the immigration system), and his past personal statements about the Supreme Court's abortion precedents shed some useful light on his views on these matters. But that light is dimmed by the constraints that Kavanaugh was bound to observe in his role on what the Constitution calls an "inferior court."
"Beyond the monumental and complex issues before the Supreme Court, there is the simple fact that Judge Kavanaugh is President Donald Trump's nominee."
What makes the present moment particularly fraught is that those very issues now appear to be more brightly illuminated by episodes from the nominee's personal life ― episodes that seem to reflect troubling attitudes toward women and even, if the allegations are true, a pattern of criminal sexual abuse that most would regard as disqualifying not only for a Supreme Court justice but for any judge.
In the early days of the republic, to the degree that battles over Supreme Court nominations went beyond matters of legal competence and intellectual acumen, they focused on nominees' views of foreign entanglements, the creation of a national bank, the role of legal tender, the containment and eventual extinction of chattel slavery, and the regulation of business and labor. Those momentous issues were of course densely packed with emotion at the times they arose, but their intersection with court confirmations turned ― with one of the few notable exceptions being Ulysses Grant nominee Caleb Cushing's prior support of slavery ― on the nominees' philosophical and jurisprudential views, not the ways they had conducted their personal lives.
Nor did previous battles over Supreme Court confirmations prominently implicate the personal lives of the senators conducting the hearings. The conspicuous exception there was the 1991 hearing on future Justice Clarence Thomas' alleged sexual harassment of professor Anita Hill, when Sen. Edward Kennedy, who would have otherwise taken a lead role in questioning, was hobbled by controversy over his extramarital dalliances and the lethal toll they took on a young woman's life. Even then, because the issues of sexual harassment and gender equality in the workplace had not yet appeared prominently on the nation's cultural agenda, there was little if any overlap between the questions of personal biography that the confirmation controversy surfaced and substantive concerns over how the nominee might approach contentious issues likely to reach the Supreme Court.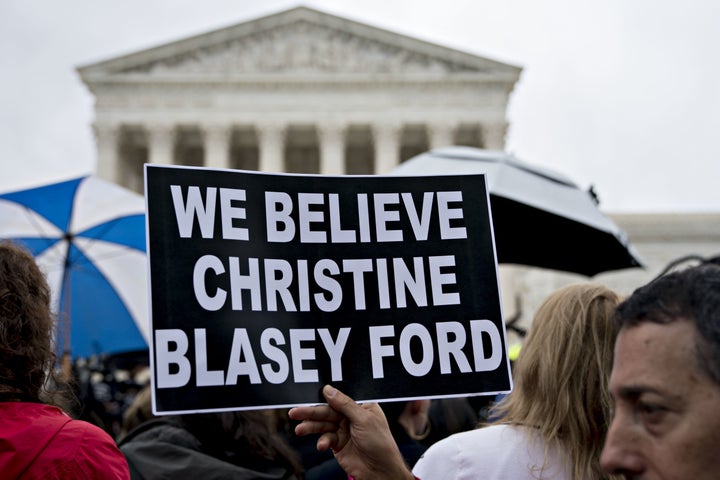 What has made that overlap more likely today than in earlier times? I submit it is the way in which the Supreme Court ― which had always played an important role on questions of government structure and, since the 1890s, had taken an increasingly important role on questions of economic and civil liberty ― had not, until the past half-century or so, come to occupy a central role in social and cultural matters deeply affecting the fabric of everyday life.
A prominent judicial role in such matters is one that most Americans had largely taken for granted in recent decades, although a slowly mounting chorus of dissent could be heard as well. Scholars and lower court judges, and occasionally Supreme Court justices speaking in dissent, had begun to complain that the high court has no business umpiring controversies over intimate personal matters and the allocation of power over social roles and issues of personal identity. But even as the pressures from such critics mounted, a number of dramatic decisions continued to make what many saw as advances on questions of sexuality and personal identity. Thus the court, sometimes by narrow majorities, ruled in what most would describe as a "liberal" direction when grappling with issues of contraception in 1965, gender discrimination and abortion in 1973, physical sexuality in 1986 and 2003, and marriage equality in 2015.
It is against this background that political forces opposed to that drift came to national power over the past several years and have now put forth a nominee to the Supreme Court who is expected by those favoring his ascendancy to reverse what had become a decadeslong trend. Just as a new generation of Americans, followed sometimes grudgingly by their elders, is coming to terms with norms of gender parity and with the rejection of straight male privilege, we are faced with a nominee to the Supreme Court who is widely expected, at least by those who selected him, to reverse what many have come to accept as the enlightened approach to these morally freighted issues.
To be sure, that bundle of issues played a role in the failed 1987 confirmation of Robert Bork and the subsequent confirmation of Anthony Kennedy, but in neither case did that cluster of issues converge with the personal histories of the nominees. Conversely, while a history of personal marijuana use quickly sank Douglas Ginsburg's nomination between Bork's defeat and Kennedy's nomination, the absence of a cultural upheaval over marijuana legalization at the time of that episode renders it an inept analogy for today's perfect storm.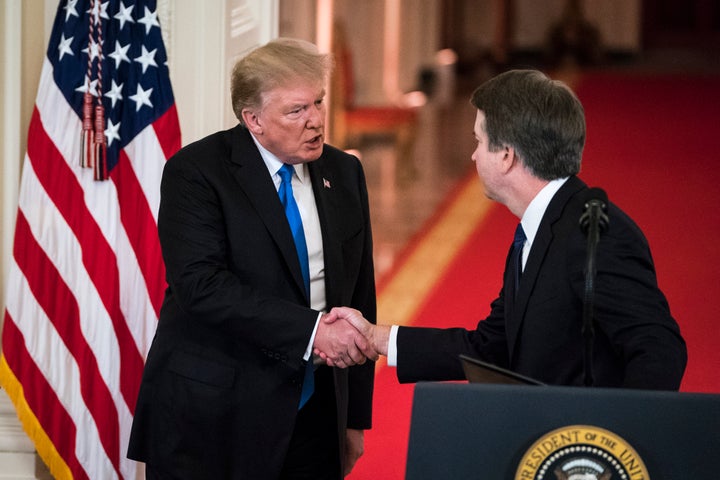 Today though, beyond the monumental and complex issues before the Supreme Court, there is the simple fact that Judge Kavanaugh is President Donald Trump's nominee. As such, he is the handpicked choice of a president who is simultaneously facing sustained legal attack for his constitutionally dubious decision to mix his private business interests with his public responsibilities and a criminal investigation for possible conspiracy with a hostile foreign power to win the presidency ― and then for obstructing justice by seeking in a variety of arguably corrupt ways to undermine that inquiry. The resulting cloud over the nominating authority could pose difficulty for any Supreme Court nominee chosen by this president.
But again that difficulty has been compounded by this nominee's own biography ― his personal history and his professional judgment.
Kavanaugh's opinions and other writings ― even without the vast array of documents being withheld from the view of the Senate and the public by President Trump and the Senate majority leader ― have revealed the nominee to have an unusually expansive view of presidential power and immunity, including immunity from indictment while still in office and from compulsory judicial process to compel the president to testify before a grand jury investigating his alleged offenses and those of others close to him. There is indeed strong evidence that the president added Kavanaugh to a list of possible nominees already composed by conservative outside groups with an eye to overturning the Supreme Court's precedents dealing with abortion ― and that he did so because, alone among potential nominees otherwise meeting the president's pro-life and anti-affirmative action criteria, Kavanaugh seemed singularly likely to favor a constitutionally predicated shield that would protect the president from his mounting array of legal predicaments.
"The resulting cloud over the nominating authority could pose difficulty for any Supreme Court nominee chosen by this president."
Kavanaugh is, finally and inescapably, the choice of a president who has been accused of varying forms of sexual misconduct, up to and including rape, by more than a dozen women. Those accusations, some already involved in pending litigation and others still waiting in the wings, played a notable role in energizing the entire #MeToo movement with which the accusations against Kavanaugh have collided.
That collision has doubtless informed and animated both the opposition and the support for Kavanaugh's confirmation. As for the opposition, it may in part be fueled by the unprecedented public reaction against Trump's election despite the existence of those allegations and in the face of his loss of the popular vote. On the other side, some Republicans on the Judiciary Committee appear to have hardened their support for Kavanaugh, their resistance even to reopening the FBI background investigation and their rush to judgment by what I would call #MeTooExhaustion. This backlash, which they package in the language of opposing "political correctness," appears to at least partly reflect their own sense that, but for accidents of role and history, the predicament confronting the nominee might well have been ― and in some cases might yet become ― a personal predicament of their own.
Thus have the political and personal interests of players on all sides of the current confirmation contest converged in a drama that uniquely blends law, politics, culture and intimate life history. It is a drama whose results, at this writing, are as unpredictable as are the long-range consequences of this novel convergence.
Laurence H. Tribe is the Carl M. Loeb University Professor and professor of constitutional law at Harvard Law School, an accomplished Supreme Court advocate and the co-author, most recently, of To End a Presidency: The Power of Impeachment.

Popular in the Community