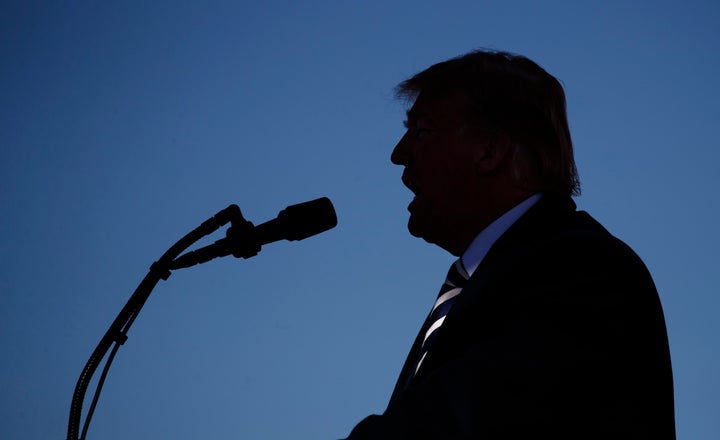 The epithet landed as his outrages usually do. There was a ripple, a wrench of disgust among his opponents, perhaps a vicarious thrill from his fans. And then it inevitably dropped from the forefront of America's political consciousness, weighted down by war, storms and other woes. At one point, an American president lobbing an equine epithet at his ex-mistress would have elicited days of hand-wringing, but that moment appears to have passed ― at least when it comes to Trump. You cannot impose shame or social censure on someone who does not appear to feel it.
It is quite possible that shamelessness itself enabled Trump's rise to the presidency: Far from being an irreproachable figure, he is able to weather political storms in part because of the sheer plenitude of his scandals. Lists of his worst moments, his most radical breaches of ethics, are cramped catalogs bursting with bullet points; an exhaustive New York Times investigation this month that concluded the Trump family had engaged in "outright" tax fraud barely made a ripple. No matter what intimate details historians of prior presidents have unearthed, Trump is the only president to have his "yeti pubes" discussed publicly by an alleged eyewitness. He is the only president who spends regular weekends enriching himself in office at his for-profit golf courses. He is a president whose daily racist provocations mount and mount without surcease.
And just as Adam was formed in his deity's own image, other elected officials in the Republican Party have begun to mimic the president's central political superpower. In one of America's two major political parties, the 2018 election cycle has been marked by the noted absence, perhaps the death, of shame.
In one of America's two major political parties, the 2018 election cycle has been marked by the noted absence, perhaps the death, of shame.
In an era of wellness and self-actualization, shame is often marketed as something to overcome. In the case of addiction or being a victim of sexual assault or having a mental health illness, there is a strong case to be made that stigma ought to be erased and the burden of shame lifted.
And yet in certain circumstances, shame has real utility. It is the internalization of social censure for real transgressions — cruelties and breaches of ethics that can and ought to carry the risk of rejection from one's tribe. Shame is the signal of a shared set of values that have been betrayed by one's actions, and the ability to feel shame and to change one's actions based on it are signs that one values the opinions of others. After all, shame, at its most powerful and useful, is a sign that valued interlocutors have turned from you, a signal that you must change your behavior to earn back their acceptance.
The engendering of shame, then, has two conditions: a shared moral universe and a need to retain the respect of others whom one values.
The 2018 slate of Republican candidates is studded with figures for whom shame has, apparently, ceased to be a motivating factor. There's Rep. Duncan Hunter (R-Calif.), indicted for allegedly lavishly misusing campaign funds, who is not only hoping for re-election but is also running a fear-based Islamophobic campaign to win it. Or Chris Collins (R-N.Y.), indicted on securities fraud charges, who suspended his re-election campaign, then reinstated it.
Shame has two preconditions: a shared moral universe and a need to retain the respect of others whom one values.
Rep. Jason Lewis (R-Minn.), who hosted a conservative radio show before he went to Congress, has continued his re-election campaign unchastened, despite the recent emergence of a recording of him mocking victims of sexual assault. "You'll never get over? It was the most traumatizing experience? Come on! She wasn't raped," he said on air. He defended previously unearthed radio comments in which he lamented that he's no longer permitted to call women "sluts." He does not seem ashamed of his remarks; after all, shame requires us to be bound by a common system of values.
An entirely different — and perhaps even more egregious — candidacy is the case of Brian Kemp, the GOP gubernatorial candidate in Georgia. He currently serves as its secretary of state and has, by all indications, sought to use the power of that office against his Democratic opponent, Stacey Abrams. He has initiated election protocols that have held up registrations for 53,000 voters, 70 percent of whom are African-American. The Associated Press reported that his office canceled 1.4 million voter registrations in 2017 alone. 
When reports of the suspended registrations drew outcry, he blamed "outside agitators" and said his opponent wants "illegals" to vote. Urged by the NAACP Legal Defense Fund to recuse himself from the secretary of state's voter registration duties, given the inherent conflict of interest with his gubernatorial campaign, he apparently offered no response at all. After all, shame — and the appearance or real sense of penitence — requires respect for one's interlocutors.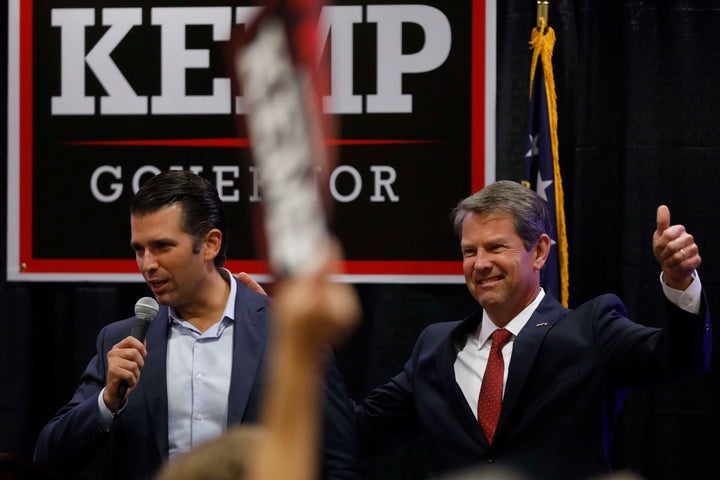 It's not that the contemporary GOP lacks values entirely. There is one tenet at its spine, a core ideal whose utility has not receded for the party and whose centrality is hard to dispute. That tenet is the desire for power. In pursuit of this driving id, Trump has found a useful ally in Senate Majority Leader Mitch McConnell (Ky.), whose signature on history will be his unprecedented obstreperousness toward one president and obsequiousness toward the next.
The GOP is gutting norms in pursuit of legislative achievements and stacking the courts. It is the party that will use its position, as Kemp has, to choose its own electorate. It is the party of Collins and Hunter, who ask their voters to disregard their sins and pay attention only to the levers of power and who controls them. In the pursuit of power, in the pursuit of the abyssal, hollow goal of rendering one's enemies impotent and rageful, there can be no shame.
Within the value system of the Republican Party, the only shameful act is losing one's grip on power. The only opinions that matter are the ones of those who seek to acquire and retain power and those who can help them in that quest. This neat equation was summed up best by the party's figurehead of shamelessness, its president, in a squabble with CBS's Lesley Stahl. When she disagreed with his contention that he had been uniquely maltreated by the press, he replied with a comment that cut to the core of what matters to his party. "I'm president," he told her, "and you're not."  
 Talia Lavin is a writer and researcher based in Brooklyn, New York.
Calling all HuffPost superfans!
Sign up for membership to become a founding member and help shape HuffPost's next chapter