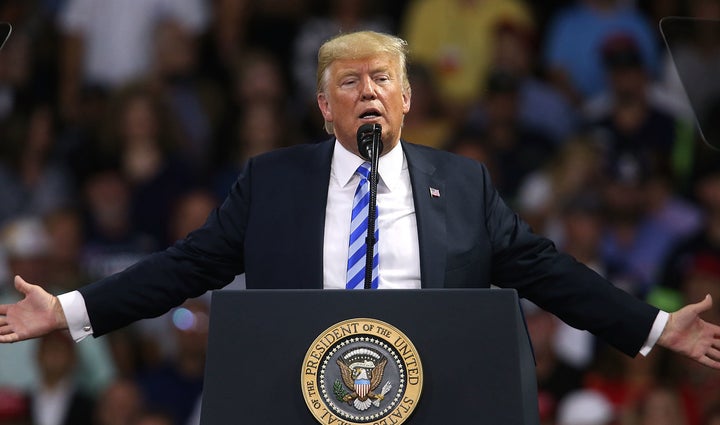 Sadly, Donald Trump's sadistic and emblematic child separation policies have largely vanished from the headlines of our communal consciousness. They should not. The damage Trump inflicts persists – to the children, to their parents and to the soul of America itself.
We can – we must – be better. Often we are. But our worst is reprehensible indeed: three centuries of slavery, exploitation and discrimination imposed on African-Americans; our indelible foundational sin against indigenous Americans. When our leaders license the dehumanization of others, Americans at large cede their own humanity to bigotry and falsehood. So it is with Trump.
We forget this at our peril. Witness the historic precursor to Trump's mistreatment of families seeking asylum at the southern border – the internment of ethnic Japanese, often citizens, during World War II.
After Pearl Harbor, America's government forcibly relocated roughly 120,000 residents of Japanese descent – mostly from the West Coast – into dismal internment camps. This reflected pre-existing racism and xenophobia directed at Asian immigrants deemed a threat to take over American farms and businesses. The report arguing for internment, written by an American general, was riddled with falsehoods.
Conveniently, many Americans have forgotten this disgraceful episode. The victims had to live with it. Some vanished without notice to their families; all endured unspeakable hardship, engendering feelings of helplessness, uncertainty and inferiority. The legacy of psychological damage included shame, depression, distrust and other physical and mental manifestations which mirror post-traumatic stress disorder. The trauma to children was acute.
Consider, then, the despicable cruelty of Trump's policies toward families and other refugees seeking asylum at our southern border. We are not at war. Even granting that racism and xenophobia banish empathy and distort reality, Trump's adult victims pose no threat to America. Far less their children.
Why do they seek refuge here? Because they are fleeing violence perpetrated by governments, gangs and domestic abusers whose depredations are unchecked. Many are witnesses to murder; most fear death.
Why is the Trump administration separating parents from children? To discourage them from seeking safety in America – including lawful asylum-seekers – by inflicting a psychic terror equal to that they flee. The only parental hardship greater than fearing for their children's safety is stripping parents of their children altogether.
This is institutional cruelty of a rare order. It is no surprise to learn that immigration officers told lies about imminent reunification to refugees headed for court – who then discovered on returning that their kids were gone.
"When our leaders license the dehumanization of others, Americans at large cede their own humanity to bigotry and falsehood."
Faced with widespread outrage, Trump mendaciously insisted that he was merely following the law. Only judicial rulings forced him to set down the weapon of family rupture. This much is to our provisional credit. But that does nothing for the prior victims of family separation ― or the victims of Trump's "solutions."
Continuing his "zero-tolerance" policy, Trump plans to prosecute all refugees seeking to cross the border, consigning them to indefinite detention ― an eerie echo of Japanese internment camps. Yet his administration is turning away applicants for legal asylum at ports of entry ― claiming a lack of space or manpower to process their claims. To complete this circular sadism, the desperate refugees who then try to enter illegally are disqualified from seeking legal asylum.
In the meanwhile, the effects of child separation devolve from trauma to tragedy. There was no system for tracking family members separated from each other; no system to reunite parents and children. Nor was there a system for ensuring that parents being deported can take their children with them. Dozens of kids remain without parents – some because their parents were deported; others because their parents can't find them; still others because the government has disqualified parents for reunification, often for vague or unfair reasons.
Put simply, Trump and his minions neither considered nor cared about the human consequences of their own inhumanity.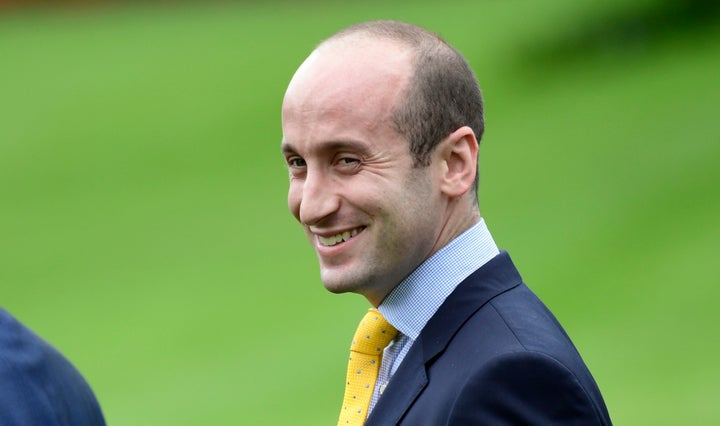 The consequences to children are grave indeed. Catastrophic impairment to brain function and normal child development. Severe and persistent psychological difficulties. Deterioration in IQ. Permanently reduced physical health. Inability to cope with stress. And, in adults, greater likelihood of substance abuse, criminality and otherwise risky behavior.
How many Americans, one wonders, would tolerate a government that did this to their own children.
They wouldn't. But, happily for his adherents, Trump gives them multiple reasons for believing that abusing the children of desperate families serves their personal interests.
Trump's fusillade of lies, bigotry, xenophobia and false accusations dehumanizes both his targets and his adherents. His least damaging distortions combine rank demagoguery and naked contempt for truth: That opposition to his child separation policies was engineered to obscure the crimes of Hillary Clinton and the FBI. That Democrats champion "open borders" and favor asylum-seekers over American citizens. That crime rates among illegal immigrants are higher ― not lower ― than among legal residents. That MS-13 gang members are using kids to cross the border. These ever-proliferating lies are limited only by the imagination of a man bereft of empathy or conscience.
Worse, Trump inflames his followers by borrowing the rhetoric of dehumanization perfected by modern history's worst monsters. We are threatened, Trump tells them, by an "infestation" of illegal immigrants – including asylum-seekers – who are "animals" or "thugs": in a word, subhuman.
The depiction of by whites of Blacks and Native Americans as soulless animals goes back to the dawn of America at its worst. But the Nazis perfected the categorization of "Untermenschen" undeserving of humane treatment. Trump's conjuring of non-white immigrants as an infestation threatening America's territorial and moral integrity is uncomfortably akin to Hitler's proclamation that "international Jewry is the ferment of decomposition of peoples and states… as long as people do not find the strength to get rid of the virus."
Degrading America's decency does not require a Holocaust. The psychology of dehumanization can inspire a range of despicable cruelties – including separating children from their parents. There is something terrible about Trump, which is unique among America's presidents: his barely implicit message that only he and his supporters are fully human, binding them in a metastasizing admixture of empowerment and contempt.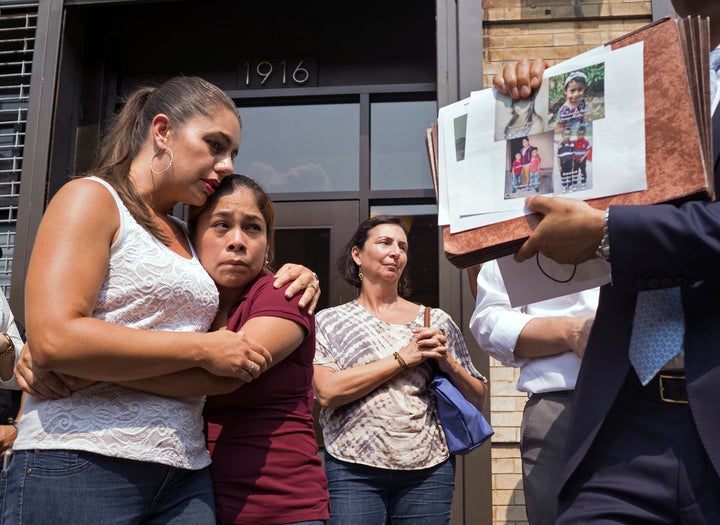 A recent study by Dr. Nour Kteily, a psychologist at Northwestern University, bears this out. Asked to rate racial, ethnic or religious categories on an evolutionary scale, groups of white Americans placed Muslims, Arabs and Mexican immigrants ― Trump's chosen targets ― at the bottom. A related study showed that overt dehumanization of Muslims and Mexican immigrants was strongly correlated with support for Trump. One researcher observed: "I don't think Trump created new prejudices in people – not that quickly and not that broadly. What he did is to change people's perceptions about what is okay and what is not okay."
In turn, that licenses America's mistreatment of groups whose humanity Trump demeans. "Those who dehumanize," another researcher noted, "are more likely to support hostile policies."
In Trump's distorted worldview, non-white children become agents of infestation. This calculated incitement of hatred and bigotry for political gain poisons ― and divides ― our populace. Polling shows that his family separation policies are rejected by 66 percent of voters – and supported by 55 percent of Republicans. Compassion, empathy and moral imagination ― America's ultimate defenses against the worst in us ― are Trump's natural enemies.
So why have so many of us forgotten these children so quickly – or simply blamed their parents? Those who do so are lost in Trump's soul-shrinking assault on the racial and ethnic scapegoats he uses to arouse the fury and fidelity of fearful whites.
The means proliferate: Tent cities for unaccompanied children ill-protected against sexual assault and physical and emotional abuse ― encampments supposedly established to separate kids from unsuitable sponsors but which, in fact, serve as snares for entrapping undocumented adults who seek to become protectors. New policies denying permanent residence to legal immigrants who have received, or seek, government assistance – like Medicaid – used by many millions of citizens who are otherwise self-supporting.
Now, the Washington Post reports, our government may present asylum-seeking families with another wrenching decision – stay together in family detention for months or years until their case is resolved, or allow their children to be taken to a government shelter so other guardians can seek custody. This "binary choice," a brainchild of Stephen Miller, is meant to discourage refugees fleeing violence and abuse from seeking shelter in America. And why not? Sub-humans, after all, are different from you or me.
Trump knows too well what history teaches and Americans should truly fear: that when a society begins treating "the other" inhumanely, its humanity slips away. Blacks, Native Americans, Japanese internees and asylum-seekers have already paid a terrible price. And so will all of us – and the next group, and the next, that this president chooses to victimize.

Richard North Patterson is the New York Times best-selling author of 22 novels and a member of the Council On Foreign Relations. He is a contributor to the new book Fight For Liberty – Defending Democracy in the Age of Trump.

Popular in the Community