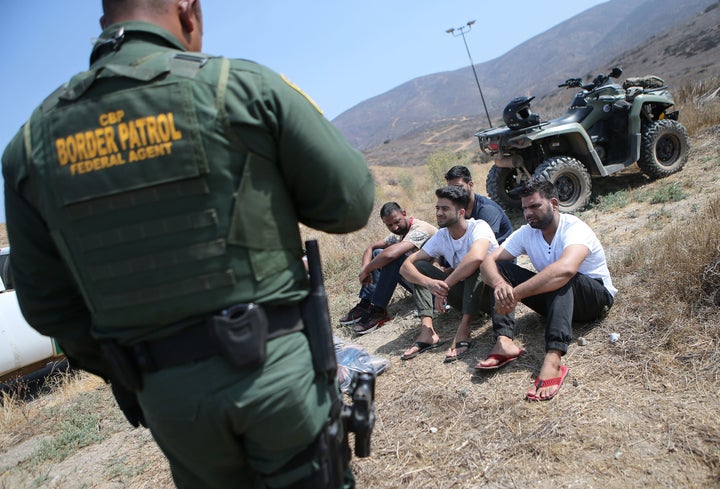 From the day he launched his presidential run, Donald Trump has been vocal about the dangers that immigrants pose. He's characterized migrants as criminals, rapists and "bad hombres" and has vowed to restore "law and order" by banning, caging and deporting the immigrants he believes are "infesting" the country.
But the greatest threat to law and order isn't coming from immigrants (who are considerably less likely to commit crimes than people born in the United States). The greatest threat to the country is coming from within the White House and Trump's own administration.
His longtime lawyer, Michael Cohen, pleaded guilty to violating campaign finance laws. His former national security adviser, Michael Flynn, and campaign adviser, George Papadopoulous, admitted to lying to the FBI. And his former campaign chair Paul Manafort was convicted of obstructing justice just one month after he was convicted of eight felonies.
The same week that Manafort was in federal court admitting to obstruction of justice, Trump's Justice Department was issuing a decision about that very crime. Immigration law says obstruction of justice is an "aggravated felony," a mishmash of crimes that come with near-certain deportation. In an executive order signed one week into his presidency, Trump made aggravated felons a top law enforcement priority. Their presence in the U.S., he claimed, is "contrary to the national interest."
"The president has surrounded himself with people who are much worse than many of the migrants his government continues to harass."
The president's single-minded frenzy about migrants leaves him incapable of seeing criminal activity in his shadow. When Iowa police announced that a migrant led them to the body of college student Mollie Tibbetts, it took the White House less than a day to tweet a slick video tying migrants to crime. The same day, Trump distributed his own video: "We have tremendous crime trying to come through the border," he said.
Compare that to the president's response to news that Manafort pleaded guilty to conspiracy to obstructing justice. In exchange for special counsel Robert Mueller dropping several charges, Manafort admitted to tampering with witnesses and participating in a money laundering scheme. Almost immediately, Trump's personal lawyer, Rudolph W. Giuliani, said this has "nothing to do with President Trump or the Trump campaign." The next day, the president tweeted that Mueller is "highly conflicted."
The president has surrounded himself with people who are much worse than many of the migrants his government continues to harass. Consider a woman known in court records simply as Ms. Q, one of the parents in the ACLU's class action lawsuit against the Trump administration over family separation. While Manafort has admitted to his lies, she was fighting for her freedom — and her child. Fearing gang threats, last spring Ms. Q. fled El Salvador with her three-year-old son. Like so many other families, she came to the U.S. in search of safety. And like so many others, when she arrived in the country, Border Patrol agents took her child away.
"One morning, officers forcibly took a sleeping J. from Ms. Q.'s arms," her lawyers told a federal judge. She has been accused of gang involvement, but there is no evidence that she has ever been convicted of any crime. Yet six months after agents took her child away, she still hasn't seen him.
"Let's stop asking of migrants what we don't ask of United States citizens and government officials."
The one week when Manafort was pleading guilty and Ms. Q. was trying to reunite with her son reveals the double-standard that the Trump administration applies to migrants. The president has surrounded himself with people prone toward crime. Despite that, he regularly fires off tirades about the crime that migrants might commit. When Trump's associates admit to crime, the White House downplays it.
When migrants show up in the U.S. hoping to better their lives, Trump's government searches for any excuse to make their lives harder. When Trump's friends are convicted, he comes to their aid — sometimes, as he did with Arizona's Joe Arpaio, with the power of a presidential pardon. When Trump's favorite target, migrants, can be demonized, he is the first to fan the flames.
Treating migrants differently from U.S. citizens is discrimination plain and simple. It is longstanding and often legally permissible, but let's call it what it is. If the Trump administration's extremism is jarring, let's also acknowledge that he didn't invent the double standard; he just threw it into overdrive.
The excessiveness that we are currently witnessing is an opportunity to reexamine that double standard. For years, immigration law has pushed migrants into immigration detention and deportation for doing what citizens do. In Colorado, where I live, everyone can buy marijuana legally, but only migrants can be deported for it. On the border, we take away children from parents who would never have lost their kids had they been U.S. citizens.
Let's reimagine Trump's hypocrisy as an opportunity to begin the difficult conversation about treating migrants differently. Perhaps then we will stop asking of migrants what we don't ask of U.S. citizens.
César Cuauhtémoc García Hernández is an associate professor of law at the University of Denver and publisher of the blog crimmigration.com.
Related
Popular in the Community