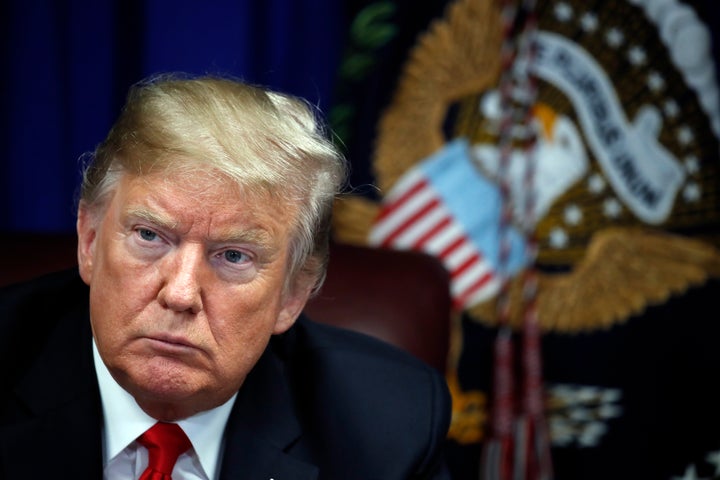 North Carolina's state Board of Elections, a bipartisan group with an equal number of Republicans and Democrats, has declined to certify the results of the 9th Congressional District election after disturbing reports of vote theft on behalf of the Republican candidate, Mark Harris. In recent days, multiple people have come forward saying they were paid by a contractor working for Harris to illegally collect absentee ballots, while voters have reported a variety of suspicious circumstances surrounding the issue and return of their ballots.
This sure seems like the kind of legitimate and documented example of election fraud that President Donald Trump has been waiting for. And yet, as of this moment, he hasn't said (or tweeted) a single word about what's going on in North Carolina. It's been crickets from Trump and other national Republicans. The reason? This apparent case of voter fraud benefits the Republican candidate, Harris, who is clinging to a 955-vote lead over Democrat Dan McCready.
Trump seems to only care about the issue of voter fraud when he believes the perpetrators are nonwhite people who are helping Democrats and hurting Republicans.
Consider that in the run-up to the November midterm elections, Trump tweeted this warning: "All levels of government and Law Enforcement are watching carefully for VOTER FRAUD, including during EARLY VOTING. Cheat at your own peril. Violators will be subject to maximum penalties, both civil and criminal!"
This was during the same time period where Trump was sounding the alarm about a migrant "invasion" coming from Mexico. For Trump, it was a familiar refrain.
In October 2016, as he was leading chants of "build the wall," Trump made the unfounded declaration that "of course there is large scale voter fraud happening on and before election day."
After he won the election, he chastised the media for not reporting on what he described as "serious voter fraud in Virginia, New Hampshire and California" even though there was no evidence of any voter fraud in those states. And after he assumed the presidency, Trump announced he would "be asking for a major investigation into VOTER FRAUD..."
In May 2017, Trump signed an executive order establishing the Presidential Advisory Commission on Election Integrity chaired by Vice President Mike Pence and run by Kansas Secretary of State Kris Kobach. The defined "mission" of this commission was to "study the registration and voting processes used in Federal elections" and to "submit a report to the President that identifies" so-called "vulnerabilities in voting systems and practices used in Federal elections that could lead to improper voter registrations and improper voting, including fraudulent voter registrations and fraudulent voting."
And yet in North Carolina, we now have real, compelling evidence of illegal ballot tampering. Given the reports, is it any wonder that Harris somehow won a staggering 96 percent of the absentee vote in Bladen County? Election data shows that only about half of the absentee ballots were returned from Bladen and Robeson counties ― a low percentage compared to the rest of the state. A large majority of those unreturned ballots belonged to minorities.
Trump and his GOP enablers are silent because they condone it.
It's possible the president will put out some generic, "all voter fraud is wrong" kind of statement to try to mute some of the criticism. It'll surely be a far cry from his pre-midterms tweet threatening "maximum criminal penalties" for illegal voting. Can you imagine what he and other Republicans would be saying if this were a Democratic effort to suppress the votes of white people?
Their alarmist rhetoric about an imaginary invasion from the southern border, coupled with this stark hypocrisy about election fraud and minority voter suppression in North Carolina, reveals the underlying racism behind the policy positions of the Republican Party.
If it were up to Trump and the GOP, the Pledge of Allegiance would be amended to say, "one white nation, under one white God, indivisible, for liberty and justice for white people."

Kurt Bardella is a HuffPost columnist and served as the spokesperson and senior advisor for the House Oversight and Government Reform Committee from 2009-2013. Follow him on Twitter at @kurtbardella.
Support HuffPost
The Stakes Have Never Been Higher
Popular in the Community