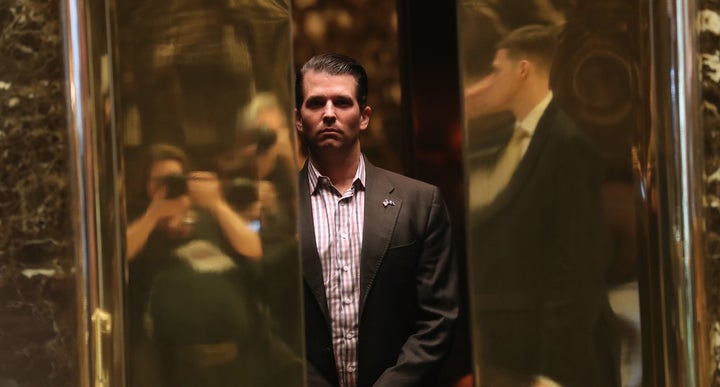 Twitter has been President Donald Trump's greatest weapon. With a single tweet, he can single-handedly control the national conversation. One minute we're talking about a trade war with China and the next we're talking about LeBron James.
Last Sunday morning, in response to a Washington Post report, the president tweeted, "Fake News reporting, a complete fabrication, that I am concerned about the meeting my wonderful son, Donald, had in Trump Tower. This was a meeting to get information on an opponent, totally legal and done all the time in politics – and it went nowhere. I did not know about it!"
Let's not forget the first explanation that we heard about this meeting. It came in July 2017 from that "wonderful son," Donald Trump Jr., who said the meeting "primarily discussed a program about the adoption of Russian children." That statement had been dictated by the president, as confirmed by his own lawyers in January of this year ― even though White House press secretary Sarah Huckabee Sanders and Trump lawyer Jay Sekulow denied it in July 2017.
Trump's tweet last Sunday confirming that the meeting was, in fact, about getting dirt on Hillary Clinton re-raises two enormous questions to which we still do not have answers: (1) Why did the president dictate a blatantly false statement to his son for the purpose of misleading the American people about the subject of the Trump Tower meeting? (2) Why did White House officials deny the president's involvement in the crafting of that statement?
Trump's Sunday ranting continued on Twitter with the president calling special counsel Robert Mueller's investigation into Russian electoral interference "the most one sided Witch Hunt in the history of our country" and whining that the "Media refuses to report the lies and corruption having to do with the Rigged Witch Hunt – but that is why we call them FAKE NEWS!" (Notice how Trump married the topics of the Mueller investigation and the "fake news media" into one attack.)
Monday morning began with the president live-tweeting a "Fox & Friends" commentator who believes that "Hillary Clinton and her team 100 percent colluded with the Russians." 
On Friday morning, the president was glued to Fox, quoting commentators who falsely declared there was "No evidence to launch even an investigation into potential collusion between Donald Trump and the Russians and here we are, a year and a half later."
But none of those topped his tweeted admission last Sunday morning.
Imagine if Chelsea Clinton had taken a meeting with an emissary from a hostile foreign regime for the purpose of getting dirt on Donald Trump during the campaign. Now imagine if President Hillary Clinton had personally dictated to her daughter a false statement to release to the American people about that meeting. How do you think Donald Trump, the Republican Party, Fox News and Congress would have reacted to that sequence of events?
As a former Republican who once worked for the primary investigative committee in Congress, I can tell you definitively that Republicans would have immediately launched impeachment proceedings.
Trump's relentless attacks against the special counsel's investigation have reached new levels of both nastiness and frequency. They also have become his greatest vulnerability. You can operate only so long without a filter or any regard for consequences before you make a mistake.
The president's tweet acknowledging the real purpose of the Trump Tower meeting could finally be his undoing. When I worked at the House oversight committee, we were fond of saying that "it's not the crime, it's the cover-up" that gets people. If that is to be the case with Donald Trump, I say keep on tweeting. Keep digging that hole deeper and deeper. After all, every word you say can and will be used against you.

Kurt Bardella is a HuffPost columnist. He is a former spokesman and senior adviser for then-House Oversight and Government Reform Committee Chairman Darrell Issa (R-Calif.), Sen. Olympia Snowe (R-Maine), Rep. Brian Bilbray (R-Calif.) and Breitbart News. Follow him on Twitter: @kurtbardella

REAL LIFE. REAL NEWS. REAL VOICES.
Help us tell more of the stories that matter from voices that too often remain unheard.