Opinion by Reboot Illinois' Matt Dietrich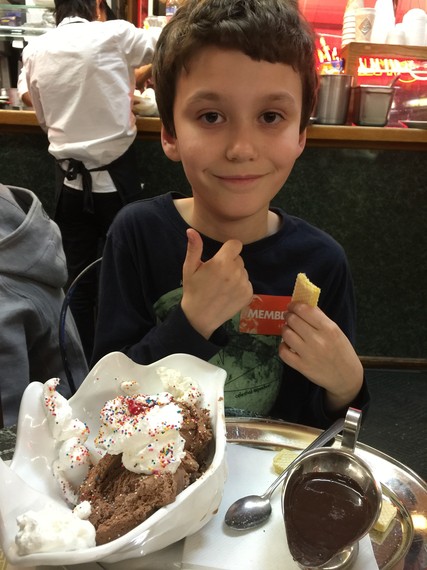 Thumbs-up to Margie's Candies, not so much for dad's website.
In the department of "kids say the darnedest things," I offer this unsolicited quote from my 12-year-old son:
"Dad, I looked at your website and all it does is give a big middle finger to Illinois."
Yet as happens so often when one gets a perspective from a fresh set of eyes -- even those of a 12-year-old -- this remark caused a much-needed bit of soul-searching. Obviously, you don't start an operation called Reboot Illinois with the intent of celebrating Illinois government. But neither did we start Reboot Illinois as a clearinghouse for all things negative about Illinois.
While informing about areas where Illinois needs improvement -- mainly regarding state finances, jobs, schools and corruption -- is central to our mission, it's not our mission. The commentary, graphics, guest views and videos we provide are intended not just to inform, but to motivate action. At minimum, that means getting involved in the political process by registering to vote and voting. At best, it means direct involvement in effecting change by, in the most obvious example, contacting your elected officials.
We even created a tool, Sound Off, devoted to that purpose. Enter your address and Sound Off will look up your representative and senator. Choose your issue, type out your message (or use the one we've provided) and Sound Off will send it your lawmakers, the governor and the Democratic and Republican leaders in the Illinois House and Senate.

The greatest impediment to citizen action is the widely held feeling that we're powerless; that it won't matter what we say or do because the people in Springfield are going to do what serves them best regardless. With the state now 10 months into an unprecedented budget deadlock, it's never been easier to feel that way. Yet neither has that feeling ever been more wrong.
Believe it or not, your lawmakers listen to their constituents. And when they complain to their leaders that they're getting heat from back home that's putting them in hot water with voters, their leaders listen. Even as Gov. Bruce Rauner and House Speaker Michael continued their war of egos over the state budget, both listened to their members' complaints about college funding last week and allowed passage of $600 million in emergency funding. It was a stunning example of compromise.
One final note: When presented with problems like Illinois' pension debt, it's easy to feel not just powerless but also that the situation is hopeless. We've done a lot to explain, for example, the causes and effects of Illinois' pension crisis. It's risen from $83 billion to $111 billion since this website launched and consumes more than 20 percent of the state budget's General Revenue Fund.
We probably have not done enough to point out that there are solutions. Yes, taxpayers going forward will have to pay for years of mismanagement by the General Assembly, but there are ways this can be done without sinking state government.
California a few short years ago was the worst-case-scenario example of state fiscal dysfunction. Not today. There's no reason Illinois can't follow this model.
With new ownership last month and a major website overhaul in the works, this is an exciting time for Reboot Illinois. That makes it a perfect time for us to sharpen our focus on our mission.
And who knows. Perhaps all this even will inspire the young media critic in my family to add a few stars to his rebootillinois.com review. These kids today.
REAL LIFE. REAL NEWS. REAL VOICES.
Help us tell more of the stories that matter from voices that too often remain unheard.