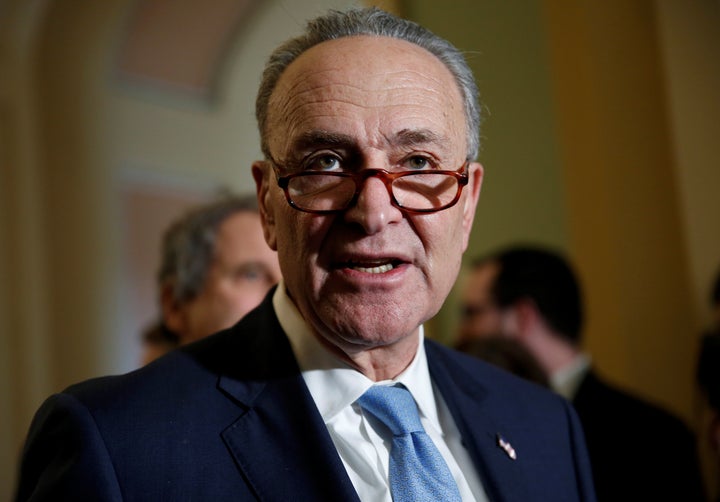 As President Donald Trump signed a major budget deal Friday morning, Democrats relinquished the leverage they had for meaningful legislation protecting undocumented immigrants brought to the country as children. Democrats like New York Sen. Chuck Schumer claim they have a master strategy to get legislation to the finish line.
They aren't fooling anyone. Democrats have no plan, and once again, Schumer, now the minority leader, is showing that protecting these immigrants known as "Dreamers" was never his priority. 
Even as 87 percent of the American people support Dreamers staying in the U.S., Democrats and Republicans continue to play political games with the lives of many young immigrants who have grown up here and contribute to the country we call home.
Party insiders claimed they had to prioritize the Affordable Care Act to provide health care to millions of people. No one disputes the importance of affordable health care, but Democrats were elected because the American people assumed Congress could address more than one problem at a time.
In 2010, the House successfully passed the Dream Act, only to see it fail when five Senate Democrats voted against the bill. Two years later, then-President Barack Obama created DACA, providing much-needed protection for Dreamers. The victory, however, was made possible not by Democratic leadership but by the courageous effort of Dreamers to push a reluctant president to flex his constitutional executive power.
Using it as a reason to repeal DACA, Republicans noted that Obama had repeatedly said that only Congress had the legal authority to protect Dreamers. 
Even when Obama did take action, DACA was a watered-down policy that left out thousands of Dreamers and other hardworking immigrants like our parents. 
To add salt to the wound, Obama holds the record for presiding over more deportations than any other president in American history, and handed over the keys to this frightening deportation machine to immigration hard-liners Stephen Miller, the White House senior policy adviser, and Jeff Sessions, the attorney general.  
Trump even has the opportunity to snatch a major legislative victory that even Obama could not lock in when Democrats were in power.
This is not to paint Democrats with a broad brush. House Minority Leader Nancy Pelosi (Calif.), Sen. Dick Durbin (Ill.) and other members of Congress continue to stick their necks out for Dreamers, highlighting our stories or intervening to stop unjust deportations.
The central problem with Democrats is lack of bold leadership, particularly with Schumer, who flunks in the craft of leadership and policymaking. The New York senator has a tendency to negotiate haphazardly, giving away key policies just for the sake of insignificant votes.
As a lead negotiator in the 2013 immigration reform debate, he gave in to extreme Republican demands in crafting a "border surge" that nearly doubled the current border patrol force from 21,000 agents to 40,000, as well as the completion of hundreds of miles of fence on the nation's southern border. 
It was hoped that the deal would allow the bill to secure 70 votes, more than enough to overcome a filibuster. But it ultimately failed in the House, succeeding only in inflating the cost of the original bill by billions and establishing an unworkable border enforcement standard. 
We are now being haunted by the ghosts of that terrible standard, which has forced Democrats to be open to building a useless border wall, targeting legal immigrants, ending the diversity visa program, empowering agents to deport grandmothers with no criminal record, and punishing "sanctuary cities" in exchange for the protection of Dreamers.
Trump even has the opportunity to cunningly make a deal with Congress and snatch a major legislative victory that even Obama could not lock in when Democrats were in power.
The time is running out to protect Dreamers. Each day, an estimated 122 Dreamers are losing their protection and are at risk of arrest and deportation. About 1,000 young people stand to lose their status each day after March 5, and both parties will be responsible. 
Democrats, it's time to be bold and it's time to lead.
Cesar Vargas is a civil rights attorney and national advocate for immigration reform.
REAL LIFE. REAL NEWS. REAL VOICES.
Help us tell more of the stories that matter from voices that too often remain unheard.