By most accounts, Sunday's Super Bowl was an unqualified success ― for football itself (the game was nail-bitingly good) and for Black culture ― the Philadelphia Eagles' Jalen Hurts and the Kansas City Chiefs' Patrick Mahomes are the first Black quarterbacks to ever go head up in a Super Bowl; Sheryl Lee Ralph kicked off the game with "Lift Every Voice and Sing," the Black national anthem; and Tubi ― home of questionable Black cinema ― had arguably the best commercial.
And, of course, there was the much-hyped Rihanna concert, with which a football game just happened to interfere. RiRi's performance seemed to garner positive responses on social media out the gate, along with all the expected chatter about whether her red bump was from postpartum weight or if A$AP Rocky was living up to his name (it was the latter, indeed). But it didn't take long after the performance for the peanut gallery to start throwing peanuts, complaining about the show on social media.
The most prominent I've seen involves the suggestion that she didn't bring a lot of energy to the proceedings… that she lip-synced, banged out some mild choreography and let the dancers ― who resembled sentient dollops of whipped cream ― do the heavy lifting.
But why is Rihanna being criticized for not delivering "enough energy" when other artists have hit the Super Bowl stage and been lauded for basically doing what she did? Prince got out there in 2007 and did exactly what you'd expect Prince to do: sing and jam on his guitar while the dancers danced and the marching band did their thing. Dude wasn't out there doing pliés or handstands on top of his guitar. That it actually rained during "Purple Rain" made it legendary, but the Purple One didn't plan that. (Or did he…?)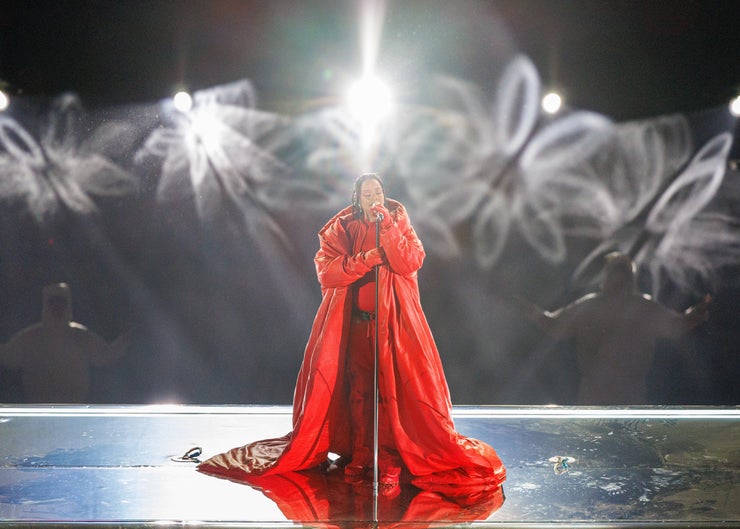 If you're at all familiar with Rihanna the artist, the "energy" criticism doesn't make a lot of sense. I've only seen Rihanna in concert once, during Ye's Glow in the Dark Tour in 2008, when "Umbrella" was still her only hit and he was still Kanye West. That was 15 years ago, she was only 20 and she didn't do a bunch of dancing then, as dancing has never been RiRi's lane ― maybe just enough gyrating to send your blood running south.
Sure, Rihanna followed a wild 2022 Super Bowl halftime show that featured the faves of everyone who now has knee problems, including 50 Cent appearing as if he were one swivel from cardiac arrest while hanging upside down performing "In Da Club." But she's now turning 34, and is somebody's new mama and about to be somebody else's mama. That she agreed to suspend herself on a platform 60 feet above the turf with child and without getting paid just to entertain your sorry ass for 13 minutes should suffice.
The more annoying criticisms of her performance involve comparisons to Beyoncé. I don't have a dog in the fight because I'm not a member of the Beyhive or… whatever Rihanna fans call themselves (the RiiHive?). I realize that the two women are forever intrinsically linked by virtue of the fact that they're both high-powered R&B/pop singers in the same generation and because everyone seems to love comparing famous Black women unfavorably.
Indeed, Beyoncé had a similar pregnancy reveal at the 2011 MTV Video Music Awards, when she snatched open her sequined top to reveal an upcoming Blue Ivy. And there was also the 2017 Grammys, for which she performed in a chair leaning precariously backward while pregnant with twins Sir and Rumi. And those are just the highly publicized moments ― Bey is not one to let a little thing like "infanticipation" stop her from putting on a show.
And that's great! Beyoncé is BEYONCÉ for good reason. But even I know there's never been any real comparison between the stage performances of Beyoncé and Rihanna. Sunday's performance might've been disappointing if it were Beyoncé. But Rihanna did exactly what she should've done: Open the most-watched program of any year forcing the broadcast delay techs to earn their paychecks with a performance of "Bitch Better Have My Money" before moving into a medley of her bangers (or "killer tracks," if you're LeBron James).
(Somehow Usher got dragged into the conversation thanks to a young lady who went semi-viral with the suggestion that he doesn't have enough pop/hip-hop hits to do the halftime show. Which is so outside of reality that I'm gonna let it die right here.)
A large part of Rihanna's appeal is that unbothered aura that's surrounded her throughout her career. In an industry of overly image-conscious souls, she has always made it at least appear that she doesn't try very hard ― an attitude that has managed to net her a 10-figure net worth and has her fans salivating for another album that they're worried they won't get.
I'm sure she doesn't care about your opinion of her performance on Sunday and she doesn't care about your comparisons of her to other pop stars. Possessing "fuck everybody" money tends to allay a lot of those concerns. Or so I've heard.
I'm sure she's also unconcerned that we're all glad she didn't depress us for the second half of the game by performing her "Wakanda Forever" song.
Related