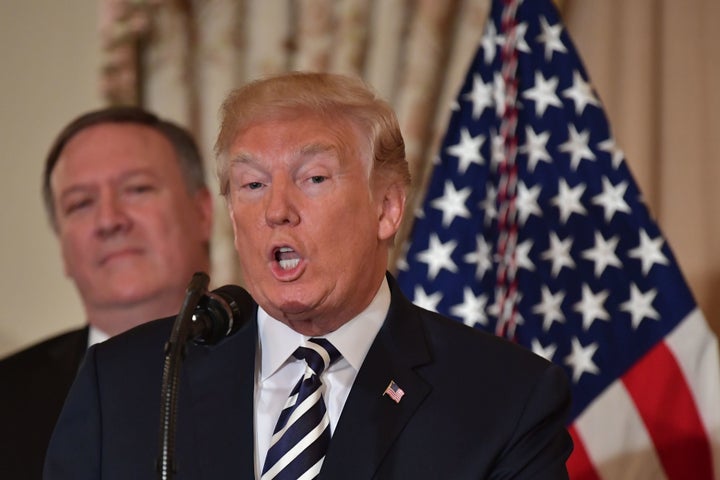 After declining to do so last year, the White House has announced that President Donald Trump on Wednesday will be hosting an iftar, the traditional fast-breaking meal during the Muslim holy month of Ramadan.
Trump's iftar comes on the heels of appointing a cadre of anti-Muslim bigots to high-level government positions, including newly confirmed Secretary of State Mike Pompeo and national security adviser John Bolton, whose pick for a chief of staff hails from a notoriously Islamophobic think tank. Pompeo, who is closely tied to anti-Islam hate groups, has disparaged American Muslim leaders and then refused to even acknowledge evidence refuting his claims. Meanwhile, Trump's new CIA director Gina Haspel previously oversaw a black site where two Muslim prisoners were waterboarded. This iftar is also taking place at a time when the Supreme Court is deliberating on the Muslim and refugee ban, one of Trump's signature executive orders.
The abuse of Muslims, particularly post 9/11, pre-existed the Trump administration and many of the president's policies are simply building off those ushered in by the George W. Bush administration and perpetuated under President Barack Obama. Understanding Islamophobia as systemic and institutional ― the most dangerous aspect being holding Muslims collectively responsible and targeting the entire community for the actions of a few ― is the reason we called for the boycott of an Iftar hosted by President Obama four years ago. 
But the Trump administration's overt and explicitly racist, xenophobic and Islamophobic policies represent a new low in the U.S. government's treatment of Muslims.
Today, many of the same conditions we were witness to and challenged four years ago have worsened. This includes U.S. silence and complicity in the face of state violence by the Israeli government toward the Palestinian people protesting for their rights after decades of oppression ― a situation only antagonized by the recent U.S. embassy opening in Jerusalem. It also includes an executive order to keep the detention facilities at Guantanamo Bay open.
At the beginning of the month, Trump sent a message wishing all Muslims in America a happy Ramadan. But just a few days before that, he declined to walk back or apologize for past biased remarks about Muslims. This included him "absolutely" backing the idea of Muslims being forced to register in a government database. Last year he broke with longstanding tradition and elected not to host an iftar. Then-Secretary of State Rex Tillerson declined a request from his staff to host an Eid celebration last year as well.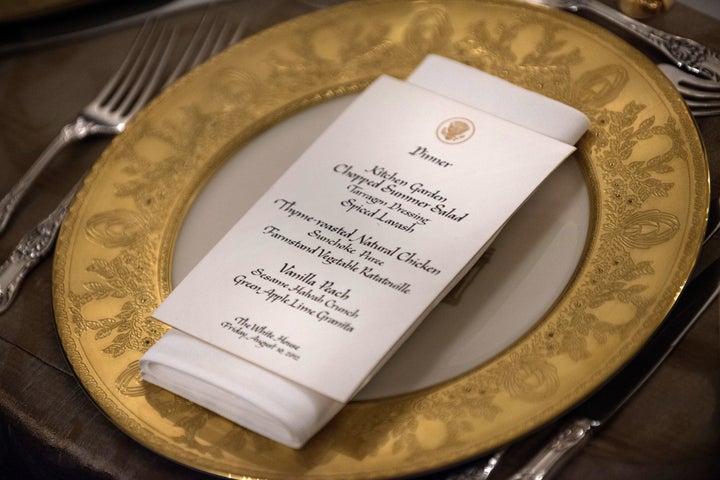 With Muslims increasingly becoming the victims of hate violence and dehumanizing political speech, the murder of black people including black Muslims by law enforcement, an increase in deportations of undocumented Muslim and refugee communities, the rescinding of the Deferred Action for Childhood Arrivals and Temporary Protected Status programs, a halt in refugee intake and immigration from Muslim countries, and the escalations of wars abroad, it is unconscionable for this White House to host an iftar.
With these facts in mind, we urge invitees to abstain from attending any White House iftar. Rather than changing these conditions, they stand to rubber stamp and whitewash the administration's crimes toward the most vulnerable communities.
Some may say that the White House iftar would be a rare chance for Muslim leaders to engage constructively with the administration. But engagement with power must be principled. We cannot demand our rights, from an administration that has committed to stripping them away, through an evening dinner designed to fete a few Muslims selected more for their political safety than any actual desire to have dialogue with or engage Muslim communities. The Trump iftar at best is designed to build acquiescence among the Muslim community. At worst it will sow division.
The Qur'an teaches us to stand up for justice at all times and in one verse (4:135), believers are told: "O you who believe, stand firm for justice even against your own selves." Therefore, we must stand for justice and against injustice whenever or wherever it occurs.
Breaking bread during Ramadan is best done in the spirit of social justice, not in service of those who are implementing violent and dehumanizing policies against Muslim communities and more broadly people of color. This Ramadan we invite all Muslims and allies to join us, either in person or in spirit, as we use our faith to build community and strive to embody the spirit of dignity, respect and resistance to oppression.

Dr. Maha Hilal has a PhD in Justice, Law, and Society and the focus of her research and expertise is on Muslim-American responses in the context of national security post-9/11. She is the co-director of Justice for Muslims Collective, an organizer with Witness Against Torture, and a council member of School of the Americas Watch.
Darakshan Raja is co-director of Justice for Muslims Collective and is a board member of South Asian Americans Leading Together.
Calling all HuffPost superfans!
Sign up for membership to become a founding member and help shape HuffPost's next chapter