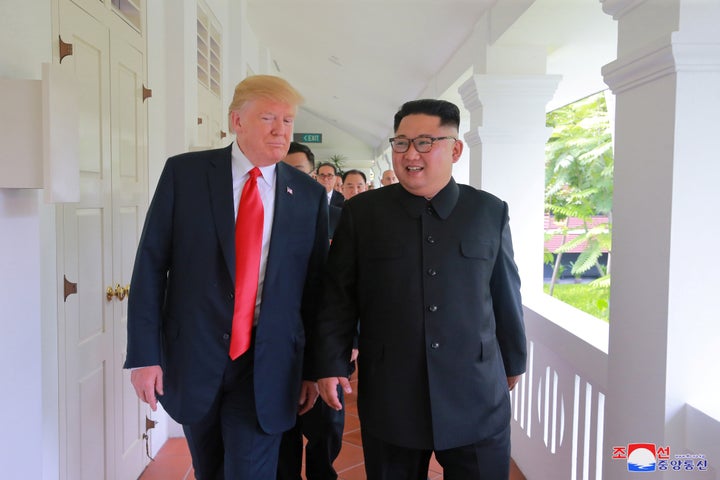 Donald Trump and Kim Jong Un met this week in Singapore to discuss the prospects of North Korean denuclearization. In what is being touted as a historic meeting, the two leaders issued a joint statement that included a North Korean pledge "to work towards" denuclearization of the Korean peninsula. In exchange, Trump pledged to suspend U.S.-South Korea joint military exercises and possibly reduce the number of American troops in South Korea.
Trump argued that stopping "the war games" will "save us a tremendous amount of money, unless and until we see the future negotiation is not going along like it should. ... Plus, I think it's very provocative."
For its part, South Korea is outwardly pleased with the outcome of the summit, with President Moon Jae-in stating, "There are many different views on the outcome of that summit, but what is most important is the fact that it has allowed the entire world … to escape from threats of a nuclear war and long-range missiles."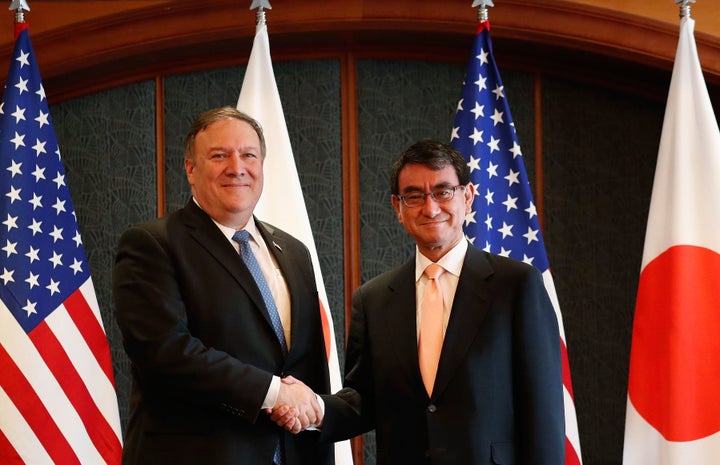 But South Korean officials were baffled by Trump's decision to announce the suspension of the joint military exercises without first consulting them. This is a troubling development for South Korea: It demonstrates that the U.S. is willing to make unilateral and possibly impulsive decisions that affect its allies, and indicates a weakening of the U.S. commitment to defending South Korea. Inter-Korean rapprochement is a priority for the Moon administration, and though this particular action has the effect of relaxing tensions on the peninsula, future unilateral actions by the U.S. may do the opposite.
Japanese officials seem more concerned about the possible reduction of U.S. troops in South Korea than about the suspension of the joint military exercises.
"I'm stunned," one Japanese foreign minister reportedly said. "This is going to affect Japan's security significantly. We must confirm [Trump's] intentions."
The same minister said that in a recent meeting, U.S. Secretary of Defense James Mattis said a reduction of U.S. forces in South Korea would not be on the table in Singapore. This contradiction at best signals to Japan that U.S. government officials are not on the same page and at worst that the U.S. cannot be trusted to represent Japanese interests.
While Japan supports peace with North Korea, Japanese policymakers were blindsided and, it seems, troubled by Trump's announcement. The prospect of a reduction or removal of U.S. troops in South Korea may imply a weakening of America's commitment to the region. If the U.S. removes troops from South Korea, it may reduce the number of troops in Japan as well. Recall that Trump, as a candidate, was openly skeptical of the U.S. military's overseas network, a sentiment he echoed in his post-summit press conference.
"I want to get our soldiers out," Trump said Tuesday. "I want to bring our soldiers back home."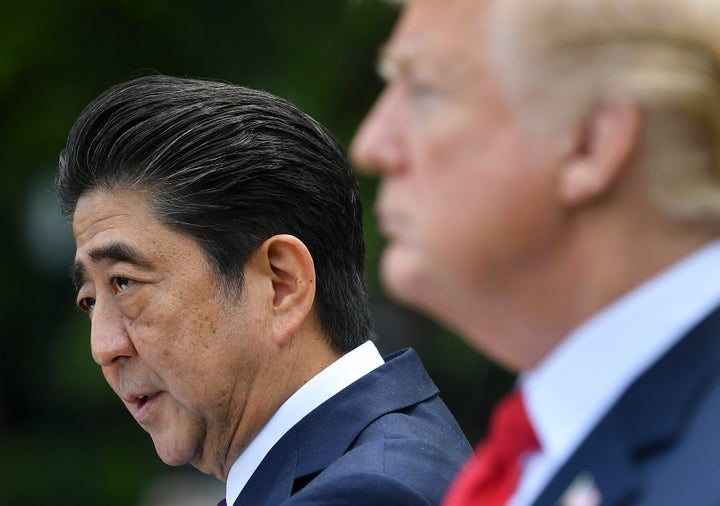 From the Japanese perspective, a smaller American military presence in East Asia means less regional stability and leaves a void that could be filled by China, Japan's longtime rival. And, although Japan is constitutionally prohibited from having its own offensive military force, a weakened American commitment to regional security may result in Japan building up its own military. Prime Minister Shinzo Abe's conservative government has discussed reforming the military prohibition for the past several years, something the Japanese left has strenuously opposed. Because of the history of Japanese aggression in the region, permitting a Japanese military force would likely exacerbate tensions with China and both Koreas.
The joint military exercises have long been a key point of contention between North Korea, the U.S. and South Korea. North Korea has condemned these exercises as provocations of war, and at times has responded with provocation of its own. During 2010 joint U.S.-South Korean military exercises, for example, North Korea allegedly sank the South Korean naval vessel Cheonan.
If the U.S. does suspend exercises, it would hardly be the first time. It wouldn't even be the first time this year. The exercises have long been an important bargaining chip for the U.S.: They were suspended in 1992 and from 1994 to 1996. Lately, they have been part of Trump's "maximum pressure" campaign, and were suspended twice already in 2018.
If the U.S. does suspend exercises, it would hardly be the first time. It wouldn't even be the first time this year.
The first time was at South Korea's behest in February and March, during this year's Winter Olympics. South Korea was understandably anxious about possible North Korean provocations: The last time South Korea hosted the Olympics, in 1988, North Korean saboteurs blew up a Korean Air plane a few weeks before the Games began.
South Korea also viewed the 2018 Olympics as an opportunity to build inter-Korean trust, and saw suspending the exercises as a step in that direction. The Olympics went on without any major crises, and South Korean reports claimed that Kim appeared to be amenable to denuclearization.
Joint exercises were also postponed in May in light of the Singapore summit. Kim had threatened to abandon the talks over the ongoing exercises, and the U.S. agreed to suspend them after consulting with South Korea. The suspension again helped bring North Korea to the bargaining table and build confidence ahead of the summit. By suspending the exercises in this instance, the U.S. and South Korea demonstrated their willingness to meet North Korea and earnestly discuss conditions for denuclearization.
If history is a guide, suspending the exercises this time might lead North Korea into negotiations, but it's unlikely to convince the Kim regime to abandon its nuclear weapons. In 1992, the U.S. used the suspension of the joint exercises to entice North Korea to agree to International Atomic Energy Agency inspections of its nuclear reactor. The inspections ensured the nuclear reactor was for energy, not weapons production. But the following year, North Korea threatened to withdraw from the nuclear Non-Proliferation Treaty, and the IAEA found discrepancies in the reactor's declared plutonium yield. The joint exercises resumed.
Trump walked away from the Singapore summit with what looks like progress, and with a new veneer of statesmanship. But he blindsided and startled our allies and yielded to our enemies, while claiming credit for implementing a tactic he has already tried twice this year ― a tactic that provides no guarantee of success or increased safety.
Charmaine N. Willis is a doctoral student in Northeast Asian politics. She holds an master's degree in international affairs from American University's School of International Service.
Calling all HuffPost superfans!
Sign up for membership to become a founding member and help shape HuffPost's next chapter