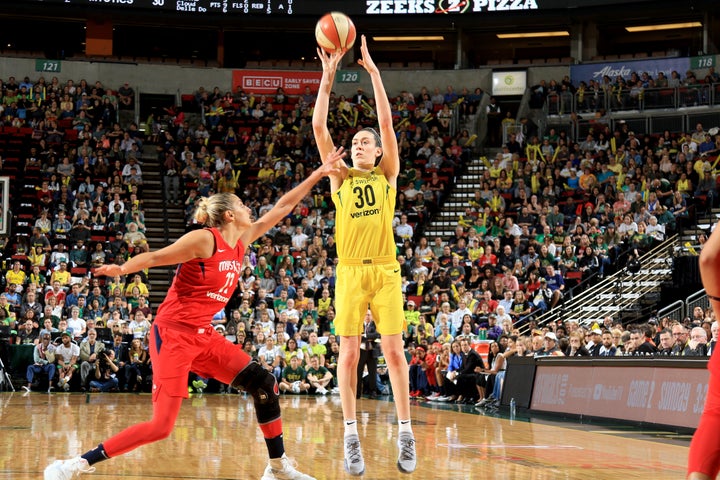 Last week, this exciting season of the WNBA ended after the Seattle Storm swept the Washington Mystics to win their third championship. Now, Team USA is in Spain, about to play in the FIBA Women's Basketball World Cup which tips off later this week in Tenerife, with the final on Sept. 30.
And they're not done. After pushing their bodies to the limit in their regular season and in an equally demanding World Cup, a whole lot of WNBA players will be spending a significant chunk of their year overseas playing on professional teams and in leagues in order to supplement their WNBA income.
That's right: These professional athletes have second jobs.
Players who go overseas end up playing almost year-round, with little break for their bodies to recover. They are often separated from their families and have to deal with the instability of uprooting their lives multiple times a year.
And yet, they do it, in large part, for the financial security it provides. Playing overseas — in Europe, Asia, or Australia — can often pay substantially more than playing in the United States.
On average, WNBA players make $75,000 a year in the league, with only a few players earning as much as $113,000. And while that's not a dollar amount to sniff at, these women only have so long to earn money off their athletic ability. Many of the women don't get lucrative endorsements, and getting into broadcasting or some other sports-adjacent field once they retire is not guaranteed. They're making the most of it while they can.
They shouldn't have to work so hard for so little. If the WNBA Players Association wants to opt out of its current collective bargaining agreement with the league and renegotiate terms, they have to do so by Oct. 31. Plenty of signs indicate that will happen, and it should. Because these women deserve more money.
If the WNBA doesn't figure this out, players are going to opt out of the league. And no one wants to see the WNBA die, least of all the players.
The WNBA will suffer if they don't figure out some way to pay players more. And I don't want to lose the WNBA or miss out on seeing the best female basketball players playing in the league. As Phoenix Mercury's Brittney Griner wrote on Instagram earlier this year, "I do believe we should get paid more in the WNBA before players decide to only play overseas and rest our bodies during the summer."
In other words, if the WNBA doesn't figure this out, players are going to opt out of the league. And no one wants to see the WNBA die, least of all the players.
Last year, Minnesota Lynx's Seimone Augustus told The Undefeated that the reasons players continue in the league is for history and for the future. She told the reporter that "she wants there to be something for future generations to aspire to. She also said it would be a letdown of all the work the founders of the league put into it if the current players decided to forgo the league for increased earnings."
Those are honorable reasons to stick with the WNBA, but players shouldn't have to choose between these personal anchors to the league and their need to make a living.
Demanding that female players be paid what they deserve is not about comparing the WNBA to the NBA as apples-to-apples salaries. The financial disparities between the leagues are undeniable, and these women aren't asking for the same multimillion-dollar salaries their male counterparts make (though that would be nice).
What many of the women are asking for is equity in revenue sharing, as economist David Berri has written about repeatedly at Forbes. Basically, they want a fair share of the total revenue of the WNBA. Currently, the NBA pays its players 50 percent of its total revenue. But WNBA players only take less than 25 percent of the total earnings of their league. While the men are getting about half of the total money they help the NBA earn, the women are getting less than a fourth.
"Which is kind of unbelievable," as WNBA All-Star point guard for the Dallas Wings, Skylar Diggins-Smith, put it recently: "Before we even talk about base salary or anything like that, we don't even get paid the same percentage of the revenue that we bring in."
Unfortunately, it's not clear what the WNBA's exact revenue is, or individual teams', or their profits. A WNBA spokesperson reached out to HuffPost after this op-ed was published, however, and said the WNBA has lost significant money every year and has shared its financials with the Players Association. In August, WNBA president Lisa Borders said, "While I encourage WNBA players to speak out on issues important to them, it is equally important that they understand the realities of our business."
Now's a good time for players to advocate for themselves because the product in the WNBA has never been better.
Now's a good time for players to advocate for themselves because the product in the WNBA has never been better. This was a stellar season, where the final eight teams that made the playoffs weren't determined until the last few games. We had incredibly thrilling semifinals series that went a full five games apiece. It felt like records were set on an almost weekly basis. According to the WNBA, this was "most-watched regular season since 2014," with viewership across ESPN networks and NBA TV up by 31 percent. Many NBA players are vocal in their support of the women's league because of the quality of play and because they understand the hard work these women put into their game.
These women should be paid more. I know this is a controversial statement because women are never supposed to ask for more than they have, lest they be ungrateful for whatever they've been given thus far. And there is seemingly no end to the people who tell them to be quiet, who disparage their talent and work and even lie about what they have said to make them seem petty or jealous.
All they want is better pay equity. They should fight for it because they've earned it.
Until they get it, some of the world's best female basketball players will be walking off of planes and onto courts as they meet the demands of a year-round basketball schedule. As fans, we deserve to see them playing at their highest level after a restful off-season. As for the players, well, they deserve to be able to play the game they love (that they're good at!) without needing to get a second job to pay the bills.
Jessica Luther is a freelance journalist, an author and a co-host of the feminist sports podcast "Burn It All Down."
Note: This piece has been updated with a response from the WNBA indicating that the league does share its financials with the players' union.
Calling all HuffPost superfans!
Sign up for membership to become a founding member and help shape HuffPost's next chapter