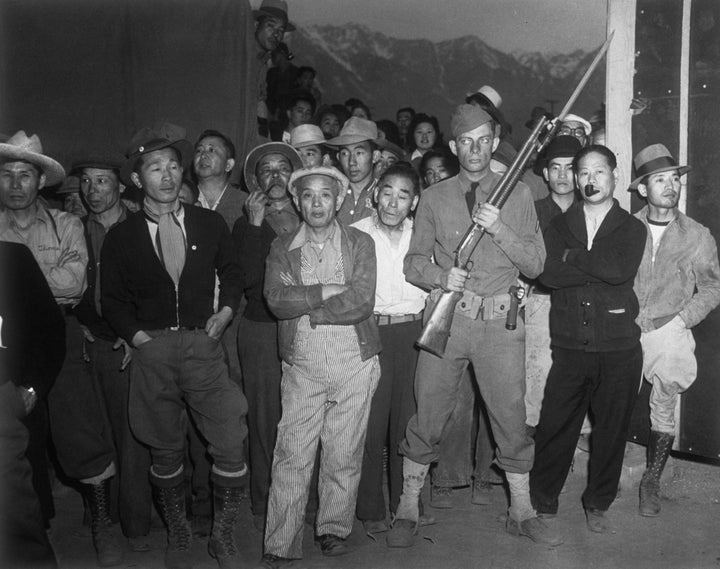 In the last month, many Americans have mobilized and protested, outraged by the Trump administration's appallingly cruel policy of separating immigrant children from their parents at the U.S. border with Mexico. This pushback compelled President Donald Trump to rescind the policy, which sacrificed innocent, frightened boys and girls as pawns in an ugly political battle. But his executive order can hardly be considered a humanitarian solution since it calls for maintaining "zero tolerance" and incarcerating entire families indefinitely.
Indefinite detention is also cruel. It is not, as one Trump supporter airily claimed, like summer camp.
The Japanese American community knows this. During World War II, all persons of Japanese ancestry on the West Coast ― mostly families with children ― were forced into temporary detention centers, including livestock barns on fairgrounds and horse stalls at racetracks, and then transferred to more permanent camps: Tule Lake, Manzanar, Minidoka, Heart Mountain, Poston, Gila River, Topaz, Amache, Jerome and Rohwer.
Many Japanese Americans, including members of my family, have worked long and hard to preserve the memory and lessons of the U.S. concentration camps in order to prevent intolerant race-based policies from taking root in our country again.
Many Japanese Americans, including members of my family, have worked long and hard to preserve the memory and lessons of the American concentration camps.
My father, Minoru Yasui, was the first Japanese American lawyer in the state of Oregon. During World War II, he channeled his outrage at the treatment of our community into a legal challenge in the U.S. federal courts. He was the first to publicly resist the discriminatory military orders that led to the forced removal of over 120,000 people from their homes and their subsequent incarceration in American concentration camps. As he says in the documentary film I made about his life and times, "as an American citizen, as a lawyer, I felt that we [had] the obligation to tell our government that they are wrong! That is the sacred duty of every citizen... I knew that we had to protest."
The policy of incarcerating Japanese Americans was pure racial profiling: Their only "crime" was their ancestry. It was also a zero-tolerance policy: No Japanese Americans on the West Coast were exempt. Not even orphans, nor mothers with babes in arms, nor toddlers nor the elderly who could barely walk, nor bedridden patients who could not walk at all. They were all incarcerated.
These so-called "wartime relocation centers" were camps used to concentrate Japanese Americans into one place so they could be monitored and controlled by the government. Likewise, the Trump administration wants to concentrate undocumented people of color in detention centers where they can be monitored and controlled ― instead of being released and dispersed throughout the country in safe havens to await the processing of their asylum applications, as was common practice before the zero-tolerance policy.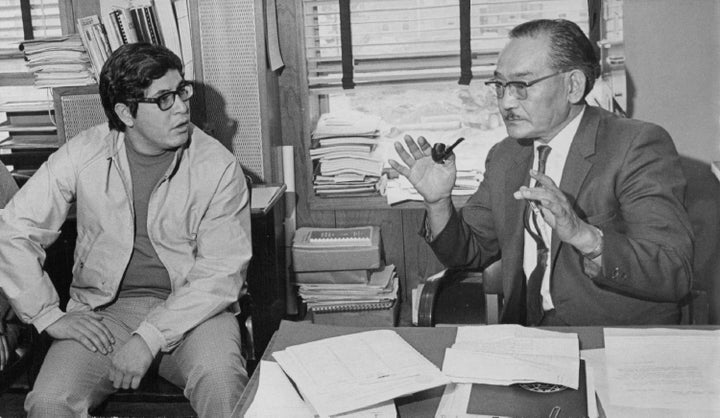 Race-based policies demonize people of color, and then criminalize them with discriminatory regulations and enforcement. The "wartime relocation" policy assumed that all Japanese Americans were potential spies, and Executive Order 9066 gave the military authority to incarcerate them in order to preclude espionage. Trump's zero-tolerance enforcement assumes that all undocumented immigrants crossing the Mexican-U.S. border are potential criminals who must be locked up in order to prevent rape and drug-trafficking.
Because there are not enough existing detention centers in which to warehouse children and families detained under Trump's policy, the administration has considered using the former Japanese American concentration camp in Rohwer, Arkansas, to circumvent the shortfall. To the Japanese American community, even considering this move is staggering, and one can't help wondering if the proposal is an intentional insult added to the profound injury suffered by children and families 75 years ago, and today.
My father spent nine months in solitary confinement awaiting his appeal to the U.S. Supreme Court, which ruled against him in 1943. But he didn't give up. He kept fighting for justice, not just for Japanese Americans, but for all people, long past the war, through the turbulent 1960s and until he died in 1986. He worked for citizenship rights for his parents' generation (Asian immigrants were not allowed to become naturalized until 1953, under the Nationality and Immigration Act of 1952), for redress for all incarcerated Japanese Americans and, in 1983, got his wartime conviction dismissed at last.
At the end of the documentary, he says, "From the standpoint of history, I think I'd like to have the American people realize that when you subjugate, when you suppress or oppress any group of people, you are really derogating the rights of all people."
We must learn from our past, from the Japanese American incarceration. Because, as my father said, "if you could do it to the least of us then you can indeed do it to all of us."
CORRECTION: A previous version of this story indicated the author's father  helped secure citizenship for his parents' generation. While he worked toward those rights, Asian immigrants were not allowed to become naturalized until 1953.
Calling all HuffPost superfans!
Sign up for membership to become a founding member and help shape HuffPost's next chapter