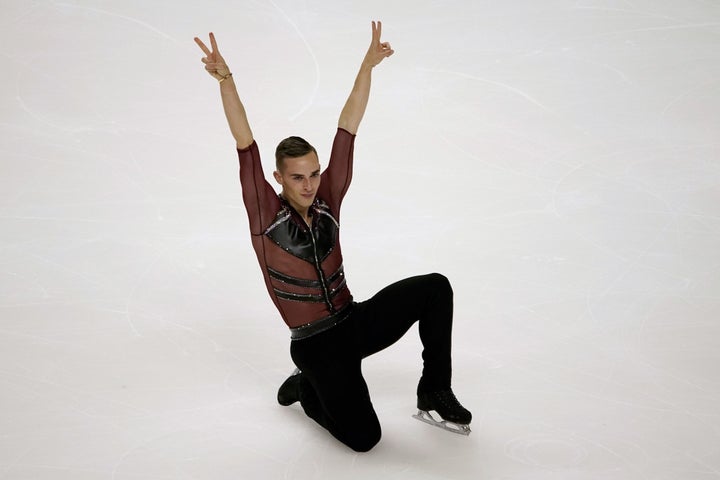 It seemed like everyone was already talking about Adam Rippon, the first openly gay American male figure skater to compete at the Olympics, in the weeks leading up to the Pyeongchang Games, thanks (or no thanks) to the controversy he found himself in after he reportedly refused to meet with Vice President Mike Pence before the opening ceremony. Then, on Sunday, Rippon performed an incredible free skate in the team event that helped the U.S. win bronze and promptly launched him into global stardom.
His candid sound bites regularly lead U.S. primetime coverage as he prepares for the men's event. He has the support of celebrities like Reese Witherspoon, Jessica Chastain and Busy Philipps. But for many LGBTQ people, not just in the U.S. or Canada (where I live) but around the world, Rippon is so much more than a Twitter trending topic or skating star. He's the athlete we've been waiting for our entire lives.
Gay men have come to see ourselves represented in art, film, television, music and fashion over the years, but rarely do we see ourselves in sport. And if we do, the athlete is often a diluted version of a gay man who has been told to dull it down, blend in, be one of the guys and act straight.
After Rippon's free skate in the team event, comedian Billy Eichner tweeted, "To give you some idea of how homophobic the sports world still is, it took until this year for us to have an openly gay American man compete in FIGURE SKATING."
The sporting world has long been one of the most homophobic frontiers, as it's a space where athletic prowess is directly tied to masculinity.
Male figure skating is a bit of an anomaly in this regard, as grace is revered as much as athleticism. However, there have still been efforts over the years to make the sport more traditionally masculine. Some judges and officials don't want glittery costumes and balletic choreography, because they feel it undermines the athleticism. Several American male figure skaters over the years have identified as gay (Brian Boitano and Johnny Weir, for example) but for their own reasons decided to not come out during their competitive years.
And who could blame them? The sports world hasn't exactly been welcoming of queer athletes, and the 2014 Winter Olympics in Sochi definitely didn't help the global LGBTQ sports movement. Prior to the 2014 games, the Russian government passed anti-LGBTQ propaganda laws that prompted many athletes to remain in the closet so they wouldn't find themselves in the epicenter of international controversy or unwittingly becoming a voice for an entire community.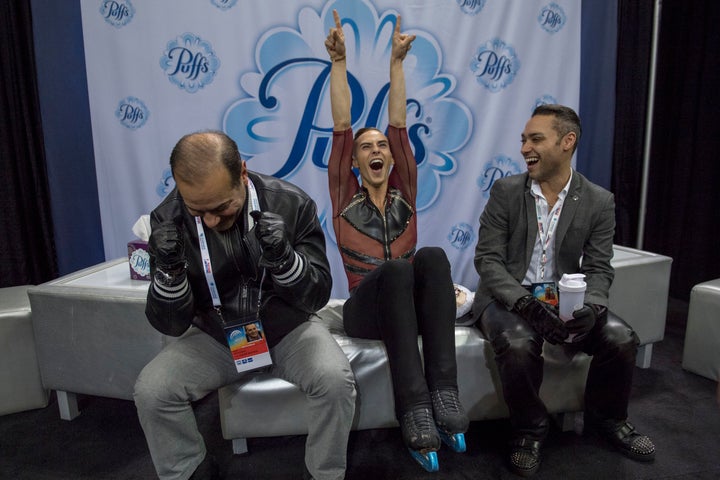 People claim they want the athletic performance to be what matters, not the athlete's sexual orientation; however, our sexual orientation is a crucial part of who we are.
Rippon, thank goodness, understands this.
He's a brilliant athlete with incredible artistic flair and technical proficiency. He skates with tremendous personality. His jumps are high and his rotation is fast, and he's often in perfect position in the air. He lands cleanly, and just watch the speed and flow as he exits a jump. His spins are fast and centered ― they don't wander away from their starting point ― and he's one of very few men to do the layback spin, which is often thought to be a feminine turning position.
And toning it down is not in his vocabulary. Since declaring publicly in 2015 that he is gay, Rippon has blossomed into a larger-than-life personality delivering signature did-he-just-actually-say-that one-liners. He's effeminate, flamboyant, authentically himself and unapologetically queer ― all things we've never seen in the sports world (let alone in the spotlight of the Olympic stage) before.
"There is something incredibly powerful about the way Rippon owns his queerness and his talent."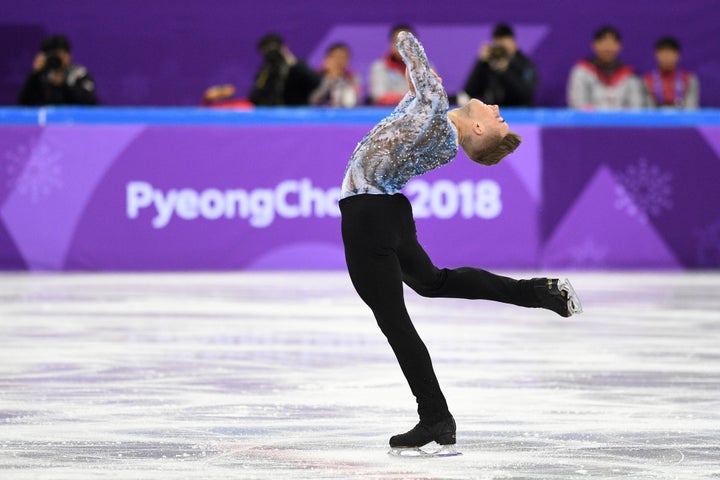 An Olympic athlete certainly doesn't have the ability to fix these larger problems, and there is much work to be done. However, when basic LGBTQ rights seem in jeopardy, it is important that brave individuals stand up to the injustices of an administration on behalf of our community ― which is something Rippon has already done.
Pence could have allowed Rippon to go into the Olympics clear-headed and distraction-free. Instead, he tweeted ahead of the opening ceremony: ".@Adaripp I want you to know we are FOR YOU. Don't let fake news distract you. I am proud of you and ALL OF OUR GREAT athletes and my only hope for you and all of #TeamUSA is to bring home the gold. Go get 'em!"
This disingenuous tweet, from a vice president with a history of endorsing anti-LGBTQ legislation as governor of Indiana, unleashed a firestorm of right-wing hatred and vitriol toward Rippon, something LGBTQ people are all too familiar with. Mentioning Rippon directly in the tweet ensured that the skater saw these responses in his own feed. If the gay skater won't meet with you personally, at least you can try to get inside his head and mess with his game, right? Rippon responded to Pence by not responding ― an act of bravery in and of itself.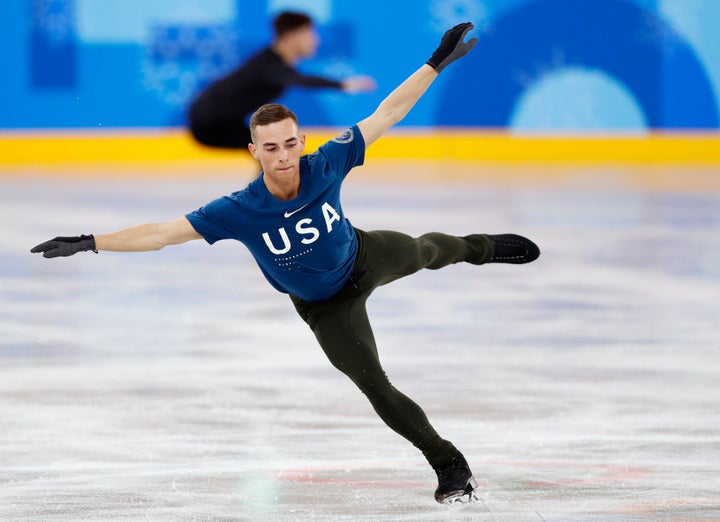 Rippon's arrival on the world stage is crucially important to young queer kids and queer athletes. There is something incredibly powerful about the way he owns his queerness and his talent. It's this combination that is drawing people in and making Rippon stand out from the rest of the crowd.
If we want to break down homophobic barriers in sport and make it a more inclusive environment, we need more athletes like Rippon. A beacon has arrived, and now, we bask in his queer excellence.
Rippon is now preparing to compete in the men's individual event in Pyeongchang. He won't be performing quad jumps, as the top contenders will be, but we can expect him to turn in two very dynamic and secure performances. He's a very long shot for a medal, but his journey and arrival on the world stage is so much more important than a podium placement. For so many people watching him at home, the self-described "glamazon bitch ready for the runway" is already a winner.
Clarification: Language has been amended to clarify that Rippon was the first openly gay American athlete to qualify for the Winter Olympics. Gus Kenworthy, another openly gay athlete, is also competing on Team USA this year.