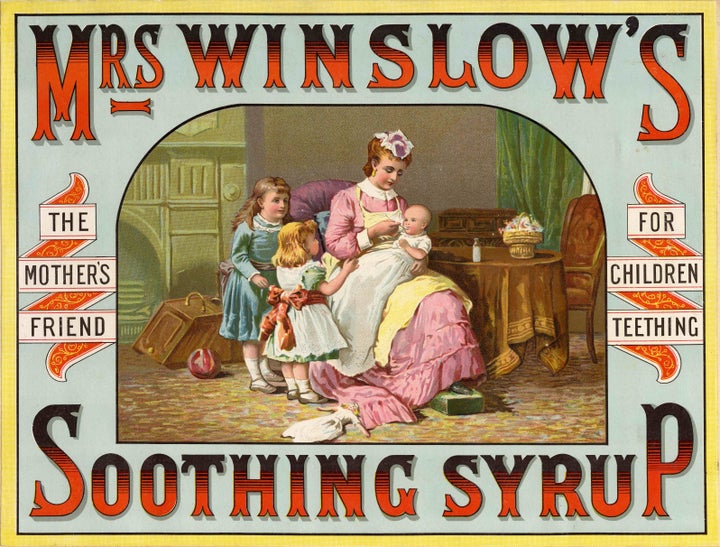 Doctors prescribing painkillers willy-nilly. Outrage over foreigners importing "poison" into America. Expensive treatment facilities marketed to addicts from well-off families. These are things America has seen before, when the country went through its first opioid crisis.
"There's definitely a parallel between our historical moment and the 1860s," said Susan Zieger, author of Inventing the Addict, a history of addiction in the late 19th and early 20th centuries.
In the late 1860s, doctors were battling to get the public to respect them as scientifically oriented professionals, distinct from traditional healers. With the invention of hypodermic morphine, they gained a powerful weapon in this battle.
But the drug created a generation of patients who struggled with dependence, leading to attitudes about drug use, treatment, and "worthy" and "unworthy" addicts that remain with us today.
Opium pods had long been a staple of folk medicine, brewed in teas or used in tinctures to treat a huge variety of troubles, from infants' colic to tuberculosis. By the 1860s, medical journals touted morphine, a distilled form of opium's active ingredient, as a miracle drug. It launched a big business, and more potent painkillers soon followed.
Victorians Had Their Own 'Big Pharma'
We can lay a lot of the blame for the current opioid epidemic on the pharmaceutical industry, which has long promoted the heavy use of opioids to treat pain. In the 1990s, doctors increasingly relied on opioid prescriptions to treat chronic pain as a separate problem from any underlying diseases.
In the 19th century, doctors made less of a distinction between a disease and its symptoms. "Any change that could be effected in a patient's symptoms was seen as acting on the disease; the more effect a treatment had on a patient, the better," writes anthropologist Marcus Aurin.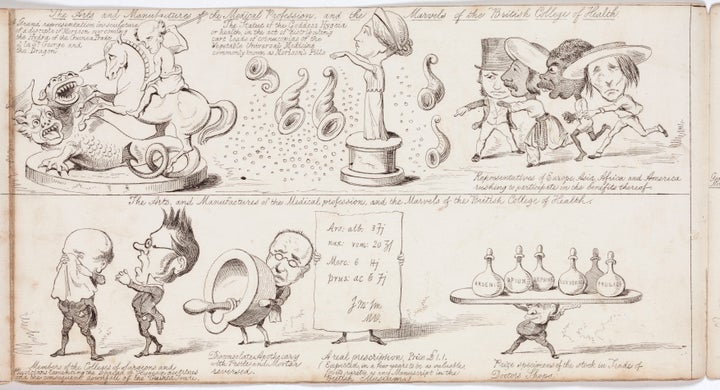 At the time, doctors needed to set themselves apart from "homeopaths, regular physicians, natural bone-setters, local wise ones, and so on," the late medical historian David F. Musto wrote. Medicine that could successfully treat pain gave them that competitive advantage.
That's why morphine, combined with the hypodermic syringe, was such an important innovation: It was a far more potent way to treat pain. Injected morphine came to be widely adopted in the 1860s and was promoted in medical journals as a "miracle of biomedical science," according to Aurin.
Describing hypodermic morphine in 1868, Dr. Francis Anstie, editor of the British medical journal The Practitioner, wrote that "of danger, there is absolutely none ... The advantages of the hypodermic injection of morphia over its administration by the mouth are immense ... the majority of the unpleasant symptoms which opiates can produce are entirely absent ... it is certainly the fact that there is far less tendency with hypodermic than with gastric medication to rapid and large increase of the dose."
In 1898, Bayer began promoting an even more potent injected painkiller ― heroin ― a name meant to suggest a "heroic" treatment.
Rich Addicts Are Sick, Poor Addicts Are Criminals
Many observers have noted how today's middle-class, white opioid addicts are generally treated as victims of a disease, while poorer black and Latino drug users are more likely to be considered criminals.
The notion of addiction as an illness was a middle-class thing from the start. When doctors first started using the term "addiction" in the late 1860s, it was mainly to describe middle- to upper-class women who typically got hooked on morphine their doctors prescribed. Through the last decades of the 19th century, many physicians set up profitable sanatoriums and addiction clinics to treat these patients.
But by the turn of the century, doctors began to recognize the dangers of handing out morphine syringes to every patient with menstrual cramps or a cough. Fewer well-to-do addicts were being created, and many of those receiving treatment either got well or died off.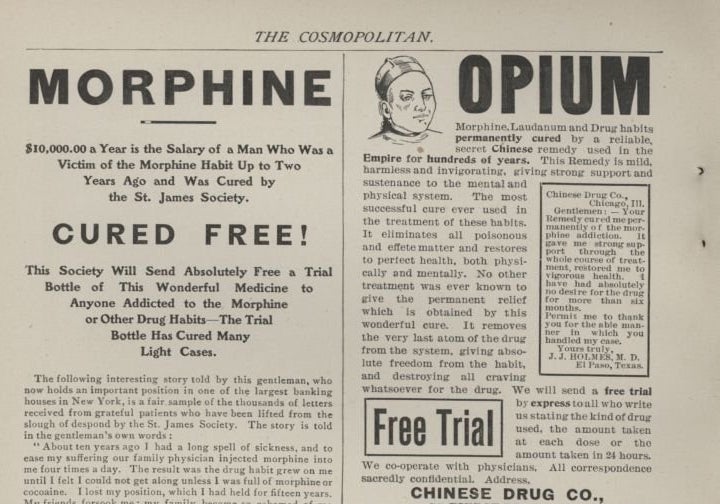 "The field of inebriety cure and treatment ceased to be a lucrative one, and doctors rapidly divested themselves of their interest in it," Aurin writes. "Addiction remained a curable disease only so long as there were patients willing and able to pay for treatment."
As the number of upper- and middle-class addicts declined, the public face of addiction became the working-class urban man. By the early 20th century, cheap, widely available heroin was the drug of choice for this demographic.
Heroin was essentially the same drug as morphine, but doctors associated it with working-class people and immigrants ― and, therefore, with deviant personalities.
"The heroin addict is of an inferior personality type compared with the morphanist," AMA President Dr. Alexander Lambert wrote in 1921. "Morphine is the drug of the stronger personality."
Lambert added that, while heroin and cocaine caused "social and public health problems," morphine addicts "show no tendency to become a social menace."
Racism Was Always Part Of The War On Drugs
Speaking at the Mexican border recently, Attorney General Jeff Sessions railed against criminals entering the country to "rape and kill innocent citizens" and "profit by smuggling poison."
Last year, Maine Gov. Paul LePage (R) complained about "guys with the name D-Money, Smoothie, Shifty" who he claimed bring heroin into the state and "impregnate a young white girl before they leave."
The first government warnings about the dangers of drugs were also deeply entwined with racism. In 1909, Aurin writes, prominent doctor Hamilton Wright, working on behalf of the State Department to address the opium issue, complained that the country was "contaminated through the presence of a large Chinese population."
By the 1920s and '30s, Zieger said, popular fiction depicted a Chinese-American underworld in which white people risked becoming "enslaved" by opium.
"It was also obviously kind of a fear of white women being seduced by people of another race," she said.
In fact, this fear had come to San Francisco, a center of Chinese immigrant life, even before the turn of the century. Physician Winslow Anderson described the "sickening sight of young girls ... lying half-undressed on the floor or couches, smoking with their lovers."
Not surprisingly, San Francisco became the first place in the country to pass anti-opium legislation in 1875. In the early 20th century, as xenophobia spread and heroin and opium use became increasingly associated with the poor, the federal government passed new anti-drug laws.
The epidemic caused by Victorian-era prescribing patterns was over, replaced by Americans' modern beliefs about drugs ― which are deeply tied to racial and class stereotypes.
Zieger said the war on drugs that began in the Nixon era continues to appeal to some of the same racist and classist attitudes that drove the first wave of criminalization.
"They play to a certain type of right-wing, middle-class desire to punish whoever they can punish," she said.
Today, that view of drug use as a blameworthy, criminal habit of the "lower classes" is again vying with the concept of addiction as a disease for which the medical community bears some responsibility.
The question, this time, is whether we can extend a more compassionate view of addiction beyond the white middle class.
Sign up for the HuffPost Must Reads newsletter. Each Sunday, we will bring you the best original reporting, long form writing and breaking news from The Huffington Post and around the web, plus behind-the-scenes looks at how it's all made. Click here to sign up!
Related
Before You Go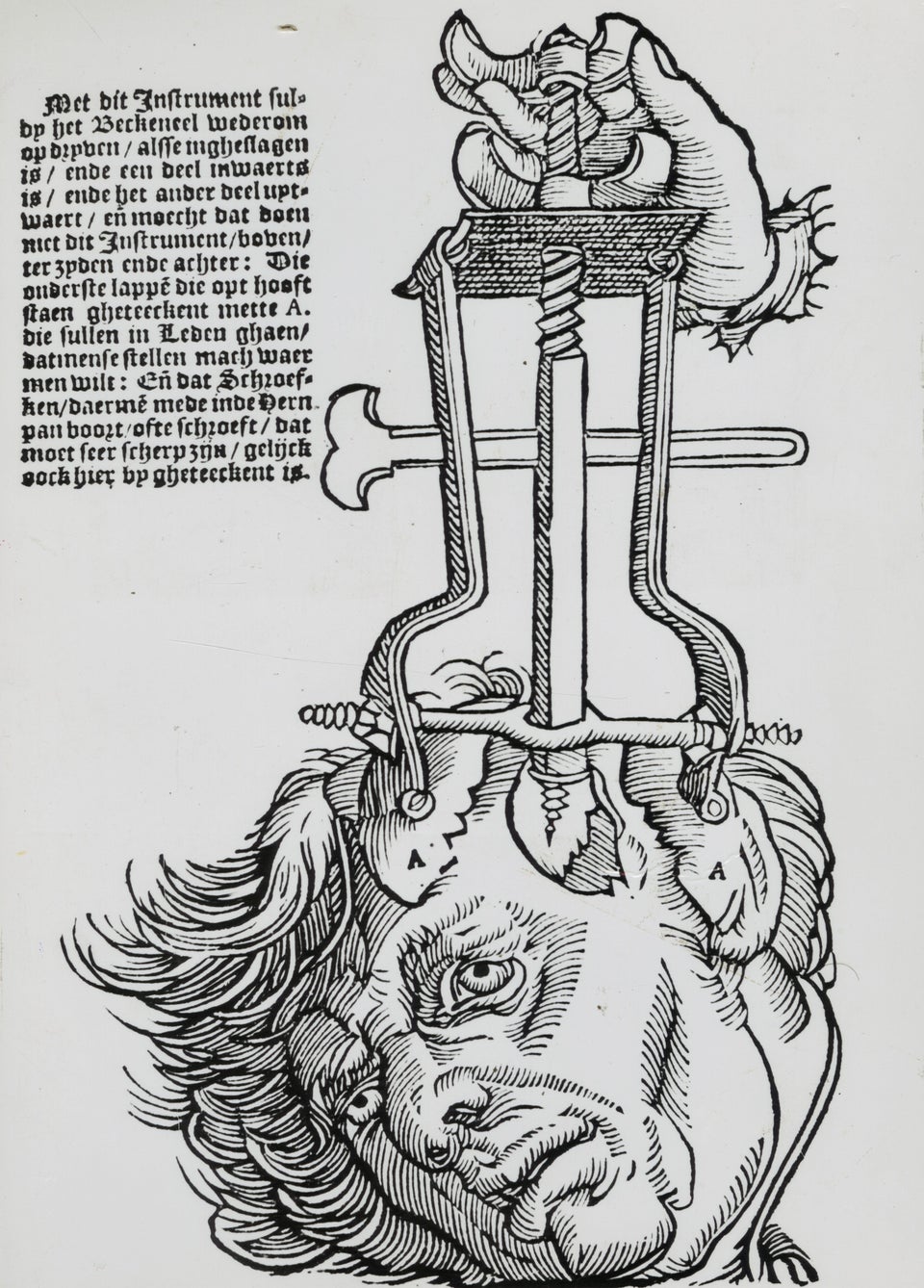 Crazy Vintage Contraptions