WASHINGTON -- The U.S. Department of Health and Human Services released a proposed rule on Tuesday to double the number of patients a doctor can treat with an opioid addiction medication that public health officials consider essential. The change could help alleviate the long waiting lists in places hard hit by the opioid epidemic and tilt the U.S. drug treatment system toward a more evidence-based approach.
"This is an important step and I think it's a very public signal of how we think about it and what we believe," said HHS Secretary Sylvia Mathews Burwell in an interview with The Huffington Post. She said she expects the rule to go into effect before President Barack Obama leaves office.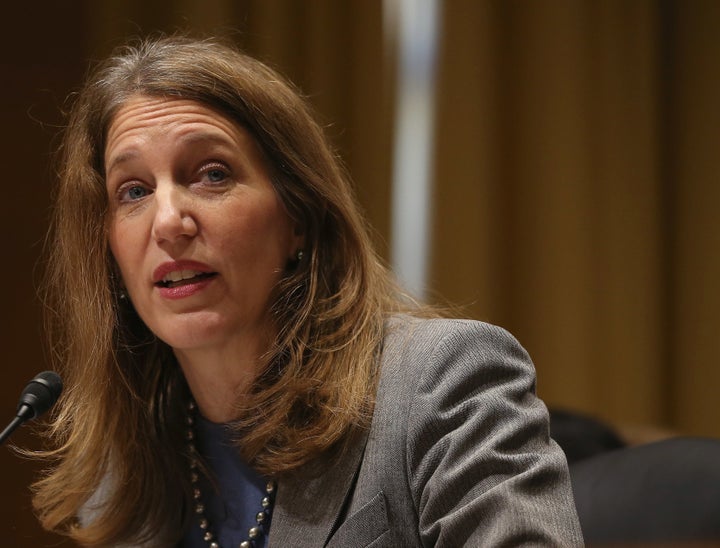 When the Food and Drug Administration approved the use of buprenorphine in 2002 to treat opioid addiction, public health officials saw it as a huge victory. Combined with counseling, this kind of medication-assisted treatment (MAT) is seen as the standard of care by public health entities all over the world. With the FDA's clearance, opioid addiction in the U.S. could be treated like any other chronic disease -- with visits to a primary-care doctor. Except there was a catch: patient limits.
Under the current regulations, doctors can treat only 30 patients at a time in the first year they're certified to prescribe buprenorphine. They can receive authorization to go up to 100 patients in subsequent years. If the proposed rule goes into effect, certified doctors could treat as many as 200 patients at a time in their third year.
The possible expansion of buprenorphine prescribing is one of several initiatives the Obama administration has recently announced. Earlier this month, HHS awarded $94 million to 271 health centers in an effort mainly to increase access to medication-assisted treatment. The Substance Abuse and Mental Health Services Administration will be awarding another $11 million to as many as 11 states to help provide MAT as well.
In comparison, the new patient-limit rule may seem like a minor technical fix. But it's a fix on which public health advocates and addiction medicine specialists have been lobbying for a decade. The number of doctors who choose to prescribe buprenorphine has been lower than hoped or anticipated. Inevitably, they've maxed out the number of patients they can treat.
"This has been an ongoing issue for years," said Dr. Kelly Clark, the American Society of Addiction Medicine's president-elect. "People are on waiting lists and dying."
Even in cities like Baltimore, where there has been public policy support for buprenorphine, access to MAT is still an issue. "The need for additional capacity in the system is absolutely real," said Yngvild Olsen, medical director of the Institutes for Behavior Resources in Baltimore.
"People are on waiting lists and dying."
The recent and alarming rise in overdose deaths across the country has exposed the need for more doctors to treat addiction and for expanded prescribing capacity for the ones that already do. In January of last year, a Huffington Post investigation found that without access to MAT, people with opioid addiction were struggling in traditional, abstinence-only treatment centers, which tend to shun the use of medications like buprenorphine (commonly sold as Suboxone) and methadone. A follow-up story showed how rural areas in particular are failing to meet demand for those medications, with patients having to travel hundreds of miles to find a doctor willing to treat them.
"The acceptance of medication-assisted treatment -- there has been an evolution," Burwell said. "We're getting to a place where it's much more accepted." But she cautioned there are still too many affected families and treatment facilities that aren't informed about MAT. "I think we have more work to do to make sure that people know that this is an evidence-based tool."
The patient limits were originally set out of a fear that buprenorphine, a semi-synthetic opioid that can produce a high if used incorrectly, would be diverted to the black market. But studies have shown that the vast majority of those buying the medication illegally are doing so to self-treat their addiction. In other words, the lack of legal access has actually helped spur the black market.
When Burwell visited Congress before her confirmation in 2014, the patient limits came up in conversations with lawmakers. "The buprenorphine cap was something that was brought to my attention in a number of different ways," she said. "Sen. [Carl] Levin, who is no longer a senator, handed me a number of pieces of paper and articles about this issue -- I still remember, I came into the meeting to talk about my confirmation and this was the issue he wanted to focus on," she recalled.
Last September, Burwell announced that reforms were coming before a conference of the country's treatment system administrators and doctors meeting in Northern Virginia. When she broke the news, the room erupted with applause.
Officials within HHS then began meeting with everyone across the federal government who had a stake in the opioid crisis, from the Drug Enforcement Administration to the White House's Office of National Drug Control Policy, to figure out just where to establish the new patient limits. The DEA offered no resistance to expanding access to buprenorphine, Burwell said.
That response suggests a thawing of the relationship between the two departments. "In general, the history has not always been a smooth and easy one between HHS and DEA, but you couldn't have asked for better partners than them this time," said Richard Frank, HHS's assistant secretary for planning and evaluation. "I think people have figured out that we're not going to arrest our way out of this problem, and I think there's been sort of a change in leadership and attitude from bottom to top."
The question that officials discussed wasn't whether to expand the patient limit, but by how much. "Nobody knows, like, the magic number here, right?" Frank told HuffPost. "We were sort of balancing two principles: We wanted to do something that we thought would meaningfully expand access, but we wanted to move cautiously because there are risks of diversion."
Under the proposed rule, a certified doctor who wants to go to 200 patients must also provide those patients with access to behavioral health services and have a plan in place to prevent diversion of the medication to the black market. Frank said HHS would be evaluating the impact of increased patient capacity as well.
If the 200-patient limit proves not to be high enough to meet demand, he said, HHS can propose further adjustments.
The American Society of Addiction Medicine, for example, had wanted to phase in a 500-patient cap. The Senate health committee recently passed an amendment that recommended a similar increase.
The amendment also called for nurse practitioners and physician assistants to be able to prescribe buprenorphine. Frank said HHS doesn't have the authority to include such medical personnel in its proposed rule. But it hopes to do a large-scale pilot program with nurse practitioners and physician assistants.
"No one should die waiting for this treatment, and unfortunately it's happened a lot."
Besides allowing currently certified doctors to treat more patients, the rule may help spur others to get certified and start their own MAT practices. After Burwell made her September announcement that reforms were coming, Dr. Clark McCoy, who runs a clinic for people addicted to opioids in Fort Collins, Colorado, started taking Medicaid patients. He figured that with the potential to add more patients, he could afford the lower reimbursement rates.
McCoy said he is disappointed with the proposed 200-patient limit. He estimates that his practice could responsibly handle 300 patients, with 30-minute doctor visits.
"No one should die waiting for this treatment, and unfortunately it's happened a lot," he said. "The main roadblock has been lack of providers offering the treatment."
Alan and Sheryl Walters, who live in Northern Kentucky, know the agony of being turned away by a doctor who is at the patient limit. Their son Taylor had been through detox and a three-month outpatient program. None of it worked. His mother tried to find a doctor who could prescribe him buprenorphine. But the one doctor she found had no openings. Taylor died of an overdose two weeks after completing a 45-day rehabilitation program in February 2013.
"It's a long time needed," said Alan Walters of the proposed higher patient limit. "I think for the families that are struggling with it now, I think they will benefit from it."
Walters still remembers how hard it was to hear his wife on the phone begging doctors for help. "It was as tough as hearing her in the emergency room when she saw Taylor for the first time dead," he said. "She was screaming, begging for Jesus Christ to come back and resurrect him. When she was calling around places for Taylor, just the desperation in her voice … it was incredibly hard to hear Sheryl in desperation, trying to save our son's life, trying to get him in to see a doctor."
Ryan Grim contributed reporting.
Popular in the Community