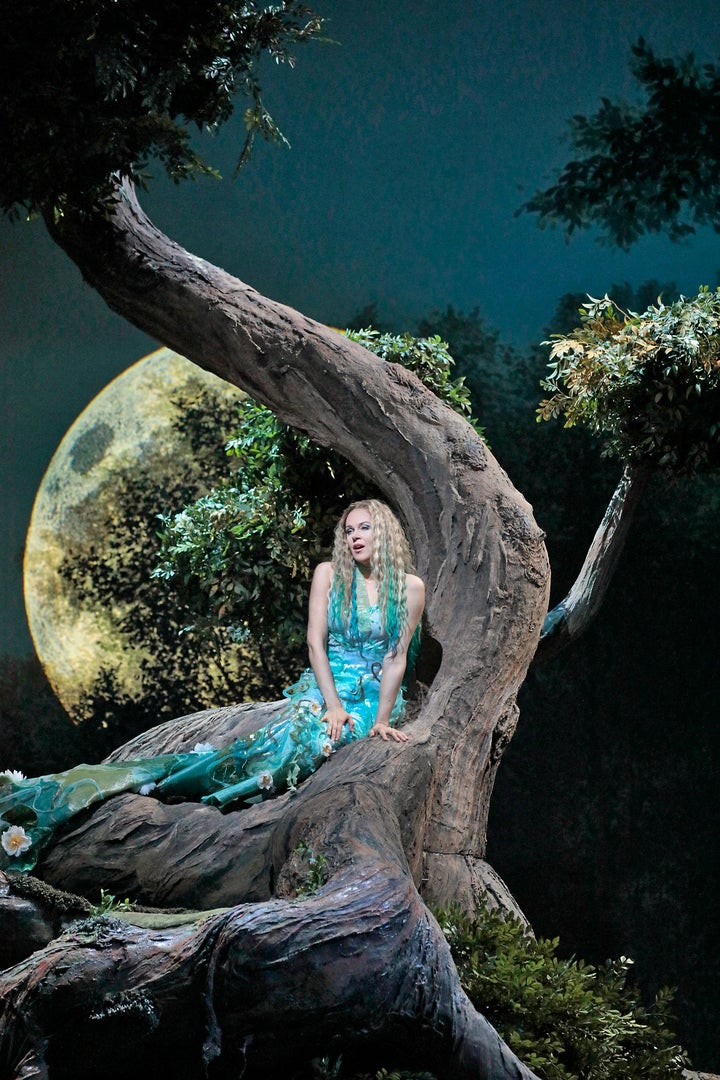 Kristine Opolais dives head first into the dark waters of Dvorak's Rusalka" in Mary Zimmerman's enchanting new production for the Metropolitan Opera and emerges as the new reigning water nymph with a bravura performance in one of opera's most haunting roles.
With a first-rate cast that includes Brandon Jovanovich as the dashing Prince who lures Rusalka to become human, Eric Owens as her stern Water Gnome father, and Jamie Barton as the witch Jezibaba, it is an inspired staging that the Met will offer to audiences in over 2,000 theaters in some 70 countries around the world on Feb. 25 as part of its Live in HD series.
Pacts with the Devil are usually a bad idea. And the one Rusalka makes with Jezibaba is particularly disastrous. She has seen a handsome young Prince hunting in the forest and wants to abandon her watery home and become human so they can fall in love.
Rusalka's father strongly objects, but says if she is determined to go through with it she should consult the witch. Under Jezibaba's harsh terms, Rusalka will have to become speechless as a human, and she adds a proviso that if Rusalka's love for the Prince isn't reciprocated he will die.
Dvorak wrote Rusalka" after his return to Czechoslovakia from America and was under the strong influence of German Romanticism in general and Wagner in particular. The story is based mostly on a 19th-century French novella Undine as well as Hans Christian Andersen's fairy tale "The Little Mermaid."
Known mainly as a symphonic and chamber composer, Dvorak is a master at painting landscapes in music, and his Prelude to Rusalka is in itself a bucolic walk in the woods. The brilliant British conductor Sir Mark Elder leads the Met Orchestra in a magnificent rendering of the composer's lush score throughout.
Czech audiences, still under the yoke of the Austro-Hungarian Empire at the time of the opera's premiere in 1901, found political resonance in it. Later audiences saw it as a lyrical fairy tale. For Opolais and for Zimmerman Rusalka is a dramatic story of a thwarted love and the suffering it brings to all.
Zimmerman's staging opens in a green sylvan glade with a giant gnarly tree growing beside a steaming pond. A bevy of woodland sprites, flower baskets on their heads, are singing and dancing and tossing lily pads around like Frisbees while teasing the Water Gnome.
Only Rusalka is glum and she confesses to her father that she is unhappy because of her love for the Prince and that she wants to become human so she can be with him. Left alone, she sings her plight in one of the loveliest songs in the soprano repertory, the famous "Song to the Moon."
When the witch Jezibaba agrees to Rusalka's wishes, Zimmerman brings in a sort of apothecary on wheels, and with the assistance of a water rat, a river cat, and a crow she concocts a potion to make the lovesick water nymph human.
Once she is at the Prince's palace, Rusalka finds herself in a bright red ballroom with a pile of stag antlers piled in a corner – a tableau that underscores the hunter vs. prey theme at the heart of the story. But under the terms of her deal with Jezibaba, Rusalka can't speak and the Prince in his frustration with her coldness turns to a visiting Foreign Princess for comfort, a turn of events that makes Rusalka summon her father and a return to her home.
By the time Rusalka is back in the forest, the Edenic setting has turned to dust and ashes, the great tree from the first act withering and dying, the forest desolate, the pond polluted, and the woodland sprites wanting nothing to do with her. The tale ends with the witch's prophesy coming true.
Zimmerman has set her production in the late 18th century – women in bustles and men in long coats and tricorns – and a staging that reinforces the love story. At the end of the first act, for example, the Prince sweeps Rusalka up in his arms as he sings the aria "Divine vision." (Future Met casting may need to make sure of a strong-armed tenor and a light Rusalka.)
Opolais is a revelation. Her "Song to the Moon" is full of yearning, her voice soaring into the upper register with a swell of emotion. She is a fine actress, especially in the second act (when she doesn't sing until the final scene) as she reels about the Prince's palace like a frightened animal just let out of its cage. And her final duet with the Prince is aching with remorse.
Jovanovich, a Montana native, is a fast-rising tenor who is at home in Wagnerian roles as well as lyric ones. He has a strong voice that can be both warm and tender and has a commanding presence on the stage. Owens, who was compelling in L'Amour de Loin earlier in the season, delivers another powerful performance as the Water Gnome.
Barton, a mezzo from Georgia who is becoming a Met mainstay, is wickedly devious as Jezibaba, and the Swedish soprano Katarina Dalayman is subtly conniving as the Foreign Princess.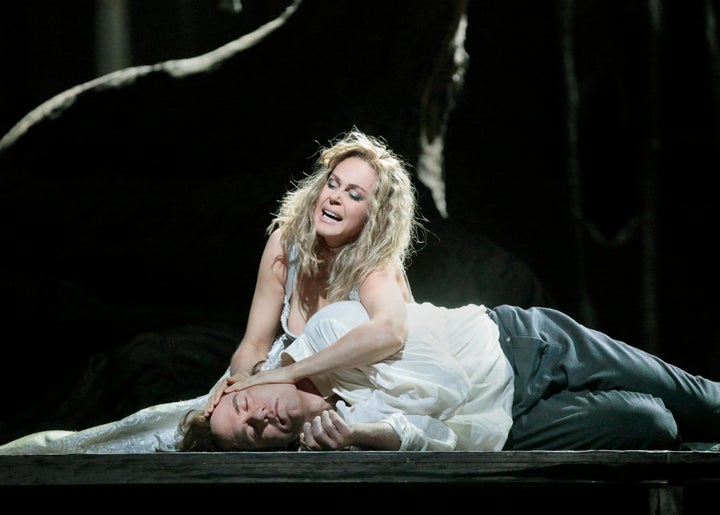 Related
Popular in the Community