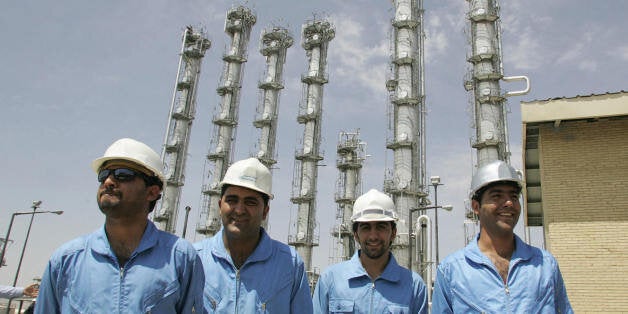 Opponents of the Joint Comprehensive Plan of Action (JCPOA) between Iran and six world powers to deal with Iran's nuclear program mounted a massive campaign last summer, spending tens of millions of dollars to sabotage the agreement.
They failed -- but they have not quit.
The "Iran Terror Finance Transparency Act" would prevent the President from lifting sanctions imposed on Iranian individuals and entities unless the Administration can "certify the entity is not a terror financier, human rights abuser or involved in the proliferation of weapons of mass destruction."
President Obama has already vowed to veto the bill, should it reach his desk, for the simple reason that it tangles up an agreement on Iran's nuclear program with other issues that have nothing to do with it. The new bill is simply a poison pill, designed to kill the nuclear deal.
The deal was designed to do one very important thing -- make the world safe from the threat of a nuclear-armed Iran. It does not aim to tackle Iran's role in regional conflicts, or its sponsorship of terrorist groups or its domestic human rights abuses.
There are separate sanctions imposed on Iran to confront those issues, all of which will remain in place. And the United States and its partners should remain vigilant and take appropriate action when faced with Iranian provocations -- like the ballistic missile test they conducted last October which violated UN Security Council resolutions. But none of these factors have anything to do with the nuclear deal.
If the latest bill passed, the White House warned, the legislation "could result in the collapse of a comprehensive diplomatic arrangement that peacefully and verifiably prevents Iran from acquiring a nuclear weapon."
That would lead to the end of international inspections and monitoring of Iranian nuclear facilities and leave Iran free to restart its program. It would "lead to the unraveling of the international sanctions regime against Iran, and deal a devastating blow to America's credibility as a leader of international diplomacy," the White House said.
Republicans have the votes to pass this bill in the House. It will be more interesting to see how it fares in the Senate, where prominent Republicans expected to face strong Democratic challengers this year, like Mark Kirk of Illinois and Ron Johnson of Wisconsin, have been strong backers of previous efforts to sabotage the agreement.
What opponents don't get is that the nuclear deal is already proving itself. The Iranians have moved faster than most experts believed would happen to fulfill their part of the agreement. Notably, they shipped 25,000 pounds of low-enriched uranium to Russia, leaving them without enough material for a bomb.
"This step is vital because it is irreversible, since the low-enriched uranium is never coming back and would instead need to be produced again," said Ilan Goldenberg, who directs the Middle East security program at the Center for a New American Security, writing in The National Interest.
The Iranians have also removed centrifuges as required and allowed intrusive inspections of its facilities, as laid down by the JCPOA. And now they are rendering the Arak plant harmless.
It will soon be time for the United States and its partners to live up to their side of the agreement. Once the designated international authorities confirm that Iran has met its obligations, the international community must begin to lift sanctions originally imposed because of Iran's nuclear program.
Opponents can be expected to continue their campaign to kill the agreement one way or another. That's why supporters, and all those who believe in diplomatic solutions to tough international problems, must remain vigilant, ready to take political action whenever needed to preserve this important breakthrough.
Support HuffPost
The Stakes Have Never Been Higher
Related
Popular in the Community