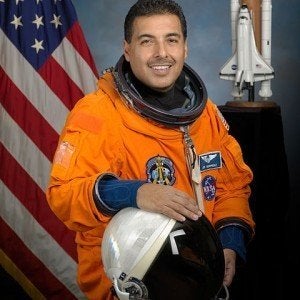 Astronaut: "A person trained by a human spaceflight program to command, pilot, or serve as a crew member of a spacecraft." (Wikipedia).
So who publicly claims to be an astronaut - when they are not? As vocations go, it's a pretty small club. Yet Republican opponents of a California Democratic Party-endorsed candidate for Congress are seeking to disqualify the Democratic candidate's use of the ballot designation "astronaut."
The claim? Jose Hernandez, who is on record as having flown a 14-day mission as the flight engineer on Space Shuttle Discovery's mission to the International Space Station in August of 2009, left NASA in January 2011.
Hernandez, a first time candidate for California's Congressional District 10, a conservative-leaning area in the heart of the San Joaquin Valley, announced his decision to run for public office in October 2011. He had been encouraged to do so by none other than President Obama.
Hernandez' opponent is the longtime elected official and former State Senator, Rep. Jeff Denham (R-Turlock), who survived a recall attempt after 50,000 dissatisfied constituents were able to put the recall on the ballot in 2008. He is currently serving in California's 19th Congressional District, which was among the statewide districts redrawn by the California Citizens Redistricting Commission. The newly redrawn district maps go into effect this year beginning in the June Primary.
Chad Condit is also running for the seat as a registered "No Party Preference" candidate and is reaching out to independent voters in the district.
A lawsuit was filed last Wednesday, March 21, in Sacramento County Superior Court by the law firm of Bell, McAndrews & Hiltachk, against political newcomer Hernandez. According to the Fresno Bee, the law firm is backed by GOP leaders and has worked for Hernandez' CD10 opponent, Denham, in the past.
"Hernandez' attempted use of 'astronaut' violates the Election Code's unambiguous requirement that a candidate's ballot designation reflect one's current profession, vocation, or one held during the previous calendar year," the lawsuit states. The firm is seeking an order preventing candidate Hernandez from using the ballot designation as an "Astronaut/Scientist/Engineer" because Hernandez left NASA," the Fresno Bee story states.
The Hernandez campaign web site states that he was born to Mexican immigrants in French Camp, California, and has spent most of his life in the northern San Joaquin Valley.
As migrant farm workers, his family followed the harvests around the Valley. At age 9, the young Jose was inspired by the Apollo 17 mission to the moon and was encouraged by his father to pursue his dream of one day traveling to space.
Hernandez was not fluent in English until he was 12, but he maintained an unwavering commitment to his education. He obtained his bachelor's degree in electrical engineering from the University of the Pacific and a master's degree in engineering from the University of California, Santa Barbara. He was employed as an engineer at the Lawrence Livermore National Laboratory for 15 years. In his time at Livermore Labs, Hernandez was recognized for his work helping to develop the first full-field digital mammography imaging system, which has successfully increased early detection of breast cancer. He also received recognition for his work on behalf of both the Laboratory and the U.S. Department of Energy on Russian nuclear non-proliferation issues. In 2004, Jose reached a lifelong goal when he was selected by NASA as an Astronaut Candidate. In February 2006, he completed Astronaut Candidate Training, and flew his first space mission in 2009. Since departing NASA he has worked as Executive Director for Strategic Operations at MEI Technologies, Inc. in Houston, TX.
In response to the lawsuit, Hernandez has issued a press release, stating, "I consider myself so lucky that I was able to go from being a son of San Joaquin Valley migrant workers to an astronaut. It was my American Dream - and I won't let these right-wing Republicans take it from me."
The press release also states that it will cost Hernandez $20,000 to defend himself against the lawsuit's claims. The campaign is asking for contributions to their legal fund.
In light of the recent legal filings, California Democratic Party Communications Director, Tenoch Flores commented: "Jose Hernandez' story is one of overcoming obstacles through hard work and pursuit of education. It's a story that all Californians can and should be proud of and that's exactly why the GOP establishment is attempting to keep Jose's complete story from being told. This is the clearest signal yet: Republicans believe Jeff Denham is in real danger of losing this targeted race come November."
CD 10, San Joaquin County Democratic Party Chair, Nicholas Hatton responded: "Pure and simple, this is political bullying at its most pathetic. While Jose and his supporters [are] advocating for real solutions to our countries (sic) challenges, Denham's operatives are playing games and abusing an already overloaded court system."
Hernandez supporters are responding to the accusations with a mixture of cynicism and vows to overcome the obstacles thrown up against Hernandez' candidacy.
"In just a short while, we'll all be calling you Congressman Hernandez, Retired Astronaut," Modesto attorney and Modesto City Schools Board member Ruben Villalobos posted on Hernandez' Facebook page. "Sound Good? Lets all work hard to make that happen!"
Hernandez, who holds the distinction of having been the first person to use the Spanish language in space, while tweeting, is no stranger to the benefits of networking on social media. HisTwitter account, @Astro_Jose, shows that he is a grassroots favorite with a following of over 220,000, with numerous tweets in English and Spanish.
Some Central Valley residents are scoffing at the misleading Denham campaign signs seen popping up across the new district stating that Denham is a "Local Farmer" -- the same, incidentally, as his ballot designation.
"He's not a local farmer, he is a career politician who moves from one district to another," said constituent Susan Rowe, 56, a rural homemaker living in the 19th Congressional District that Denham currently represents.
Candidate Condit told a meeting of possible supporters that he saw no reason to question Hernandez' self-description.
"I think the guy is an astronaut, he's been in a spaceship, he's been to the space station, and maybe he wasn't working as an astronaut in 2011 but he is an astronaut," Condit asserted. " I'm not going to question the man, or his resume. He's done great things for the country...and is probably more of an astronaut than Denham is a farmer."
Over the weekend, the Hernandez campaign issued a press release in which the candidate stated, "I thought the hardest part of being an astronaut was the training. I didn't realize it was going to be proving it in court. I'm honored to have served my country and have confidence that common sense will prevail.
"I applied 12 times to become an astronaut and after each rejection I found a way to try even harder. I became a pilot and a master SCUBA diver, I ran 11 marathons, learned Russian, and worked to reduce nuclear stockpiles in Siberia. In 2009, I went into space onboard the Space Shuttle Discovery to the International Space Station. The challenges our country is facing are far too important to waste any more time on petty partisan political games."
"I have directed my campaign to vigorously defend against these charges and look forward to getting more opportunities to talk about my life story with Californians."
A call to Rep. Denham's campaign consultant for a comment has not been returned.
Editor's Note: A Sacramento County Superior Court Judge ruled Thursday, March 29, that Jose Hernandez could list "astronaut/scientist/engineer" as his occupation on his candidate's ballot. Judge Lloyd Connelly rejected the suit's arguments that Hernandez did not work as an astronaut in the year before filing his candidacy, and said that Hernandez is an astronaut for "more than the time spent riding a rocket."
REAL LIFE. REAL NEWS. REAL VOICES.
Help us tell more of the stories that matter from voices that too often remain unheard.