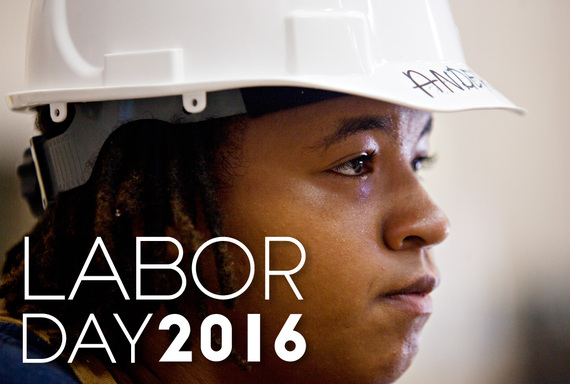 At barbecues and parades across the country this weekend, we will honor the contributions of American workers -- the people whose grit and determination fuel the strongest, most resilient economy in the world.
However, Labor Day is no picnic for millions of Americans who have never had a shot at a good job, or a meaningful chance at success. For far too many Americans, the dignity of work remains out of reach. Chronic opportunity gaps -- all too frequently concentrated in communities of color -- trap too many people in cycles of poverty and violence.
In the richest country on the planet, around four million children grow up in high-poverty neighborhoods. 90 percent of them are children of color. Life doesn't get easier as they grow up. A 25-year-old black male has a roughly one in two chance of being employed as a result of early death, incarceration, low labor force participation, and high unemployment. With these grim statistics a part of our daily reality, we know that the tension and unrest we're seeing in communities across the country today isn't only about policing. It's deeply rooted in a lack of economic opportunity and in the hopelessness that comes with feeling the odds are stacked so high against you.
But it doesn't have to be this way. In America, zip code should never determine destiny.
Thankfully, we've made recent progress. Though it remains unacceptably high, the unemployment rate for African Americans has been cut in half since the depths of the great recession. And we're heartened by the growing recognition that the important conversations we're having about race, housing, and policing must also include access to jobs and skills. These issues do not exist in a vacuum, so neither can their solutions. Under the leadership of President Obama and a whole host of partners including nonprofits, foundations, and advocates, the Department of Labor has made historic investments in community colleges, apprenticeships, coding boot camps, and summer jobs. The NAACP has supported these efforts through its own economic development initiatives, which include guaranteeing fair lending practices, growing minority owned businesses, and encouraging big industries to promote job creation and advancement for communities of color.
We have to invest in people if we're going to have a country where every person can participate in our economy and share in our prosperity, and we have to break down the many barriers that stand in their way. That's why the NAACP and the Obama Administration have encouraged communities and employers to "ban the box." A criminal record makes it that much harder to land a job and climb a career ladder; ban the box policies help people get past the first and highest hurdle in the application process.
These steps are in the right direction. But this Labor Day, as we celebrate our recent progress, we must also use it as an opportunity to take stock of the substantial work that lies ahead.
Just last week, we celebrated the fifty-third anniversary of the March on Washington -- officially called the March on Washington for Jobs and Freedom. Historians have often censored civil rights activists' commitment to economic issues and misrepresented the labor and civil rights movements as two separate, sometimes adversarial efforts. But civil rights and workers' rights are two sides of the same coin. While there have been ups and downs to this long-term partnership, a common commitment to the principles of equality and dignity has endured and united. We at the NAACP and Department of Labor know that our march isn't over; without good jobs, there is no justice. Together we will continue to fight impediments to quality training, jobs, and resources for community development. Together, we will keep marching towards equal opportunity for every American in every zip code.
Calling all HuffPost superfans!
Sign up for membership to become a founding member and help shape HuffPost's next chapter