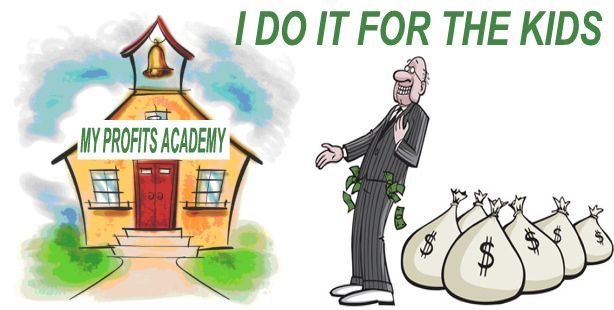 Politically influential charter school operators in the State of New York are on the verge of pushing through an administrative ruling that eliminates the requirement that children attending their schools be taught by certified teachers. This is happening at the same time that support for charter schools across the nation is in steep decline, probably because of Donald Trump's endorsement of charter schools and private-school vouchers. According to a recent public opinion poll the growing opposition to charter schools is bipartisan. Support among Republicans declined by 13%. Democratic support for charter schools dropped by 11%.
Comments can be submitted online or mailed to Charter Schools Institute, State University of New York, 41 State Street, Suite 700, Albany, NY 12207 by September 10. You can also sign the NYSUT email letter. More information is available at the United University Professionals website.
The Charter School teacher "decertification plan" is under review by political appointees on a sub-committee of the Board of Trustees of the State University of New York (SUNY). The SUNY Charter Schools Institute is interpreting its authority to ensure the "Governance, structure and operations of SUNY authorized charter schools" as authorization to eliminate teacher certification requirements. It calls the proposal alternative certification, but it allows charters to declare anyone they want to be a teacher. In a series of Huffington Posts I explained why this decertification proposal is a threat to public education and the political forces and financial donors behind the charter school plan. In this post I examine whether the people hired under this waiver are qualified to teach children.
The SUNY Charter Schools Institute is mandated to authorize, oversee, and assess charter school applications and performance. It is supposed to approve and renew charter schools that demonstrate "they can improve student performance and operate in a fiscally and organizationally sound manner," requirements that suggest decisions will be made based on hard data, not political expedience.
Below are excerpts from the proposed Teacher Certification Compliance waiver. My comments, in italics, follow each section.
1. Education corporations may submit to the institute an Instructional Program . . . for teachers that meets the requirements of this Section. The requirements of an approved Instructional Program under this section are to be considered equivalent to the certification requirements applicable to other public schools of the state . . . Are they equivalent?
2. If the institute has denied an application or revoked or closed an Instructional Program, the applicant must wait at least 120 days before any reapplication . . . Failed charter school networks and totally inadequate certification plans can reapply for the waiver every four months.
3. At least one of the applicant's schools must have received a renewal of at least three years; or if none of the applicant's schools has been renewed, but at least one school has completed its third year of operation, such school must demonstrate that it: as met 75 percent of its accountability plan measures; or, if that standard is not applicable, is on track for at least a renewal of three years as determined by the institute . . . The entire charter school network can be failing, but if one of the network's schools looks like it may satisfy 75% of its accountability plan, the network can get the teacher certification waiver.
4. The applicant shall maintain high standards for candidates including completion of a bachelor's degree from an accredited institution with a cumulative grade point average of 3.0 or higher (or the equivalent thereof). Provided that, an exception may be made for extraordinary candidates with a cumulative grade point average below 3.0 . . . You can hire anyone you want as long as you call them "extraordinary." The grade requirement for teacher certification does not apply to your employees.
5. 30 instructional hours of classroom instruction, including content core study and pedagogical core study, which shall provide the necessary knowledge base, understanding, and skills for teaching students in the respective grade levels, and in the respective subject area(s), for the certification being sought . . . Equivalence? University-based teacher certification programs for Master's degree candidates who already satisfy content area requirements are 250 hours plus 100 hours in conjunction with course work plus full-time student teaching of approximately 450 hours of supervised by people who are certified to teach in the area.
6. 100 hours of field experience appropriate to the certification being sought, with the candidate primarily responsible for classroom instruction, and under supervision of an experienced teacher including someone who has successfully completed an Instructional Program approved by the institute . . . uncertified teachers . . . and people who have two years of satisfactory experience through the Teach for America or similar programs . . . . Field experience supervisors do not have to be certified teachers.
7. Instructional Program instructors must . . . be an uncertified teacher with three years teaching experience who possesses a track record of success based on student outcomes; or, be an administrator of the applicant . . . Instructors can be uncertified teachers or your boss who may have never taught or taken an education class.
8. Assessment methods may include, but need not be limited to, testing, portfolio reviews, or demonstration of pedagogical knowledge and skills, and shall include a final assessment utilizing one or more such method to determine whether the candidate has satisfactorily demonstrated the competencies included in the Instructional Program . . . Waiver "teachers" can be exempted from state certification exams.
9. Applicant shall obtain a signed affirmation from each candidate acknowledging that the candidate has been informed by the applicant and is aware that the certification the candidate will receive pursuant to this Section is not transferrable to any education corporation / charter school not authorized by the board of trustees or to any district school, and may not be recognized as a teacher certification under regulations of the state commissioner of education . . . This is not a genuine teacher certification so you will not be eligible to use it to teach in regular public schools.
No grade requirements. No exams. No real classes or supervision. Not real certification. Not qualified teachers. This is not done for the kids.
Calling all HuffPost superfans!
Sign up for membership to become a founding member and help shape HuffPost's next chapter