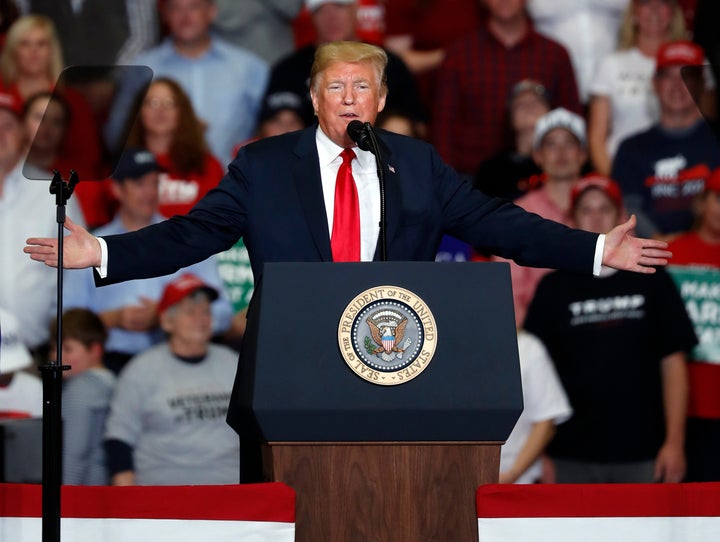 WASHINGTON — In the early months of 2017, Bradley Beychok was worried he had become obsolete.
Beychok, a co-founder and the president of the Democratic opposition research group American Bridge, was wondering whether his profession — digging through candidates' records, sending trackers to follow them and capture their every word on camera — was still effective. During the 2016 presidential campaign, journalists and opposition researchers had documented now-President Donald Trump's history of alleged sexual misconduct, his history of stiffing workers, his years of political flip-flopping. None of it seemed to matter on Election Day.
"We would talk about it internally. We talked about it on the road with donors, supporters and political operatives. Does this really matter? Is it outdated?" Beychok told HuffPost. "It was a scary conversation to me." 
"Trump definitely challenged the mantra of opposition research," Beychok said.
His conversations with donors and fellow operatives led to a revamp and refocusing of American Bridge to become an organization less focused on assembling traditional, inches-thick opposition research books on GOP candidates and one more focused on quickly generating newsworthy hits and pitching them to local media organizations.
Since then, Bridge's 35 trackers — spread across 28 states — traveled more than 850,000 miles to cover 11,000 events in 164 races. Its public records team in D.C. filed more than 1,600 public records requests. The group estimates its research has generated more than $50 million worth of news coverage.
The work led to damaging hits used in Democratic ads against Republicans like Roy Moore in Alabama, Martha McSally in Arizona and Matt Rosendale in Montana. Its tracking footage forced the National Republican Campaign Committee to back away from supporting a GOP candidate in a New Jersey district previously held by Republicans. Not every candidate it targeted lost; the research generated multiple negative stories targeting Florida Gov. Rick Scott (who appears likely to win his Senate race, pending a recount) and highlighted Virginia GOP Rep.-elect Denver Riggleman's fondness for Bigfoot erotica, for instance. 
Perhaps the biggest change Bridge made in 2018 was to ditch the research book for U.S. House candidates. Standard operating procedure for opposition researchers is to assemble a heavy binder listing almost everything a candidate has ever said on a host of subjects, along with every vote he or she has ever taken and almost every imaginable line of attack a campaign might employ. 
"Research is such a factory-oriented mindset," said Shripal Shah, American Bridge's vice president. "Everyone comes into it with this mindset where you start with issue A and then issue B and then literally go alphabetical. And then you end up with these books that are superheavy on agriculture. But it doesn't have the stuff consultants and everybody want you to find."
Instead, Bridge provided its House team with a list of 70 candidates to focus on and decided to leave book creation to individual campaigns and the Democratic Congressional Campaign Committee. Instead, American Bridge let experienced researchers rely on instinct to find instances of corruption and racism, which they then focused on pitching to local outlets instead of national ones obsessed with Trump.
Research is such a factory-oriented mindset. ... You end up with these books that are superheavy on agriculture. But it doesn't have the stuff consultants and everybody want you to find.

Shripal Shah, vice president, American Bridge
"In the past, Huffington Post or Politico or CNN or MSNBC were, like, prime time for where we want to land material," Beychok said. "When something leads the front page of the St. Louis or Philadelphia paper, that's when it's really a success."
Bridge also created its own news site — The American Ledger — to quickly publish some stories on its own, what Beychok said was a necessary counterweight to right-leaning websites.
"The right wing does this a lot better," he said. "The Daily Caller, Gateway Pundit, The Free Beacon — they've caused some problems for Democratic campaigns." 
Bridge spent the first six months of the cycle focused on researching Trump's nominees and conflicts of interest with his businesses and on finding ways to highlight the damage of his policies for local outlets. It hopes to resurrect the research as 2020 draws closer. It has already filed more than 225 public records requests focused on Trump and his possible GOP primary opponents. The group plans to have trackers on the ground by Jan. 1 in the three states with governor's races in 2019 — Kentucky, Louisiana and Mississippi — and in most of the states with potentially competitive 2020 Senate races. 
Also, the organization is launching a program focused on Republican state legislators, with the goal of taking down rising GOP stars. Shah argued that Democrats could have politically crippled Florida's now-Sen. Marco Rubio with stories about corruption while he was in the state legislature.
"If an entity like this existed back then, you could probably have implemented a significant amount of damage, if not permanently taken him out," Shah said. 
Calling all HuffPost superfans!
Sign up for membership to become a founding member and help shape HuffPost's next chapter