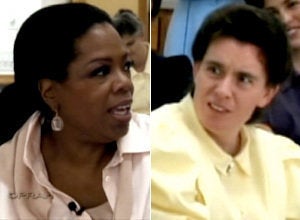 Oprah Winfrey spent Monday's show with exclusive access to the FLDS Yearning for Zion ranch in Texas, including interviews with many residents, polygamous wives and teenage girls.
As she wrapped up a meal with one family, Oprah asked the women gathered around the room, "Can somebody explain the hairdos to me please... with the poofy thing going on?"
The women laughed and one said "it's the style!" Another claimed "it hasn't always been like this," adding that if Oprah came back in ten years, the hairstyles would be different.
One woman even demonstrated the teasing and braiding that goes into the style, saying it can take anywhere between five and 15 minutes to accomplish.